VIS Kitchen is an online multi-brand restaurant that offers a unique service to its customers, never before seen in the country. GEORGIA TODAY contacted its co-founder, Nikusha Merkviladze, to find out more.
"Everything started from a childhood passion towards food and technology," he tells us. "From an early age, I would watch my father, a restaurateur, work in the field, and would spend a lot of time in the kitchen on weekends.
"I spent four years of my student life in Milan, Italy, where food has a high cultural value. I was inspired by everything that I saw while sitting in Italian restaurants in the evenings. At the same time, I couldn't ignore the fact that due to the long queues, the food I ordered usually came late. I'm sure students will agree that such delays cause problems when studying, especially during exams."
Merkviladze notes that online services were booming at the time, among them the world's most valuable companies Amazon and Airbnb, and the idea came to him for a fast, online, "delivery only" restaurant.
"After some research, I found out that the 'Internet Restaurant' concept was unheard of in Georgia. I was lucky to then be able to share my passion and interest towards innovative food concepts with my partner, who has a wealth of experience of running successful restaurant chains and retail businesses, so we decided to establish a startup."
They are now running a multi-brand, multichannel food tech business with a focus on deep culinary know-how, food innovation and technology. It is the first multi-brand Internet Restaurant/Cloud Kitchen company in Georgia, striving to make customers' lives easier by preparing delicious food, and delivering it fast, safely, in quality packaging, and with the promise of best value for money. They are already partnered with local delivery services Glovo, Wolt, Elvis, and Bolt food.
WHAT DOES VIS KITCHEN MEAN, AND WHAT IS THE CONCEPT BEHIND THE BRAND?
On the one hand, Vis is an abbreviation – 'Virtual International Smart' Kitchen, and on the other hand it represents the concept of gathering and ordering food together. Let me clarify: in Georgia, when friends, family or colleagues are together and want to order food, there is always a leader put in charge of placing the order, and they usually ask the question ვისრაუნდა? (who wants what?). Our concept answers it perfectly: Who wants a burger? Who wants Georgian? Who wants shaurma? Who wants pizza? These will be familiar questions to you. The question "who wants what?" will be answered by Vis Kitchen – the virtual kitchen for every taste!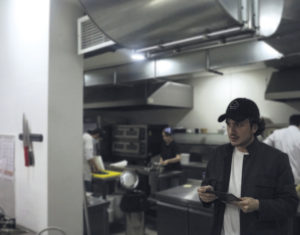 TELL US ABOUT THE VIS KITCHEN CHEF, AND THE MENU THEY CREATED.
Several chefs worked on this project. Every department was created with the assistance of professionals with a high degree of knowledge in a particular field. We created a unique structure and culture, which guarantees only high-quality products get delivered to your door.
The main reason we started with Vis Burger, Vis Pizza, Vis Shawarma, and Vis Kartuli is their popularity, but in our case, we offer products that are unique for their fresh and high quality ingredients.
WHAT MAKES VIS KITCHEN STAND OUT?
Vis Kitchen has an innovative concept of Cloud/Virtual Kitchen, based on efficiency and TIME! We are oriented on people who order from their homes; people who want their food to be delivered to their door. We have delivery-oriented packaging to maintain safety and ensure high-quality products get delivered, and, finally, we offer our customers best value for money.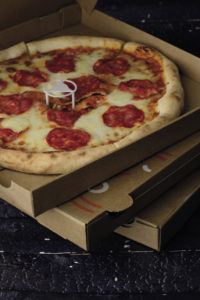 YOU FOUNDED VIS KITCHEN DURING THE COVID-19 PANDEMIC. DOES THAT MEAN THE PANDEMIC GAVE BIRTH TO YOUR IDEA?
I can't say the pandemic inspired us; it was more that it gave us a push toward realizing the idea. The pandemic showed a need for such services, and obviously accelerated demand for food delivery in Georgia.
WHAT ARE THE CHALLENGES THE INTERNET RESTAURANT MARKET IS FACING RIGHT NOW?
First of all, internet restaurants are a novelty on the market. There are challenges across the value change, from source to delivery, which need to be addressed to make sure that the business is sustainable.
Further, the pandemic necessitated additional costs, and our business is no exception. It has required a drastic change in terms of everything, from hygiene control to extra transportation costs.
WHAT ARE YOUR FUTURE PLANS FOR DEVELOPING YOUR BUSINESS?
Right now, we are an internet restaurant which operates 100% on delivery. People who order online are our top priority, but we're planning to create a high-tech takeaway service in the near future. We also aim to expand geographically and to move closer to our customers; to offer a wider range of cuisine. We're planning to create new food brands. And we want to further expand use of technology in our operations, developing and improving operational processes. We hope that in the near future, we will achieve process automatization. Finally, we want to surround ourselves with other rockstars in the field!
INTERVIEW BY KETEVAN SKHIRTLADZE