Georgia's Environmental Informational and Education Center (EIEC), which works under the wing of the Ministry of Environmental Protection and Agriculture, currently lists 87 protected areas of different categories (based on criteria of the International Union for the Conservation of Nature (IUCN)): 14 state reserves, 11 national parks, 41 monuments of nature, 19 wilderness areas, and two protected landscapes.
Georgia is taking its natural wonders online and expanding its range of trekking options to in-country visitors, as the spaces designated as Protected Areas and National Parks in Georgia are steadily growing.
Currently around 8% of Georgia's land mass is under formal protection of one category or another, but the aim is to increase this to 20% in the next eight years.
In time for the opening of the trekking season, recognizing the allure to international tourists of Georgia's nature, the government announced a new protected area in Guria to help preserve the forests there and a new walking route for Adjara. Newly protected territories promoted on tourism websites will also open up new opportunities for tourism-related small businesses and jobs with facilities for walkers, cyclists and campers.
This new initiative in Guria will first be the subject of "various types of studies by local and foreign experts as a preparatory phase." Protections in the IUCN system are graded from Strict Nature Reserves, where access is controlled and limited, to Wilderness Areas, where recreational as well as scientific research access is allowed, to National Parks and National Monuments, where there are specific provisions for tourists, to Habitat or Species Management Areas and lastly, to Protected Landscapes and Seascapes.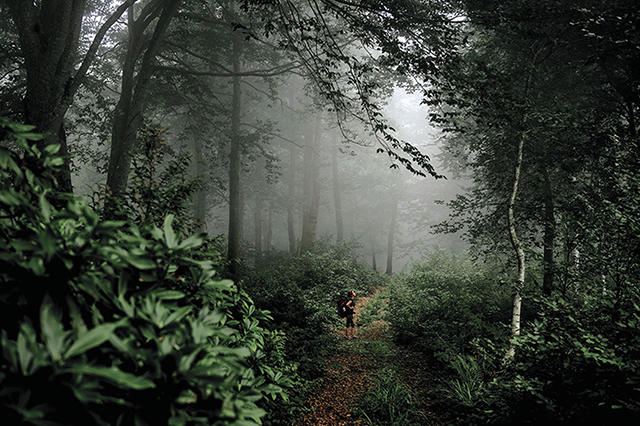 "The forested areas found in Guria are recognized for their environmental importance through their inclusion in the World Wide Fund for Nature (WWF)'s Ecoregional Conservation Plan for the Caucasus and are also considered a Key Biodiversity Area of the region," the Ministry of Environmental Protection and Agriculture says. The project for the new national park is backed not only by the WWF but the Embassy of Sweden in Georgia.
And for those who can't make it, Georgia's immense floral diversity is now viewable internationally, despite the travel restrictions of the Covid-19 pandemic, on the new dedicated Museum of Georgia website. Plants are presented in high resolution, to enable zooming in for close-ups, and in their actual environments. These are from botanical collections amassed via expeditions held across the South Caucasus since 1852, as well as from contributions, organizations and private collections.
Further armchair viewing of Georgia's diversity of flora and fauna is now accessible as well, with a map which will cover the whole Caucasus region when finished and which is being built by National Geographic Magazine-Georgia and the Georgian National Museum, supported by Silknet and the German Society for International Cooperation (GIZ). Currently, this project incorporates 120 illustrations and basic diversity information.
At the same time as new funding and legislation are increasing the protection of some of Georgia's most beautiful landscapes and the country's biodiversity, access is being enhanced. The most notable example is via the Transcaucasian Trail (TCT), funded by the Austrian Development Cooperation agency, Jaguar Land Rover, and voluntary contributions, which is a hiking trail that will traverse Georgia. When finished, this will be a world-class, long-distance hiking trail more than 3,000 km in length, following the Greater and Lesser Caucasus Mountains and connecting roughly two dozen national parks and protected areas in the region.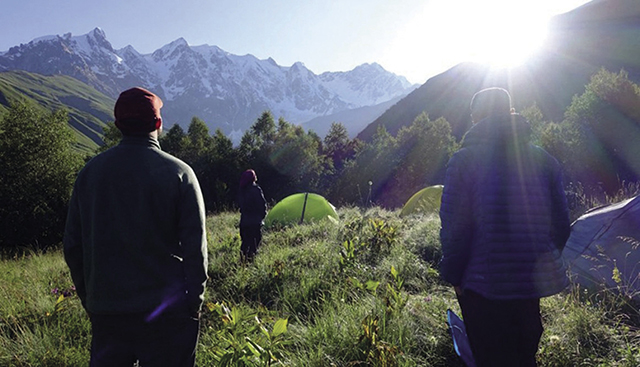 This international project is not only organizing volunteers to install the actual paths but is organizing the production of maps as well.
As its website comments: "[…] the best available topographic maps are Soviet-made military maps dating back to before the Cold War, unavailable to the public and decades out of date. Public domain aerial imagery is inconsistent and often at too low a resolution to be useful to the hiker. Open-source mapping varies enormously in accuracy and completeness, often having been created by untrained hobbyists from second-hand sources. It is this broad-reaching problem of access to the outdoors across the modern-day nations of the Caucasus—a real barrier to an appreciation of geography and thus a responsible and caring attitude toward nature and the wilderness, that the Transcaucasian Trail aims to solve." The site currently carries a guide for Svaneti and for three routes in Armenia.
Georgia is also providing more walking routes, of which the Adjara route is the latest. The Department of Tourism and Resorts of Adjara says the route will connect the towns of Kobuleti and Shuakhevi. Indicators and information boards are being installed on the tourist route from Kintrishi National Park to Chvani Valley, which will connect the national park to Jvarimindori and Gomis Mta. Tourists will be able to see several destinations while hiking along the new route including, but not limited to, Kintrishi National Park, Khinotsminda Monastery, Tbikeli Lake and Jvarimindori," they add. As of now, 15 tourist routes have been created in the mountainous Adjara region.
One of Adjara's protected areas, Mtirala National Park (according to records, the rainiest place in Georgia), won a 2020 World Travel Award and was named 'Georgia's Leading National Park 2020' beating Borjomi-Kharagauli National Park, Kazbegi National Park, Kolkheti National Park and Lagodekhi National Park. Adjara's botanical garden is also being expanded.
Recent additions to the protected territories have totaled around 100,000 hectares, according to the Ministry of Environmental Protection, which has announced plans for a Racha National Park and Shovi Nature Reserve and a 4,000-hectare expansion of the Borjomi-Kharagauli Protected Area, adding to its current 60,000 hectares. Borjomi-Kharagauli National Park is known for its diversity of flora and fauna with 57% of the park covered with forests that contain red deer, chamois, roe deer, brown bears, wolves and lynx. Also announced was a 5,000-hectare expansion of the Mariamjvari protected territory to form a Tsiv-Gombori Reserve, in a move to protect the brown bears and red deer native to the area, in addition to safeguarding highland oak and evergreen conifer trees.
Funding to help pay for rangers and equipment for the protected areas has come from The Caucasus Nature Fund (CNF), which last year contributed $1.3 million to help make up for the shortfall resulting from the lack of international visitors, and from the German government. The CNF also decided to increase financing to attract tourists, set up infrastructure, and provide services in the protected areas of Georgia. Other support for the parks has come from the U.S. government, which has funded a five-year, $1.6 million program, 'National Parks and Ecotourism,' to protect Georgian national parks and make them economically sustainable and more attractive for tourists. The United Nations Development Program(UNDP) and the Global Environment Facility (GEF) have a $10 million program for the parks, "to strengthen their management and financial sustainability, which will help the country conserve and protect its unique biodiversity."
In a quest for more assistance and funding to protect its natural environment, Georgia has just joined the first 30 countries to launch a national BIOFIN process (a United Nations project), aiming at closing funding gaps in biodiversity conservation and in mobilizing resources. The BIOFIN financing initiative, which works with the United Nations Development Program, helps countries find creative and practical solutions—from managing government budgets to ecotourism structures—as they seek to protect their environments.
By Sally White for Investor.ge
Originally published by Investor.ge