Carrefour, owned and operated by Majid Al Futtaim in Georgia, has appointed the new Country Manager, Jerome Akel, a highly experienced professional in the retail field. His views and ideas about managing the focus on bringing maximum benefits to communities make him the perfect fit for the new role in Georgia as his values fall directly in line with Carrefour's vision and mission of delivering exceptional value for all our customers through every experience.
Akel started as an entrepreneur in Europe and has been working for Carrefour for 17 years. Prior to joining Carrefour Georgia, he was based in Bahrain, in the Gulf Region, as a Country Manager. Prior to that, he worked in Egypt, on business development and sourcing. Having now moved to a new career chapter in Georgia, Akel stated that: "I arrived in Georgia with my family at the end of August, and we were really excited by the warm welcome we received from everyone around us. We could immediately see that Georgia is a very hospitable country."
As the new Country Manager points out, strengthening the brand's physical and digital presence, and further increasing customer satisfaction will be the main areas that he will be working towards in the coming years as these are part of Carrefour's core focus areas. Carrefour continuously uses insights it gains from its shoppers to discover smarter ways to operate and create tech-driven experiences for all.
Interestingly, in terms of digital growth, the aim is to offer a convenient and safe service to customers.
That is why Carrefour is currently developing a new service, Carrefour Now, which will provide delivery of products ordered by users through mobile devices using the new Carrefour application in under 60 minutes.
GEORGIA TODAY spoke to Akel regarding his recent appointment asking him about his fresh perspective regarding crisis resolution and Carrefour Georgia's future.
Having worked for Carrefour for 17 years, Akel explains: "Today, we operate 53 Carrefour stores in Georgia, with a recent opening in Kutaisi, the first store in the Imereti region and the fourth Carrefour hypermarket in Georgia. We have three hypermarkets that have already opened in Tbilisi and Batumi. The plans are geared towards a quick recovery process from the effects of the pandemic. This is achieved by standing side-by-side with our customers during this difficult moment and maintaining our leading position in terms of always offering unbeatable prices for all our products."
"More Carrefour openings are in the pipeline, both outside and inside of Tbilisi. We are planing to open premium class, Flagship supermarket in Vake. As an added value proposition, we are also striving to reach out customers directly by offering them home delivery. That is why we are in the process of launching the online service, Carrefour Now, which will offer customers the opportunity to order through their mobile phones and have their items delivered to their doorstep in less than an hour, at affordable prices. Our next venture is to make the Carrefour services as convenient, fast and comfortable as possible, with everything under one roof. So, the physical and digital expansion of the brand will actively continue, " Akel adds.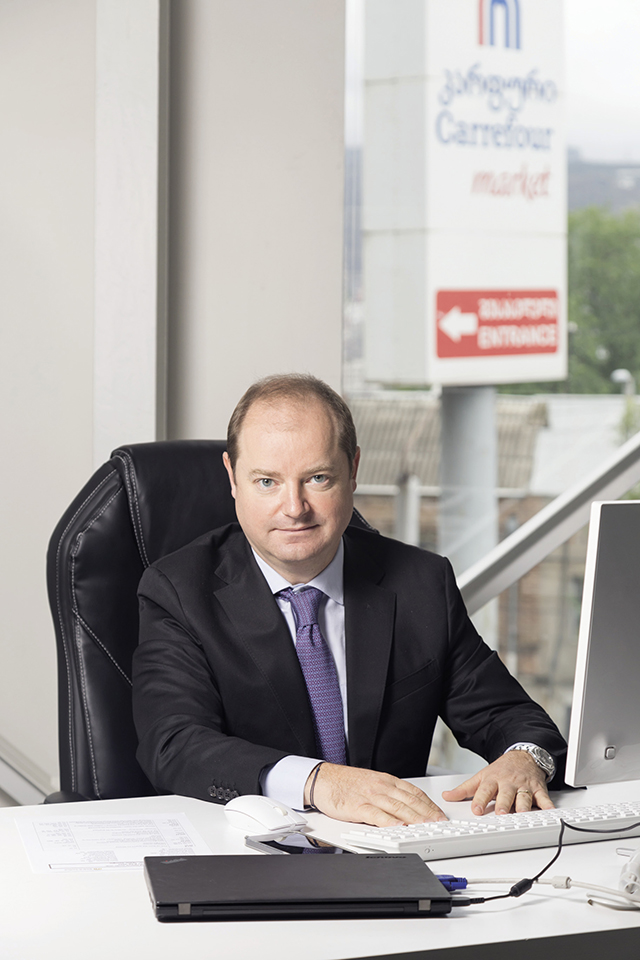 Carrefour is one of the leading brands in Georgia. How would you evaluate its activities and achievements to date?
I think we have great brand loyalty in the country, we are well-accepted by customers, and this is something I plan on further strengthening as I continue my role as the Country Manager. I will make sure that we continue placing people at the heart of our operations and decision-making processes as the brand expands its reach across the country. Most importantly, Carrefour's growth has helped boost the local economy by creating more direct and indirect employment opportunities for Georgians across the country. Carrefour currently employs over 2,500 people in Georgia and plans to hire another 1,500 employees over the next two to three years, which will bring more benefits to suppliers and farmers, and consequently strengthen Georgia's agricultural sector. Carrefour's contribution to the local economy was recently praised when Majid Al Futtaim was named as one of the top ten largest companies to invest in Georgia by the National Statistics Office.
What is the main reason behind Carrefour's success in Georgia?
It was firstly built by Georgians, for Georgians and I think we are giving our customers what they expect which is high-quality products at affordable prices, and fantastic promotions thoughout the year.
Moreover, the special relationship we have built with our customers is of utmost importance. We are constantly implementing projects and are known as a brand with particularly high corporate citizenship. Our team is very actively involved in charity projects to support those in need, especially during these difficult times.
Charity and corporate citizenship initiatives became even more important during the pandemic.
Obviously, this kind work which was aimed at helping the vulnerable and improving the environment we live in, will continue very actively.
Over the years, our team has carried out a number of community engagement projects. Among them, the one implemented in collaboration with Tbilisi City Hall and Red Cross Society is worth mentioning. Through this project Carrefour was able to give customers the chance to improve the lives and wellbeing of the vulnerable elderly living in Georgia.
Through additional partnerships with organizations such as the Ministry of Education, Ministry of Environment and Agriculture, Tbilisi City Hall, the Autism Research foundation, and Emmaus Georgia, Carrefour played a big role in helping people with disabilities, single mothers, socially vulnerable families, orphans, war veterans, children with serious illnesses, and the elderly.
In terms of protecting the environment and focusing on sustainability, Carrefour has been at the forefront of championing reduced plastic-use through educational campaigns, community volunteering activities, and incentive programs. Notably, Carrefour Georgia was the first to introduce the locally produced reusable bag – MADE IN GEORGIA. Later, it also launched reusable bags with wheels as part of its Honor Nature campaign. It was another notable move by a brand which has already replaced single use plastic bags in its chains with compostable ones.
Carrefour does not intend to stop, and we are going to continue our environmental and social activities in the future along with partner organizations, bringing more benefits and opportunities to our society.
We are also the general sponsor of the sixth season of MasterChef, one of the most popular culinary TV Shows in Georgia.
What are the main challenges that businesses, including Carrefour, are currently facing?
I think there are two levels. The first challenge is to remain close to employees and customers, as the pandemic creates distance and barriers in this regard. Many employees and customers are working from home, and this changes the living, working and social habits. But we must all adapt to this change, and that is exactly why we are launching Carrefour Now.
The second one is continuing to maintain unbeatable and affordable prices, despite supply becoming more difficult in past months. This ensures that the main principle of Carrefour offering incredible value and unmatched prices is supported no matter the changes we are all undergoing.
To conclude, Carrefour is a customer-centric brand. We want to increase customer satisfaction at all levels and in all directions. This will be my focus as the Country Manager in the coming years.