The company 'Mortuli' was founded at the end of 2019. From the very beginning, the founder Tea Ramishvili decided to bring the motives of ancient Georgian ornaments, its artistic beauty, and richness into a modern design and our everyday lives. At this stage, they offer customers socks and T-shirts decorated with old Georgian ornaments from different parts of Georgia.
"Socks have been an integral part of Georgian traditional clothing since ancient times, traditionally woven from wool and decorated with colorful ornaments," Tea tells GEORGIA TODAY. "That's why we decided to put these ornaments on high-quality cotton socks. The main goal of Mortuli is to popularize Georgian ornaments in modern society, both inside the country and abroad. With this, we want to once again present the ancient history of our country and its rich past."
Where did the idea to use Georgian ornaments to create socks come from?
The idea of ​​creating a company came to me, I love to travel and I have traveled to practically every part of Georgia. It was on such trips that I discovered how beautiful and varied the ornaments our ancestors created over the centuries are, found in ancient manuscripts, fabrics, painting, goldsmithry, and architecture. I often took photos of these ornaments or made sketches, and always wondered why our country is associated mainly with khinkali and wine when we have so many other unique values.
I worked in a bank for years, and I always dreamed of doing something more creative, because I've been drawing since childhood and I was very interested in this field. I started studying graphic design, drawing, and photography and thinking about my brand. I was already deeply interested in ornamentation, buying books, and looking in libraries. The brand name also originated from here, as the word "decoration" seems to immediately remind us of an ornament. At the age of 40, I entered the Tbilisi Academy of Arts, quit my successful bank job, and moved on to the arts.
How profitable was this decision?
Mortuli has gained a lot of loyal customers in this short time and has a lot of positive feedback. Discovering Georgian ornaments and their history turned out to be very interesting for both Georgian and foreign buyers, which is our main motivation. Lots of people write to us about how important it is to increase awareness in this area.
How do you choose the ornaments? Which ornament is most popular among consumers?
I choose the ornaments from different sources and I try to take them from different parts of Georgia. Consumers often choose socks or T-shirts decorated with whichever ornament comes from the part of Georgia they are from.
We have many customers from the regions. Often, they themselves send us various ornaments from their places, and we print them on our t-shirts. The most beautiful Georgian ornament is from Abkhazia, Bichvinta, of the XII century. Mortuli products fascinate people of different tastes and can be worn by both sports and classic style lovers.
How did the pandemic affect your business?
Due to the pandemic and the difficult situation, Mortuli, like many other startups, had to change its strategy and future plans. It became impossible to set up stands and therefore an alternative way was to sell products through various Georgian marketplaces. Also, because most of the enterprises were suspended, it became difficult to work on new ideas and implement them, because all the products of the brand are produced in Georgia.
What are your future plans? Are you planning to expand your brand?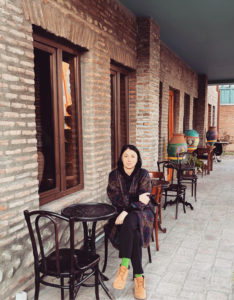 We have a lot of plans for the future, we definitely want to increase the brand, create more products, for example hats, scarves, and ceramics that will be decorated only with Georgian ornaments. We also want to open our own store and cooperate with small workshops in different parts of the country.
We already have cases when our products are ordered from different countries, but it doesn't happen very often yet, the pandemic hinders us more because post gets delayed. We definitely plan to sell overseas in the future because we think getting to know Georgian ancient ornaments will be very interesting for people.
Where can we get Mortuli products?
At this stage, customers can buy our products through our site http://www.mortuli.ge/ and also through social networks, we have delivery throughout Georgia. From next month, we will also cooperate with a store, where it will also be possible to view and purchase products.
We cooperate with almost all platforms in Georgia, which helps us a lot in both brand promotion and sales.
By Ketevan Skhirtladze