Within the scope of GEORGIA TODAY's collaboration with BI Auction, we are offering our readers exclusive interviews from Georgian artists and designers. This week, we meet a man who has spent his career dedicated to the study and development of Medieval painting techniques. And he will not be moving his beautiful creations into the digital era any time soon.
Davit Khidasheli was born in 1962 in the city of Kutaisi. He studied at the Tbilisi Academy of Arts in the Faculty of Easel Graphics, majoring in book illustration, under the guidance of Dimitri Eristavi. After graduating, he chose to spend a year at the Bethany Monastery studying restoration and the basics of medieval painting, after which, he began a long career working on icons and frescoes. Having painted more than 20 churches, he still finds enjoyment in painting and book graphics.
How would you describe your work? Which common trends in art or important artists themselves have had an impact on your work?
Describing your own work is a bit difficult. I love medieval Georgian church art very much, as well as Persian and Turkish miniatures, Fayum paintings, etc. However, working on old murals, preparing medieval paints and materials, and my icon painting experience had the greatest impact on what I do today. This experience dictated that I use the same technique in my paintings – natural pigments and egg tempera. For me, it's an organic and natural technique.
How has the coronavirus changed your creative vision, the art market in general, and your specific sales?
The one-year quarantine regime has hardly changed the intensity of my work. Sales of works of art have increased, probably because people who didn't have time for art before, now have the time and resources for it.
Due to the pandemic and shifting of the world to more digital rails, what is the future of art?
The internet has made information very accessible, including about artists, and it's no longer difficult to take a look at the works of a particular artist you're interested in. However, it is inconceivable that art ever becomes limited only to the virtual space.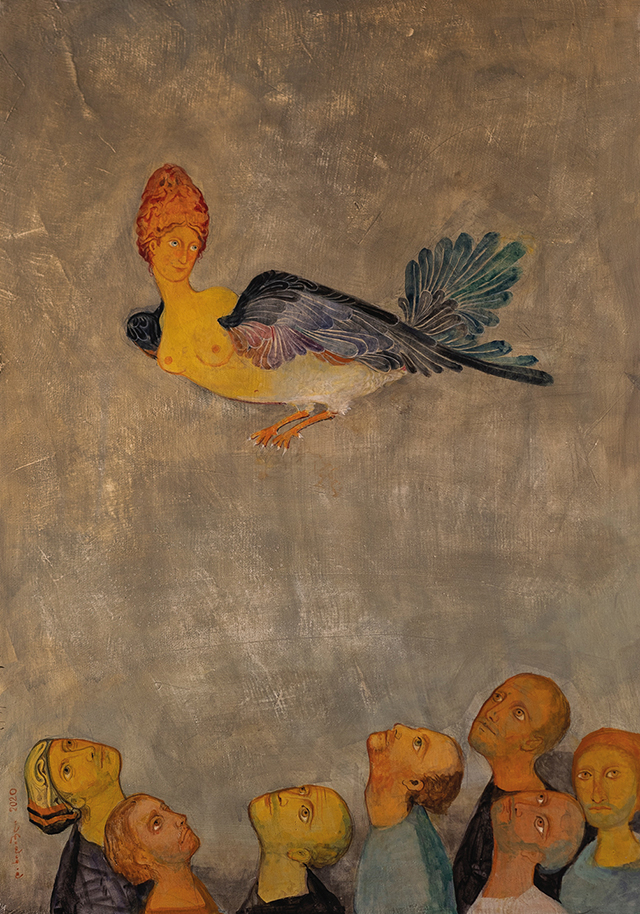 What is your relationship with the virtual art space, exhibitions, and sales?
Clearly, virtual information cannot replace the vivid impression received at exhibitions; however, it gives an interested person the opportunity to get acquainted with the creations of different artists and come to an exhibition more prepared.
What do you think about BI Auction and its role in artists' lives, based on your experience?
BI Auction was the first auction where my works were sold, and I want to thank the organizers. The auction gives the artist the opportunity to understand how popular their works are in the market, and it is an important and necessary part of artistic life. This tradition must be continued.
By Ketevan Skhirtladze