Carrefour, owned and operated by Majid Al Futtaim in Georgia, continues to celebrate 10 years of serving Georgian communities.
As part of the celebrations, Carrefour is extending its anniversary rewards by running yet another special campaign.
The brand has already launched a number of campaigns to celebrate the anniversary, however, the largest hypermarkets and supermarkets chain is not going to stop here and plans to reward even more loyal customers and make them even happier.
The next campaign is 10 days long and it will run from March 1 to March 10. As March is the month dedicated to women, with important celebrations on March 3 (Mothers' Day) and March 8 (International Women's Day), Carrefour has put a special emphasis on making women happy.
As part of the campaign, customers visiting any Carrefour branch during the mentioned period will have the opportunity to win vouchers of the special perfumery and cosmetics chain Voulez-vous. With these vouchers, one can buy perfume or another desired item for their loved one or themselves in the Voulez-Vous shops.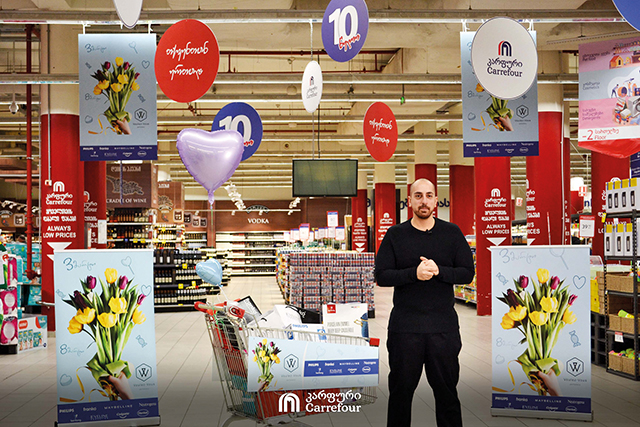 In addition, Carrefour offers customers prizes from brands such as Phillips, Berlong, Franco, Eveline, L'Oreal, Henkel and many more.
To win vouchers and gifts, guests need to visit any Carrefour branch, enjoy shopping, use their Carrefour loyalty program "My Club" and, most importantly, check the receipt, because it can be a winner!
Come along to Carrefour, take advantage of the great offers and affordable prices, and win additional campaign prizes!
Throughout these 10 years of operation in the Georgian market, Carrefour has been at the forefront of serving customers' best interests and providing them with unbeatable value. By always maintaining affordable and low prices, creating a maximally safe and comfortable environment for shopping, and by contributing to the employment of locals and the Georgian economy in general, the French brand has easily won the hearts of customers countrywide and gained a high reputation.
The brand has celebrated many milestones over the past 10-years, including the expansion of its cutting-edge in-store and innovative digital offerings; the establishment of international shopping experiences in Georgia; self-service cash desks for safe and flexible shopping during the pandemic; its own home delivery service; as well as the MyCLUB loyalty programme.
With 68 local stores now in operation throughout the and up to 3,000 local employees, Carrefour continues to provide its customers with more access to fresh and healthy products at affordable prices.
The physical and digital expansion of the brand actively continues, and Carrefour is expected to prepare even more pleasant surprises for its loyal customers, justifying its main motto: Creating great moments for everyone, every day.