In recent years, Georgia has fallen victim to repeated, hostile cyberattacks on government installations and services, as well as private commercial entities,- says Ambassador to Israel Ran Gidor. "Moreover, the current war in Ukraine has demonstrated once again the critical importance of developing a comprehensive cyber-security strategy, supported by cutting-edge capabilities. Israel is acknowledged to be a global leader in that sphere and has been supporting the emerging Georgian cyber ecosystem for several years now."
In March, a webinar was held that focused on the crucial need for providing proper educational tools on all levels.
"The event formed yet another modest but important link in our effort to raise awareness, attract young talent and lay down the foundations for Georgia's cyber-security protective shield," the Ambassador tells GEORGIA TODAY.
To find out more, we spoke to Neli Odishvili, the CEO of Internet Development Initiative.
"IDI was established in 2015. The idea and initiative of creating the organization belongs to Vladimer Svanadze, who currently holds the position of chairman of the board," Neli tells us. "The concomitant creed of the organization is to support the growth concentration of cyberspace, promote the evolvement of cybersecurity standards, analyze threats, and write recommendations for both the government and private sectors. Inspired by the idea of raising public awareness, IDI is organizing conferences, seminars and forums in ICT and cybersecurity. We encourage the process of enhancing acknowledgment related to information and communication technologies, innovations, internet governance and digital policies. As the CEO of Internet Development Initiative, it is a great honor for me to be comprehensively involved in the conceptual process of projects management. Passionately forming and positioning IDI as an organization with a strong identity on an irreversible path toward future empowerment is my professional pathos."
What are Georgia's specific needs/weaknesses, and how has IDI helped Georgia so far?
An insufficient number of specialists can be considered a major weakness for Georgia, considering the fact that in this era of rapidly progressing technologies, it is becoming vital to expand awareness of how technology and the internet are shaping the way we interact as individuals. IDI is constantly striving to capture and implement best international practices to encourage the evolution of an innovative ecosystem in Georgia. We are actively cooperating with a number of international organizations and large internet corporations, such as ICANN, with the support of which influential trainings such as DNS Abuse and DNSSEC were conducted for Georgian law enforcement agencies and private companies.
The cooperation between IDI and the Embassy of Israel to Georgia should be boldly emphasized. As part of the sponsorship and general partnership with the Embassy of Israel to Georgia, and especially with the Ambassador of Israel to Georgia, Mr. Ran Gidor, IDI implemented the Israel-Georgia School of Digital Culture. In its sophisticated dimensions and contextual idea, it is a comprehensive collaborative project with the main idea of providing young Georgian thought leaders with the best possible information, and raising their awareness of global digital processes. The School of Digital Culture empowers talented individuals to be at their best, to create and collaborate, to do great work, and to grow in their cutting-edge roles.
Another clear example of strong cooperation with the Embassy of Israel to Georgia is the implementation of a B2B meeting between Israeli and Georgian IT companies in the framework of IDI's cooperation with the Embassy and the Israel Export Institute.
"CyberStellar," an initial online publication in Georgia dedicated to innovations, technologies and digital empowerment, as well as the original online/radio transition "CyberTalk," are creative works of IDI.
Additionally, I want to mention the International Festival of Cybersecurity which is implemented annually by IDI, together with international and local partners.
In 2016, the first Georgian Internet Governance Forum GeoIGF was held on the initiative of Vladimer Svanadze, the founder of IDI.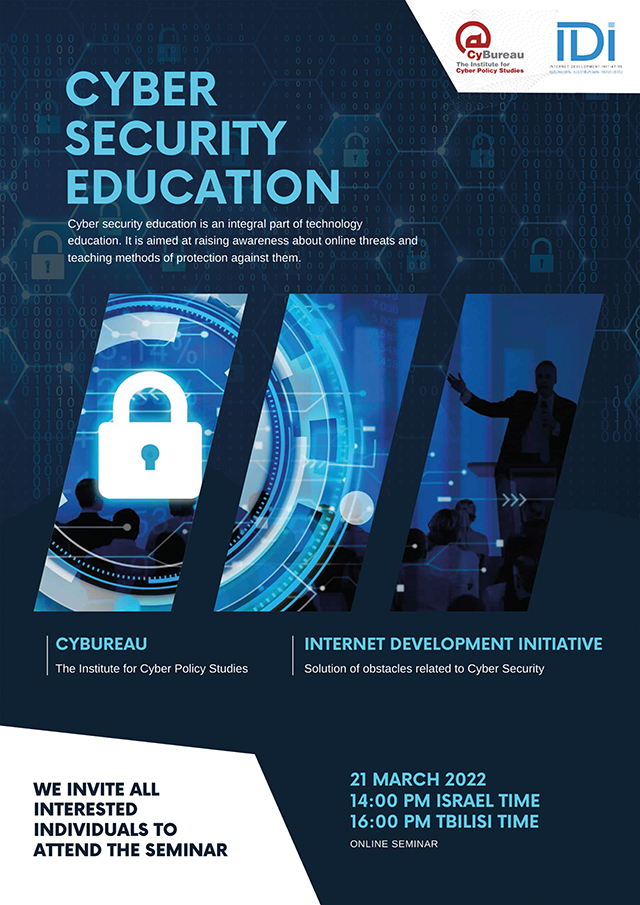 What are your future expectations in terms of cyber security in Georgia and the region? What threats does it face and how will it overcome them?
Last year was very interesting in terms of the country's cybersecurity. In particular, changes were made to the information security law, the third strategy was approved, the subjects of the new critically important information system were determined, which also included the private sector. In fact, it can be said that the country's cyber security is entering a new era, although the country already had good experience in this regard when in 2017 it received a good rating in international cyber security indices.
Russia remains as a threat, which also is reflected in the third cybersecurity strategy of Georgia. Both external and internal threats can be considered as a risk as well.
A comprehensive approach to addressing cyber security threats and challenges is important. The active involvement of the state and civil society, as well as the private sector, in the analysis of the problem and the search for solutions remains as a key factor.
Tell us about the webinar. Who was it for and what was achieved?
The title of the webinar was Cybersecurity Education. It was implemented within cooperation between Internet Development Initiative and CyBureau – The Institute for Cyber Policy Studies. We brought together leading specialists working in this field from Georgia, Israel and Poland. During the webinar, they discussed the Cybersecurity Education Ecosystem, Cyber Awareness and Cyber Commitment, Digital Citizenship, how to bring cyber education to all levels in the organization, and more.
A comprehensive approach to addressing cyber security threats and challenges is important. The active involvement of the state, civil society, and private sector in the search for solutions is key
Advancement in technologies promotes an evolved society that embraces innovation and inventions; however, directly proportional to this advancement, a cybersecurity knowledge gap is becoming exceedingly clear.
The aim of the webinar was to express the need for educational institutions to make cybersecurity education a priority. We need to focus adequate efforts on training and preparing students to enter the cybersecurity workforce, we also need to realize that regardless of their future career, they should begin caring about their personal cybersecurity the moment they begin using devices. We must develop programs that support students in understanding their personal cybersecurity and privacy issues. To ensure cybersecurity awareness and knowledge, internet users and young individuals need to get educated on how to operate safely in cyberspace. This education will guarantee that they understand how to protect themselves from cyberthreats. Internet Development Initiative will actively continue to pursue educational projects and make efforts to help Georgians discover and develop new opportunities.
Exclusive interview by Katie Ruth Davies