The information in the wide-open public domain has it that in the last five years, almost $6 billion worth of agricultural food products have been imported into Georgia, which in fact means that we are using a huge labor and financial resource to assist foreign businesses, instead of helping our own selves.
Moreover, the official stats give us the heartbreaking figure that Georgia's average imported consumer basket makes up as much as 80% of the entire food consumption in the country, and we annually import as much as $110 million worth of wheat. I wish the figures were not true!
One of the reasons for this unwise employment of our local natural and labor resources is the fact that the share of agriculture in the Georgian economic body is decreasing on an annual basis. Guess how much that share is. They say it is not even 8%. This is a real catastrophe for a country which is more than rich with favorable climate, fertile soil and water resources, not to mention the available qualified cadre. I remember I many times heard as a child that Georgia is a land for extraordinarily fruitful agriculture, and it should be involved not in industrial development, but exclusively in farming. This might be true even now, 70 years on.
In the last 5 years, almost $6 billion worth of agricultural food products have been imported into Georgia
The well-versed in the field local specialists believe that, if all pros and cons are taken into consideration, Georgia has a clear chance to turn itself into an agriculturally self-sufficient nation, substituting the import exigencies with the indigenous production potential of food products. The selfsame farming experts are certain that maintenance of Georgia's land-cultivating effort within today's primeval style and framework will never do enough good. According to that expert opinion, nursing a family-level veggie garden does not at all mean that the population is seriously self-employed in an agricultural activity, although more than half of the rural population in Georgia are deemed to be cosily involved in farming.
Agriculture as such is an industry of a very wide and consequential meaning. Private farming is only one of the most primitive ways of physical survival, enjoying the fruits of one's own pleasurable labor, or putting the harvested produce into the marketplace for a momentary selloff to have some extra cash in the pocket. The competitive farming industry that has the potential to affect the country's economy by squeezing out the habitual foreign food product and pushing the local produce into the marketplace has to be built methodically, patiently and perseverently, based on compatible financial, modern knowhow-oriented and skilled-labor investments, plus the relevant packing and massive marketing capabilities.
Here, the combination of individual effort and talent, skillfully combined with the state-level knowledgeable endeavor, might be conducive to the desired success. Thus the chance might loom on this country's potentially strong agricultural horizon that some day, not in a very remote prospect, Georgia might not only desist from importing food products, but will start supplying the world with charmingly marketed and compatible popular yummies. Easy to say of course, but doable too!
Georgia's average imported consumer basket makes up as much as 80% of the entire food consumption in the country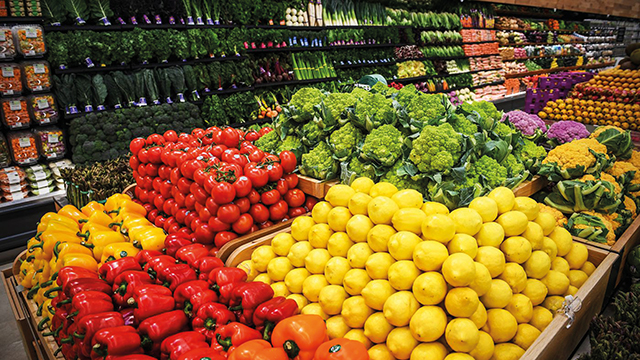 The potential high level farmers involved in big agriculture might be a little reluctant to go for extensive business due to their vulnerability to natural drawbacks like pests and elements, but being scared doesn't pay. Any farmer in the world could be subjected to those out-of-the-blue expenses but, as the saying goes, no pain – no gain. Almost every agricultural field is in want of the skilled and hard-working hand of a good farmer, grafted on the strong arm of the state. Even in the United States, a country of the utmost economic development, farmers look to governmental hands for grants and awards, but nobody there is sitting twiddling their thumbs: They are all working day and night to have the soil and their labor yield results, thus making business their number one priority. Understandably, modern agriculture may not have a way without modern equipment and technology to achieve a harvest of plenty, but a harvest with minimized losses is also a big thing to manage, which also needs qualification and readiness. Learning this must also be the subject of our attention.
And finally, not to forget, first and utmost, are the people who want to be active and productive farmers.
It is no news that agriculture as such is done in the countryside, and the potential big-caliber farmers we have been talking about should be born, nursed and prepared in rural areas, which unfortunately are being emptied today of the people who would make those farmers – the answer to that problem is the subject of another study.
BLOG by Nugzar B. Ruhadze