Nini Menabde, the founder of "Magic Fairy Tale," a company specializing in children's furniture and accessories, has exciting plans for the future. She intends to relocate her production to Guria and provide employment opportunities for single mothers. Nini envisions establishing a large-scale company dedicated to manufacturing children's furniture and aims to collaborate with small businesses in the region. However, despite her efforts in seeking financial support from various organizations, she is yet to receive a response.
Nini believes that the revitalization and growth of regional areas should be of interest to both non-governmental and governmental organizations. She has observed that many young people who migrate from the regions to study rarely return, leaving behind abandoned enterprises. Nini wonders why the potential of the younger generation cannot be harnessed to breathe new life into these establishments. This pondering sparked the beginning of the "Magic Fairy Tale" journey.
"I think that in the Georgian reality, there is no single mother, female entrepreneur who wants to transfer production from the city to the village and sell the product from there, first throughout Georgia and then beyond the borders. Not in the territory of Guria, but also Tbilisi, there is no children's furniture enterprise or even a separate store, and I want to occupy this niche. If I have financial support for this, I think it will pay off. The main thing is that a person loves and believes in what he is doing, and the rest will work out sooner or later. During these 6 years, I went through a lot of difficulties and I'm still going through them, but I never thought of giving up for a single moment," says Nini Menabde.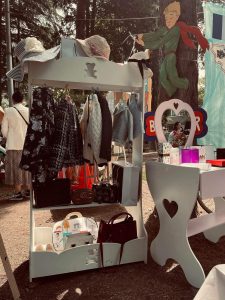 The story began six years ago when Nini, a professional journalist turned entrepreneur, became a mother. Unable to find the unique products she desired for her son in the Georgian market, she was inspired by a photo of a wooden hanger for children's clothes on an Instagram blog. This sparked her entrepreneurial spirit, and she set out to offer eco-friendly, locally-produced wooden products to Georgian consumers at affordable prices.
Nini's journey started modestly with a gift of 500 GEL from her father, which she used to purchase materials. She collaborated with a craftsman to bring her designs to life, assembling the products herself. Over time, she acquired a laser machine through a loan, allowing her to cut wood independently. Last year, funding from "Produce Georgia" enabled her to acquire a router device, which will facilitate plans.
The interest in "Magic Fairy Tale" products have been consistently high, with Nini asserting that her company has no direct competitors in the Georgian market. While there are other enterprises producing items with similar designs, they often use cheaper materials and paints, resulting in less durable and allergy-inducing products. In contrast, "Magic Fairy Tale" prioritizes quality, durability, and allergen-free water-based materials, which customers appreciate.
"here are other enterprises or companies operating in the market that produce several specific items with the same or similar design. I always try to buy such things myself to compare with my products. I can say that the vast majority of them paint things with gouache or nitro paints. Therefore, the production of the item is cheaper. Despite this, these items are sold at the same price as I, which produces much more durable and anti-allergenic, water-based products. That is why customers often note the difference in this regard." – she says.
Nini's commitment to customization and personalization sets her apart. Most of her products are made to order, catering to individual preferences, which has resonated with customers. While Nini aspires to showcase her products in physical stores, she currently faces limitations in doing so. Nonetheless, she plans to capture a significant share of the children's store market once her vision is realized.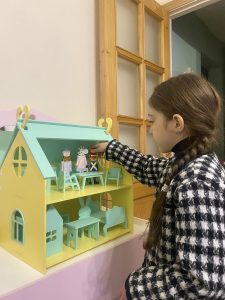 With regard to pricing, Nini strives to accommodate customers' financial situations. Her product range spans from 160 GEL to 900 GEL, offering options for various budgets. However, the pandemic has led to a drastic increase in material costs, compelling Nini to raise prices by 5-15 GEL. She hopes for stabilization in the Georgian market, allowing her to maintain affordability without compromising on quality.
"I try to adjust the prices to all types of customers, it starts from 20 GEL. For example, we have popular Barbie houses for 900 GEL and 160 GEL."
Beyond her entrepreneurial pursuits, Nini is driven by her desire to contribute to the development of her community. By transferring production to Guria and employing single mothers, she aims to bring new life and functionality to the region. Nini's passion, determination, and commitment to providing eco-friendly and beautiful products have shaped the success of "Magic Fairy Tale."
By Mariam Gorkhelashvili