Made with heart, Madi Knitwear clothes are created for those who value quality and design. This Georgian brand offers its customers cardigans, sweaters and vests. To find out more, GEORGIA TODAY talked to its founder, Mariam Gogua.
"The Madi Knitwear story started out as a hobby a couple of years ago when me and my mother began knitting jackets for ourselves in all kinds of bold colors," she tells us. "Once others saw our unique designs, the orders started pouring in on private social networks, and I decided to launch my own label of exclusive handmade knitwear. Madi Knitwear was born in 2015! Madi Knitwear is a Georgian brand based in Tbilisi. Each item is a unique handmade piece inspired by childhood memories, using nature's most beautiful features and shapes, the silhouettes of different flowers and plants, and insects, using the finest special yarns and blends."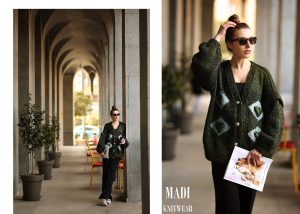 What kind of products do you offer to customers?
We offer our customers embroidered cardigans, sweaters and vests made of the highest quality materials. The 2023 collection, along with embroidered products, includes clothes decorated with natural feathers and crystals. The product is distinguished by its quality and design.
Where can your products be purchased?
Due to the high demand, we opened the small enterprise in 2022 that allowed us to increase the quantity of our products. Our items are mainly exported to Kazakhstan and Azerbaijan, although this year there is also an increase in local customers.
Products can be purchased on the website www.madiknitwear.com, as well as via the online platforms Instagram and Facebook.
Tell us about your future plans.
In 2023, we plan to expand the enterprise and add the employees, offering a diverse range of products to customers and increase our export area.
By Mariam Mtivlishvili