USAID continues supporting the people of Georgia. This time, they focused on one of the most beautiful regions of our country – Samegrelo-Zemo Svaneti, where the agency launched the Innovate ABL program in collaboration with Georgia's Innovation and Technology Agency. The program, the launch of which they announced at the Zugdidi Tech Park on the 19th of May, is aimed at fostering innovation and Entrepreneurship in communities living in the administrative boundary line regions.
"We're here today to support people from ABL communities, who are innovative, who are creative, who are great. Who want to develop their own ideas, and we're here to give them the support they need through mentorship and through training," – Said Dina Karic, Chief of Party at USAID Resilient Communities Program.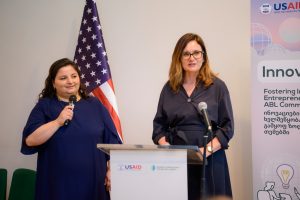 Her Excellency, the U.S. ambassador to Georgia, Kelly C. Degnan, attended the launch event. She addressed the audience and underlined how much the U.S. is committed to supporting communities living alongside the ABL.
H.E. Kelly Degnan told Georgia Today that they're focused on communities very close to the administrative boundary lines because they know that people living there have extra challenges". She also said – "It's harder for them, and we want to make sure they get the same attention, same resources, same opportunities as Georgians throughout the rest of Georgia, especially in the capital"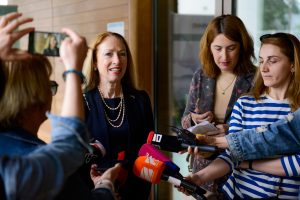 Besides participating in the launch of the program and addressing the audience, her Excellency visited young entrepreneurs who presented her the best of their creations. Among others was an ambitious Bnollar start-up created by Saba and Giorgi, young students, the project of whom the ambassador Degnan found very interesting.
"We presented her our start-up named Bnollar, a blockchain-based social network with an integrated NFT marketplace. It was very interesting to meet her, and she was also very grateful for that," – Said Saba Tchitchinadze, Entrepreneur and co-founder of Bnollar.
The information which entrepreneurs such as Saba and Giorgi will find helpful is that The Innovate ABL program comprises three primary interventions: Pre-Acceleration Program, Tech Weeks, and Regional Grants Program. Pre-acceleration programs are already in full swing. Tech Weeks have also started in the Shida Kartli region. As for the Regional Grants Program, it started on May 15th and will last until the 15th of June, and residents of Samegrelo-Zemo Svaneti and Racha Lechkhumi regions will be able to apply for grants competition.
By Journalist Erekle Poladishvili