The School has accumulated and combined the rich experience of the wine business of over 20 Georgian and foreign mentors over the last two decades
Khetsuriani Sommelier and Wine School was founded in 2003 by Shalva Khetsuriani, President of the Georgian Sommelier Association and Founder of 'Marani Khetsuriani.' During this period, the school operated under the name 'Vinolege,' then 'Tbilisi Wine School,' and later under the name 'Khetsuriani Sommelier and Wine School.'
Dr. Kakha Shengelia, President of Caucasus University, became the co-founder of the school in 2021, which is an important step on the path of rapid development of the School. The School is now entering a phase of achieving new and even more ambitious goals and, together with its new partner, will offer many interesting news, starting this year.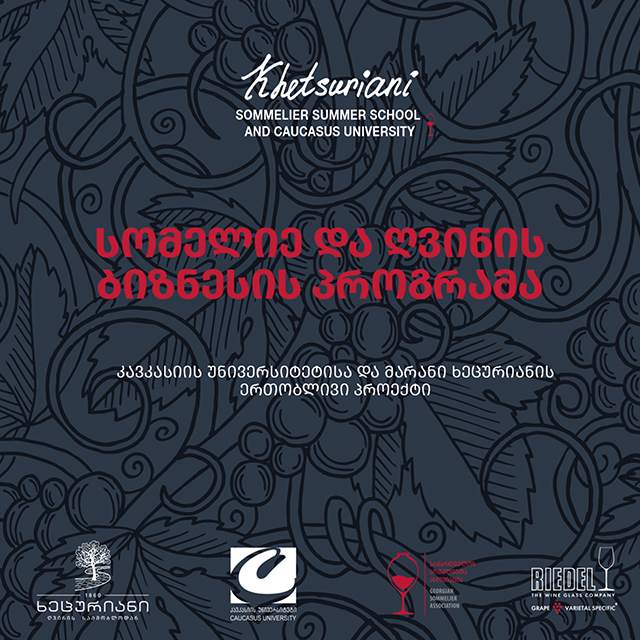 Within the framework of Caucasus University and Marani Khetsuriani joint project, 'Khetsuriani Sommelier & Wine School | Caucasus University,' the school has launched a new certificate program – 'Sommelier and Wine Business Program,' while continuing to teach the WSET International Wine Qualification in Georgia. In addition, the cooperation envisages implementation of long-term plans, joint projects, and the creation of joint training programs.
At the current stage of the wine industry development, having a standard of quality wine education and viable opportunities is of special importance to Georgia. It is paramount that Georgia not only plays an important role in the international wine arena, but also appears on the map of important wines in the short and medium term.
The unification of efforts from the wine industry and education representatives, such as the partnership between Khetsuriani Sommelier and Wine School and Caucasus University, will further strengthen and take the quality of wine education in Georgia to a new level.
The School has accumulated and combined the rich experience of the wine business of more than 20 Georgian and foreign mentors over the last two decades. Its task is to promote the introduction and development of both the sommelier profession and the practice of effective management of the wine business. Only this way will Georgia be able to get closer and find itself alongside countries with successful wine businesses in a short period of time. For this, the practical support of wine business owners, top management of wine companies, small wineries, wine marketers, brand managers, sommeliers, restaurateurs, representatives of wine and catering tourism and other professionals through high quality education services, is extremely important.