One of our recent visiting volunteer work teams left a wonderful gift for my wife and me: a copy of the first officially produced Georgian version of the board game Scrabble. You have a squared-off board onto which you compete with 1-3 other people to make a big crossword using as many as possible of the letters you select at random from a bag. The rarer letters of your language get higher point scores, and certain squares on the board also multiply the value of either a letter or a whole word by 2 or 3. A mutually agreed dictionary mediates disputes, and the winner is the one with the highest score total when there are no more letters or words left. You get a bonus of 50 points, too, for using all 7 of your current set of letters (11 in Georgian) in one turn. Great fun for readers and writers!
This gift took me back in reminiscence to the time I actually made the first ever unofficial version of Georgian Scrabble in known history, about 15 years ago, when I lived for two winters as a guest and after-school English teacher in Ushguli, Upper Svaneti, Europe's highest village. Electricity then was frequently off for hours at a time, unpredictably, and people got quite frustrated and stressed out at its randomness and the missing of their favorite evening soaps on TV. So, noticing my host family's tablecloth of roughly inch-sized squares, I decided to make and introduce Scrabble to them. We did proper letter frequency analysis, the family's pre-teen girls and I, to arrive at suitable frequencies and point values for the lesser-used Georgian letters. Then we cut out paper letter squares, wrote the required number of letters on them, I explained the somewhat relaxed rules, and the game was on. It certainly helped while away the hours of kerosene lamp light and not much else with which to entertain a family.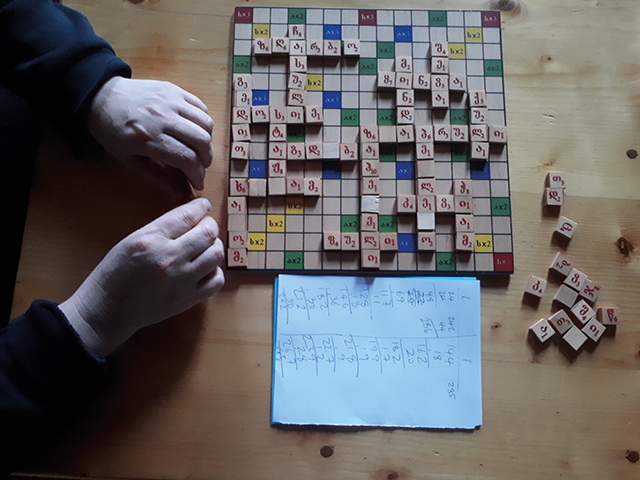 Now, a decade and a half later, it's most gratifying to see the proper thing at last for sale here in bookshops. My wife and I have already had our first game: winning the lottery to go first, I also managed to get SIX times my word score by using both the central double and an edge triple word score in one 8-letter long word, totaling 144 points. From then on it was a war of attrition, though, with less spectacular words in what is after all my 4th language. In the end, she beat me by 1 point, which satisfied us both. She did win, but I gave her a run for her money.
I also remember talking years ago about my Ushguli Scrabble introduction to some Korean friends, who remarked that it's an impossible game in their language. This is because written Korean uses clusters, rather than straight lines, of letters. Indeed, there are many versions of writing in the world, and only some of them are technically able to be called alphabets: those with both alphas (vowels) and betas (consonants), for example. Hebrew, Arabic and Farsi don't write their vowels; other languages like French add accents (here I suppose you could include every accented letter as a separate character). I would also love to see another Georgian version of Scrabble made, using the original alphabet, of which only the letter "s" has remained to present times…
We want to make learning as fun as possible, whatever the subject, and help our pupils forget that they are even learning
Our next game we intend to invite a couple of our neighbors with whom we are friendly for an evening of it. Then I hope to scour Zugdidi or Tbilisi bookshops to see what other Georgian-version board games have come into existence in the last few years, buy a few more, and make a regular thing of Games Night in Etseri. It might just give otherwise bored groups, such as couples (or sets of men typically gathering for drinking) an alternative way to socialize and enjoy themselves.
My wife has also taken both the Georgian and English versions of Scrabble to school too, and they have made an impression there among teachers and pupils alike. It's games like this which add a lot of fun to learning in whatever language. Here, vocabulary building and spelling are key (the latter less so in superbly phonetic Georgian, and much more so in English). Other games will concentrate on sentences, pictures making words or phrases, strategy, mathematics, playing with chance, and more.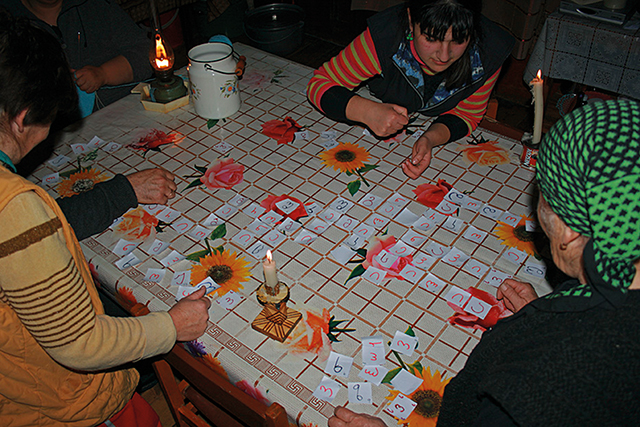 If we can make learning as fun as possible, whatever the subject, and help our pupils forget that they are even learning, it will take some if not most of the drudgery out of the process, whatever the subject. But the learning will still really be taking place! Quiz competitions like British pubs have; Monopoly; card games of so many kinds; Risk, checkers, chess, backgammon, dominoes; anything that doesn't need a computer or phone screen, but focuses on actual interaction with real people, be they partners or opponents! Reading for the pure pleasure of it, getting lost in someone else's world, communicated to you (as Stephen King would have it in On Writing) by the sheer magic of the author's telepathy. Activating your imagination instead of leaving it to passively observe video goings-on without inventing or adding anything yourself, as fun as movies can be, I admit it. This is what I hope to try here as an experiment. The only thing left to add is the clichéd but necessary phrase: Let the games begin!
BLOG by Tony Hanmer
Tony Hanmer has lived in Georgia since 1999, in Svaneti since 2007, and been a weekly writer and photographer for GT since early 2011. He runs the "Svaneti Renaissance" Facebook group, now with nearly 2000 members, at www.facebook.com/groups/SvanetiRenaissance/
He and his wife also run their own guest house in Etseri: www.facebook.com/hanmer.house.svaneti