With Georgia's highest regional unemployment rate (reaching over 34%) and lowest average monthly salary, Racha-Lechkhumi-Kvemo Svaneti remains the country's most underdeveloped regions. Even though it has significant potential for local and international tourism, it remains the least visited place in Georgia, with only a 0.2% share of international visitors. A regional investment forum, held on 18 June, sought to change that.
At the forum, over 40 local entrepreneurs showcased their businesses and discussed economic opportunities. The Ambrolauri, Lentekhi, Oni and Tsageri municipalities presented local investment prospects, promoted the business-friendly environment and touted the benefits and availability of local public-private partnerships. Presentations to potential investors also included new municipal profiles, developed with assistance from the United Nations Development Program (UNDP) and funding from the governments of Switzerland and Austria.
"UNDP supports Georgian municipalities to create a favorable environment for investments, to promote local entrepreneurship and to introduce sustainable economic models that will ensure equitable growth during the pandemic and beyond. We closely work with the regional and local authorities to help them take a more prominent role in this process," noted UNDP Acting Head Anna Chernyshova.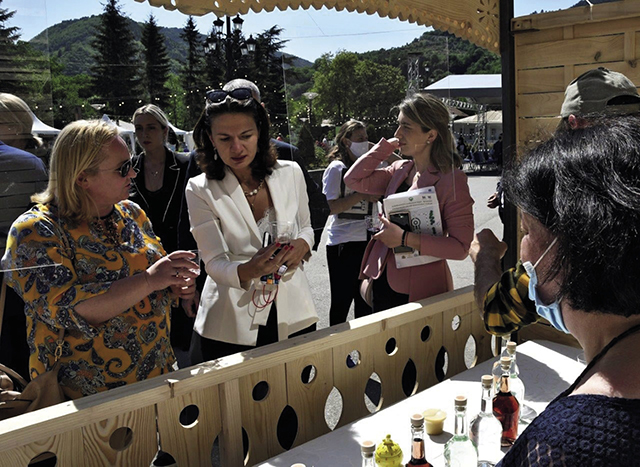 "Developing a business-friendly environment makes regions attractive to private-sector investment and opens opportunities for technical innovation and productivity, which results in economic growth and jobs," noted Dr. Danielle Meuwly, Regional Director, Swiss Cooperation Office for the South Caucasus, Embassy of Switzerland in Georgia, in her address to the participants. "By co-hosting this business forum, local self-governments and state representatives have made an important shift towards promoting the region's municipalities as an investment destination."
The Oni municipality's new investment profile included a range of key assets and opportunities, from a wealth of natural resources to diverse cultural heritage monuments and renowned balneological resorts. Tsageri described plans to attract business with untapped fertile land and a conducive environment for organic products. Ambrolauri highlighted its access to the local airport, unique biodiversity, mineral resources and endemic grape varieties.
All municipalities particularly stressed that, as high mountainous settlements, they offer businesses tax-exemptions and other benefits.
"The Government of Georgia pays particular attention to the economic development of the country's highlands," said Deputy Minister of Regional Development and Infrastructure, Mzia Giorgobiani. "We welcome and support sustainable public and private initiatives that bring new employment perspectives to vulnerable communities."

The Oni forum was organized by UNDP, the Ministry of Regional Development and Infrastructure and the regional and local authorities of the Racha-Lechkhumi-Kvemo Svaneti region with support from the Swiss Agency for Development and Cooperation (SDC) and the Austrian Development Cooperation (ADC). Local Democracy Agency Georgia, a non-governmental organization, was among the local partners.
In May, UNDP and partners initiated a series of regional investment forums exploring investment and partnership opportunities and business potential. The Oni forum follows a similar gathering in Ozurgeti; the coming months will see two more events (to be held in Samegrelo and Kvemo Kartli).
Long-term assistance to Georgia's regions and municipalities comes from UNDP's robust program for regional and local development funded by the SDC, ADC and the Government of Georgia.