For over a month now, the Russian invasion forces have pressed into the Ukrainian nation from the north, east, and south with hopes of crushing the resistance. With the failure of this broad objective, the Russian leadership has shifted its focus to what was largely seen as the core reason for the conflict; the Donbas region. In a recent statement, Russian Defense Minister Sergei Shoigu announced that the "first phase" of the conflict had been completed and the next phase would focus on "liberating" the region contested since 2014.
Despite this supposedly planned adjustment, many of the Ukrainian leadership have placed a significant amount of doubt in this statement. With trust already removed from Russo-Ukrainian relations, it is unlikely the defense forces will play into the Kremlin's hand. Additionally, the United States has commented that the movement of invasion forces constitutes a "redeployment, not a withdrawal," possibly into the embattled Kharkiv region in the northeast.
While this will not be the end of hostilities, it does show that through the staunch defense by Ukraine, Russia has likely been forced to reassess and redefine operational success. This in turn reshapes what victory could look like for Ukraine as well. If the bulk of Russian forces reassemble in the east, it provides a victory for Ukraine in the north and south, something Kyiv will surely spread across media and propaganda channels. However, it also creates a bastion in the contested regions that may be insurmountable for Ukrainian forces.
Conversely, keeping a limited number of forces deployed in the west could help to pin down Ukraine. This allows for the redeployed Russians to focus on finally taking Mariupol and Kharkiv, something that has been the bane of the Russian operations in the east. With the Kremlin searching at breakneck speed for a public relations triumph, the chance to claim victory in this "liberation" is lucrative.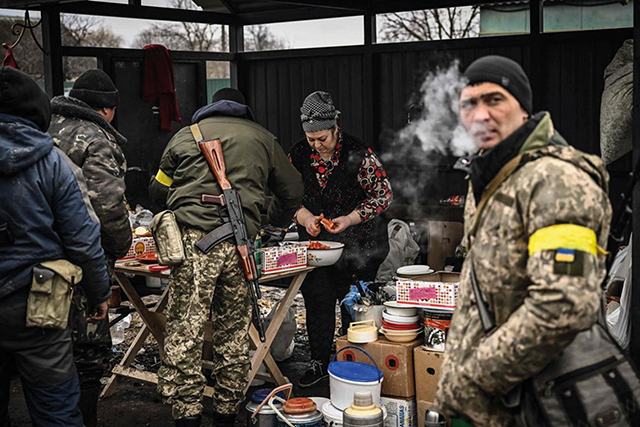 This option is far more plausible and possible for Russia and their separatist forces. The likelihood of a successful combined Ukrainian counter assault in the occupied regions is not high. Ukraine has been firm in its defense, and with recent limited counterattacks around Kyiv and Kherson, they have proven that they have some capacity at the tactical level. Russia is likely betting that they cannot translate this to the operational or strategic levels.
Combined arms offensives are immensely taxing on both manpower and logistics. Ukraine has sustained their defense by both fighting in well supplied areas and receiving a massive influx of Western support. It is not as likely that they will be able to concentrate their force and supply lines to the east in a way that can dislodge deeply entrenched forces. This is particularly true as the occupation line in Ukraine's east has been heavily fortified since 2014.
The Russian Duma, by deciding to recognize the Donetsk (DNR) and Luhansk (LNR) regions as independent, and whether planned or not, laid a foundation for Moscow to have a proverbial safe space. In addition to the Crimean territory, the LNR and DNR "republics" provide something that Russia has not had in the war on other fronts; a safe rearguard.
Removing dependence on Russian trade, expansion of national defense material and resources, and a cyber-defense that can stand on its own should be on top of the Georgian Parliament's agenda
While facing stern resistance from the front, much of the advancing Russian columns in other parts of Ukraine have suffered from rural and suburban partisanships. Ambushes, rearguard actions, and flanking movements have made the situation worse for commanders on the ground. While many of the maps showing Russian movements have reflected large swaths of territory as captured, these guerrilla units have continued to defy these claims.
Russian-backed separatists in the east offer this rear security for a renewed advance. However, it is highly unlikely this will achieve any sort of stability in the region, setting it up for another lukewarm conflict and a potential re-invasion in years or decades. This tension only pushes Ukraine closer to the West and demonstrates a need to continually arm and develop the Ukrainian Armed Forces.
The prospect of a continuing regional conflict, sadly, is very high. With neither side willing to admit faults and compromise, it is likely the LNR and DNR areas will continue to be heavily militarized and devoid of normal human habitation for decades. NATO, likely with no other real option, will need to continue its involvement in this proxy conflict. Simply put, just because rockets are not falling on European Union and NATO cities does not mean Europe as a whole can rest so easily.
While it's true that an attack on a NATO country is unlikely, it is imperative to keep that at a low level of probability. To do this, it's essential to learn from the faults and victories of Russian units in Ukraine. Logistics frameworks need to be watertight. Pan-European dual-purpose military and civilian transportation routes should be able to facilitate defense oriented cargo. As is commonly said in military communities: speed is a weapon unto itself.
The use of drones and electronic warfare present challenges NATO has yet to face, certainly on the scale that Ukraine has encountered. Loitering munitions and the use of drones for targeting purposes, such as Russia's Orlan-10, have to be reckoned with in Brussels. Additionally, the advanced encryption of communications and electronic signatures has to be addressed.
Several Ukrainian command and supply centers have been struck by Russian strategic missiles due to geolocation using their massive electronic signature on the battlefield. NATO units, with even more advanced technology used in their battalion and brigade commands, only present an even larger target for enemy long- and mid- range strike capabilities.
Europe, Georgia particularly, must focus on its deterrence efforts. Tbilisi, while admirable in the modernization efforts of its military and infrastructure, has to know that it is a pen-stroke in Moscow away from suffering the same fate as Kyiv. Ukraine has now already laid out this template for semi-victory against a Russian force. Removing dependence on Russian trade, expansion of national defense material and resources, and a cyber-defense that can stand on its own should be on top of the Georgian Parliament's agenda. They have the example, now they need to meet the mark.
Analysis by Michael Godwin