All the difficulties and challenges that recently appeared in the hospitality industry, including the Coronavirus pandemic, have significantly affected this important sector of the economy. Unfortunately, society witnessed the closure and disappearance of many of its favorite brands; however, thanks to years of experience and the dedicated hard work of highly qualified professionals, some popular brands survived, emerging from the crisis even stronger.
One successful example of such a brand in the hospitality industry is Hotels & Preference Hualing Tbilisi, a 5* hotel of business category, located near Tbilisi Sea, and managed by BTL Hospitality Group. Featuring a sleek building in a residential area at the edge of the city, the staff and management have been working tirelessly to offer its traditional best service to its guests.
Hotels & Preference Hualing Tbilisi is continuing to maintain its niche as a leading business category hotel in Georgia, offering room for large scale events, business meetings, the MICE hospitality industry, and continuing to approach products in a very authentic, contemporary and innovative style.
Notably, this high-class business hotel has a new General Manager, Mr. Peter Hoellrigl, who, in an interview with GEORGIA TODAY Business, elaborated on his diverse career, his recent appointment as General Manager of Hotels & Preference Hualing Tbilisi, and the future prospects and opportunities he sees in this new position.
"I was educated in Europe, in Austria, so I have a good background and experience in culture, in different nations," he tells us. "From this experience, I chose to work in the hospitality industry, because I've always liked challenges and the excitement that is related to this field. Moreover, I can say that I'm a creative person, which gave me an opportunity to do all these things."
"When I was 19, which is actually very young, I was very lucky that one of my bosses moved to the luxury island of Bermuda, and I was able to join him. I was very happy to work for one of the most famous hotels for 4 years.
"From there, my boss helped me to move to The Ritz-Carlton Hotels in America. It was the beginning of The Ritz-Carlton chain, they ran only three hotels at that time. Then, visiting foreign countries, I felt it was time to move back to Europe, so I did. I worked in Germany, in the Czech Republic, and back in Austria for seven years. As much as I love Austria, I still felt that the pace there was relatively slow, so to find more excitement, I went to visit some friends in Asia. And I ended up staying there for about 20 years, because the local market is very exciting and fast-growing. I worked there for several different international companies. But despite my love of China, I decided it was time for a new challenge, and now I'm very happy to be here in Georgia!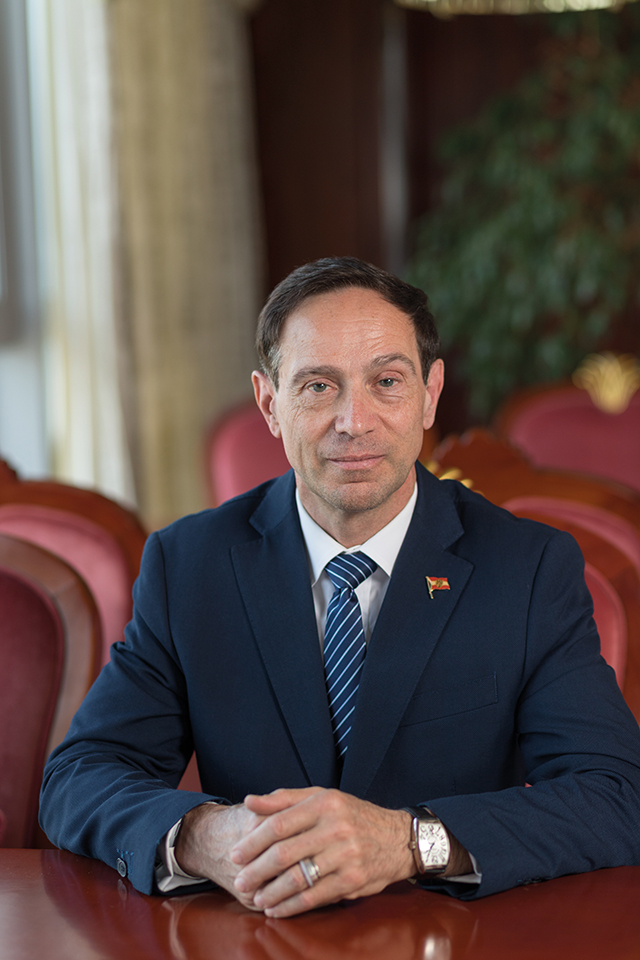 How did you become a member of the Hotels & Preference Hualing Tbilisi team and what does it mean to you?
Having connections and a good network is very important. Even in China, everything is built on connections. Hualing is a very big and well-established company in China. They cover many different directions with their brands, and, in hospitality, they're very close to the BTL Group, a Chinese-owned and managed company. BTL is international company, focusing on individual luxury boutique hotels. I've worked for BTL for many years and that's how I ended up in Tbilisi.
What are your future plans related to this hotel, and to your activities in Georgia in general?
I haven't been in Georgia long, but what I can say at this stage is that the Hotel is very beautifully designed, it has very clear BTL standards, it's well-known for its distinctive features, such as, large conference facilities, unique sport bar, largest in the city rooms, the biggest hotel swimming pool and of course outstanding service. I still need time to get acquainted with the property, the market, with the people, and then I can plan what is right to do. BTL's strong point is luxury boutique offerings. Based on my experience with them, I can say that we'll cooperate actively to further improvement and individualize our service for our customers, to always meet their needs and offer an experience that they're looking for in a respectful manner.
What do you consider to be the greatest achievement of your career?
I can answer simply – always the next achievement! Once you do it, it's exciting, once you did it, it's great, but you're not impressed anymore. I don't like to rest, I don't like to live in the past, I'm just looking for a new challenge. And now, my challenge is to settle here in Tbilisi, to help and support Georgian people with my experience and to lead this business.
I've moved from continent to continent, from culture to culture, hotel to hotel, so adapting to the new living reality is not difficult for me. I can already see that Georgia will be a very comfortable place for me to live in.
What would your message be to Georgians and the Hotel's guests?
My main message to your readers and the whole of Georgian society is that here at Hotels & Preference Hualing Tbilisi, we can't wait to meet and serve them with dignity, and our team is always ready to create maximum comfort and please our guests. They'll see the rest themselves. Let's my actions speak, not my words.
INTERVIEW BY ANA DUMBADZE