The author of this article was in Georgia recently, a country that has a long history of connection with the author's homeland, India, from ancient to modern and contemporary times. Georgia has long been the meeting point of diverse cultures, and, arriving with migrants from different parts of the world, this author landed in Tbilisi, the capital of Georgia, a beautiful city which according to legend was founded by King Vakhtang I Gorgasali (c. 442– 502), one of the founders of Georgian statehood. Considered a saint by the Georgians, he is buried in the cathedral of Svetitskhoveli, also known as the "Cathedral of the Living Pillar," in Mtskheta, the ancient capital of Kartli, the east Georgian kingdom from the 3rd century BC to the 5th century AD.
I spent lot of time in the cathedral of Svetitskhoveli. Readers who have read "Kartlis Tskhovreba" (The Life of Georgia), a history of Georgia, will be aware that my homeland, India, is mentioned several times in it, and King Vakhtang I Gorgasali has an Indian connection.
In this article, GEORGIA TODAY's readers will learn about the historical links between Georgia and India according to "Kartlis Tskhovreba."
When I was in Mtskheta, I visited the tombs of Holy Equal-to-the-Apostles King Mirian, and the tomb of St. Mirian's wife St. Nana, Empress of Georgia, and Equal to the Apostles, located in the upper church at Samtavro, where today a convent in honor of Saint Nino who brought Christianity to Georgia is located.
King Mirian's younger brother was Bartam, whose maternal grandfather was King of India. When Mirian was forty years old, his father, the King of the Persians, Khosrov Ardashir Sassanid, died, and after him the Persian King was Mirian's younger brother Bartam.
Bartam's claim to the Persian throne was challenged by Mirian and, in order to avoid bloodshed, the elders and marzapans of Persia undertook mediation between the two brothers. They considered the matter and gave the reign over Persia to Bartam, and to Mirian, in order to console him, they gave Jazira, half of Sham and Adarbadagan. All this was joined to Kartli, Armenia, Ran and Movakan.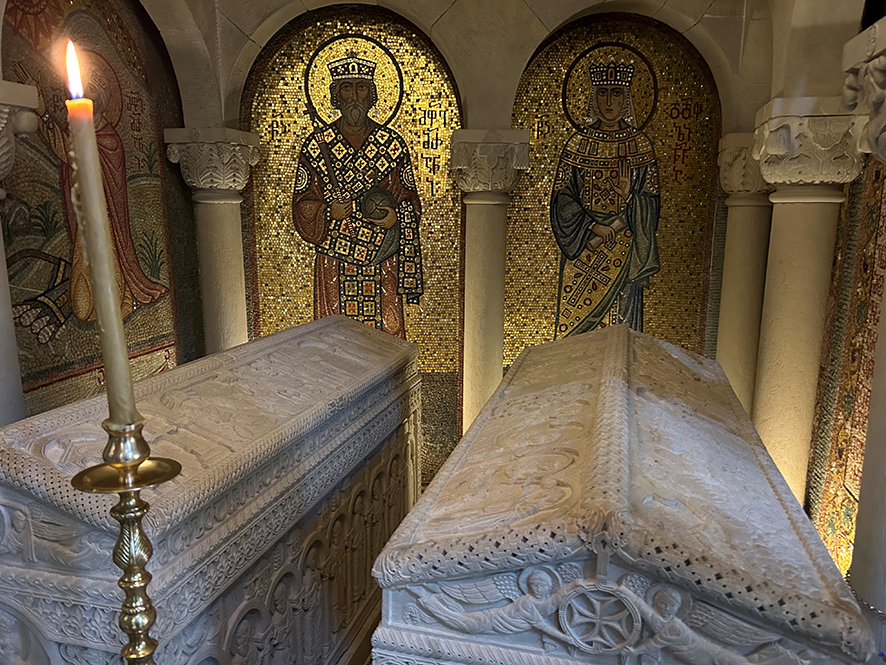 The Sassanids, the dynasty in which, according to "Kartlis Tskhovreba," the first Christian King of Georgia Saint Mirian was born, ended with its last monarch Yazdegard Shahryar III. After that, most of the Persians, who followed the Zoroastrian faith, migrated to India to avoid the Arab persecution.
Another Georgian monarch with an Indian connection was Vakhtang I Gorgasali (c. 442– 502), of the Chosroid dynasty, who was a king of Iberia (Kartli or eastern Georgia). As a general in the Persian army, he invaded India. According to "Kartlis Tskhovreba," the area in India they invaded was then probably ruled by Hephthalites, also known as "White Huns." A viceroy set by Hephtalites in Gandhara, known as Tegin, became overlord of North and Central India after the fall of the Gupta Empire. It was probably the Hephtalites that King Vakhtang I Gorgasali defeated.
In "Kartlis Tskhovreba," it is mentioned that "There was a custom there (India): the camp of the loser in single combat took flight. King Vakhtang beat fifteen bumberazis, who had killed many Persian giants. They spent three years fighting in India, and seized most of the Indian lands, but they could not overpower the fortress towns and castles, for they were surrounded by great walls. They took tribute from the Indian King, and with one thousand liters of musk, the same amount of amber, ten ships full of perfume, a whole ship of rubies and emeralds, and all kinds of sapphires, one hundred camels loaded with gold and five hundred camels loaded with silver, from India they entered Sindia" (perhaps the Sindh province now in Pakistan, lot of Sindhis live in India too).
King Vakhtang Gorgasali showed his martial prowess even in his battle against the King of Sindh, and defeated him in combat. He took the defeated King of Sindh to his ruler the King of Persia. "Kartlis Tskhovreba" claims that King Vakhtang then gave advice to the King of Persia that "…let the King of Sindh go free, and take from him a tribute and hostages, because it will be impossible for the Persians to conquer Sindia. The Persian King liked Vakhtang's advice: he let the King of the Sinds go and took from him twice as much tribute than he had taken from India, and his sons as hostages, and all that tribute he gave to Vakhtang."
Even though Vakhtang had defeated the King of Sindh, he did not kill him, but brought him alive to the King of Persia and convinced the King of Persia to set him free. As such, the King of Sindh, feeling a great fondness for Vakhtang, made friends with him. He gave Vakhtang great and incomparable gifts, and the Persians and Georgian general Vakhtang Gorgasali left Sindh the fourth year after they had invaded, and the Sindian towns – Sindas, Topori and Kimrail – remained intact. King Vakhtang brought dark red rubies from India and Sindh to Georgia, which were buried in Ujarma.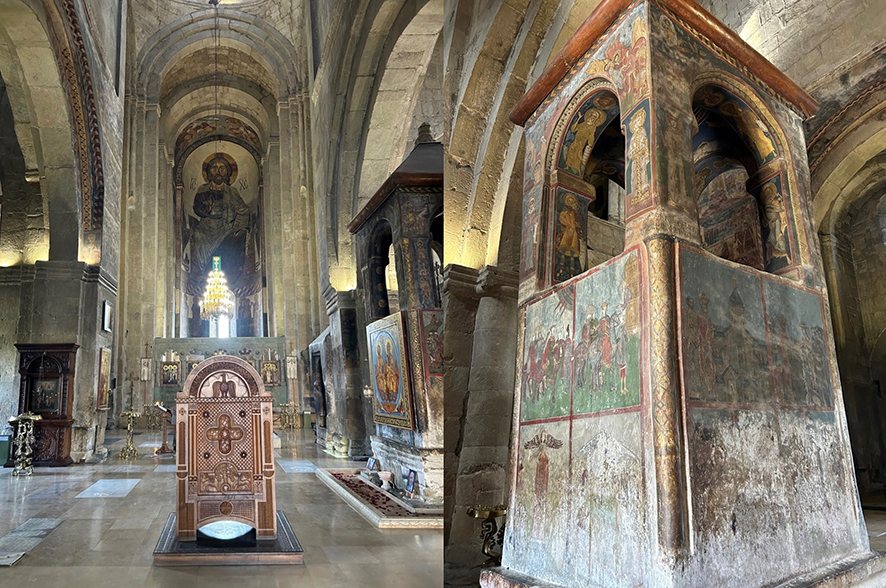 India and Georgia are far apart geographically, but, historically, we are connected. Indians have been living in the South Caucasus for a long period of time, and even had kingdoms in Greater Armenia. India has a thriving community of Eastern Orthodox Christians, their Church being an Apostolic Church brought by Saint Thomas the Apostle to India. The traditions of Malabar, Coromandel and the Persian Church held that Thomas the Apostle died near the ancient town of Mylapore in India. St. Thomas became a martyr in A.D.72, and was buried in Mylapore.
Like Georgia, India also has a long history of Christian presence in its territory and, like Georgia, India has been invaded by several Turkic invaders. But, like Georgia, India survived, and today both India and Georgia are independent countries with friendly relations.
After visiting Georgia, this author can say Georgians are substantially a friendly and hospitable people, and the friendship between India and Georgia should be strengthened. We should read more about each other's history and culture and visit each other's countries. People to people diplomacy is a strong way to strengthen friendships. I am looking forward to visiting Georgia again soon. God bless the India-Georgia friendship.
Blog by Arunansh B. Goswami, author, historian and advocate in the Supreme Court of India