"Inclusive Tourism, universal design, access to physical environment and tourism services are one of the most important factors contributing to the socio-economic development and sustainability of the country. Inclusive Tourism provides equal opportunities for people with disabilities, including the elderly (including large families) and tourists traveling with young children, to travel freely and safely and to enjoy tourism services. Accessible Tourism Center Parsa – ATCP's mission is to promote, advocate, introduce and develop Inclusive Tourism in Georgia. ATCP is a member of the European Network for Accessible Tourism -ENAT and a contact organization in Georgia," says Tamar Makharashvili, Accessible Tourism Center Parsa – ATCP Founder, Director.
Inclusive Tourism is one of the steadily growing segments of the world tourism industry and based on international experience by introducing universal design, accessible infrastructure and relevant services, the tourism potential of the country increases approximately by 15-17%. According to the report of the European Commission "Economic Impact And Travel Patterns Of Accessible Tourism In Europe" the number of domestic transfers within the EU due to disability or age in need of universal design and accessibility reached 783 million. The contribution of Inclusive Tourism users to the European economy is equivalent to 394 billion Euros and 8.7 million jobs France, Germany, Italy and the United Kingdom are the main European sources of the EU inclusive tourism market.
The World Tourism Organization (UNWTO), together with the European Network for Accessible Tourism (ENAT) and international organizations, developed important resources in the field of inclusive tourism, as well as extensive recommendations on the safety and services of persons with disabilities during the COVID-19 pandemic. Recommendations include information provision, accommodation, tourist destinations, services, and transportation.
"It is important to note the progress that has been initiated in recent years: Georgian national accessibility standards and regulations, the Georgian Law on the Rights of Persons with Disabilities, and the new Tourism Law, which covers inclusive tourism and is currently being reviewed/approved by the Government"- says George Gabidauri, International Institute of Universal Design Research and Education-IIUDRE Expert Architect.

In the UK, the government has actively supported inclusive tourism for several decades. The national tourist boards of England Scotland and Wales each recognize the social and economic values of tourism being inclusive, which makes sense for the opportunities it offers. In the UK, firms are said to lose about £2 billion a month by ignoring the needs of disabled people, according to disability specialist organization 'Purple.' There are estimated to be about 13.3 million disabled people in the UK and the 'purple pound' – the amount of money spent by disabled people – is estimated to be £249 billion a year.
"I have been involved in inclusive tourism for almost 25 years," says Chris Veitch, a British Inclusive Tourism Expert and Founder-Director of 'Access New Business'. "As a member of the European Network for Accessible Tourism (ENAT), I have been lucky to work in many different countries, including Georgia. During this time, I have seen numerous examples of the benefits of inclusive tourism, of which there are many. Like anything else, the work is never really finished: there is always something new to consider, especially with the opportunities that new technology can offer to help improve accessibility and the quality of the visitor experience.
"In 2017, I had the privilege of being appointed by the Minister for Disabled people to be the Disability Champion for the Tourism Sector, a role I undertook for three years," Chris Veitch tell us. "I was one of a number of Champions across a range of business sectors selected to help promote the benefits of being inclusive to disabled people."
It is reported that some (14%) of hotel operators notice an increase in turnover after improving their accessibility provision. Sometimes this is repeat business, and sometimes word-of-mouth or online reviews encourage others with accessibility needs to stay.
"A case study of the White Horse Hotel in Dorking (UK) highlights how accessible rooms really pay off," Chris Veitch notes. "When renovating this historic coaching inn, attention was paid to the design of the accessible bedrooms to ensure they would appeal to all. Subsequent room bookings have shown this investment to be very worthwhile: over a 12-month period, the accessible rooms had an occupancy of 74%, with an APR of £94 ($128). This contrasted with the standard rooms of 42.5 % occupancy and £84 ($114) APR. The result is that accessible rooms were delivering an additional £6,900 ($9404) additional revenue per room, against the standard rooms.

"What we also learn from this is that accessible rooms do not have to look or feel as though the guest is staying in a clinic or hospital," Chris Veitch says.
Motionspot, an award-winning business involved in designing the rooms at the White Horse Hotel, create enabling environments that work for all, without compromising on building design. They combine style with functionality to create beautiful accessible spaces that are easy to navigate, with products and designs that are intuitive to use.
Hotel Brooklyn, which opened in Manchester, had been open for only 10 weeks when it was named one of the 'hottest' in the world. Bespoke Hotels, the parent company of this and the White Horse Hotel, aims to set the gold standard for accessibility. Eighteen of the bedrooms are fully adapted for guests with disabilities, with stylish, spacious layouts and bathrooms overseen again by Motionspot.
"The reality is however, that whilst these benefits are significant, in terms of the potential profitability of responding to an underserved market (we need to recognize major market failure here), there are many other benefits to be gained, as Inclusive Tourism offers destinations and businesses new opportunities. Among other things, it can contribute to business growth, an improved quality of experience for all visitors and increasing competitiveness," Chris Veitch notes.
"Thinking more about inclusion/accessibility, and not just about compliance and legal obligations placed on businesses not to discriminate, can really help place the customer at the heart of a business. Many businesses will feel they do this already, but if access requirements are not taken into consideration, it is likely that many customers are not receiving the amazing customer experiences we want them to enjoy. Tourism is all about emotions: offering and delivering those amazing 'wow' experiences and moments for visitors, which become treasured memories. This makes it more likely that they will become repeat customers and recommend you to others, which is, as they say, probably your best form of marketing."
The key for success in this large and growing market, and to being competitive, is to see the customer, not the disability. A warm welcome, backed up by improved accessibility and relevant information, can help businesses, and the destination as a whole, to deliver amazing customer service to everybody and to demonstrate how much you value your customers and clearly understand their needs.
"Inclusive Tourism is relevant for us all, and we should not ignore this fact," Chris Veitch notes. "It is not just the obvious groups of disabled and older people, a significant market globally with the growing ageing population, who have access requirements; we also need to remember that not all disabilities are visible – some are hidden and not immediately obvious, such as learning difficulties, mental health, as well as mobility, speech, visual or hearing impairments. Those with hidden requirements are in fact in a majority. For them, living with a hidden disability can make daily life more demanding, but it can be difficult for others to identify, acknowledge or understand the challenges they face."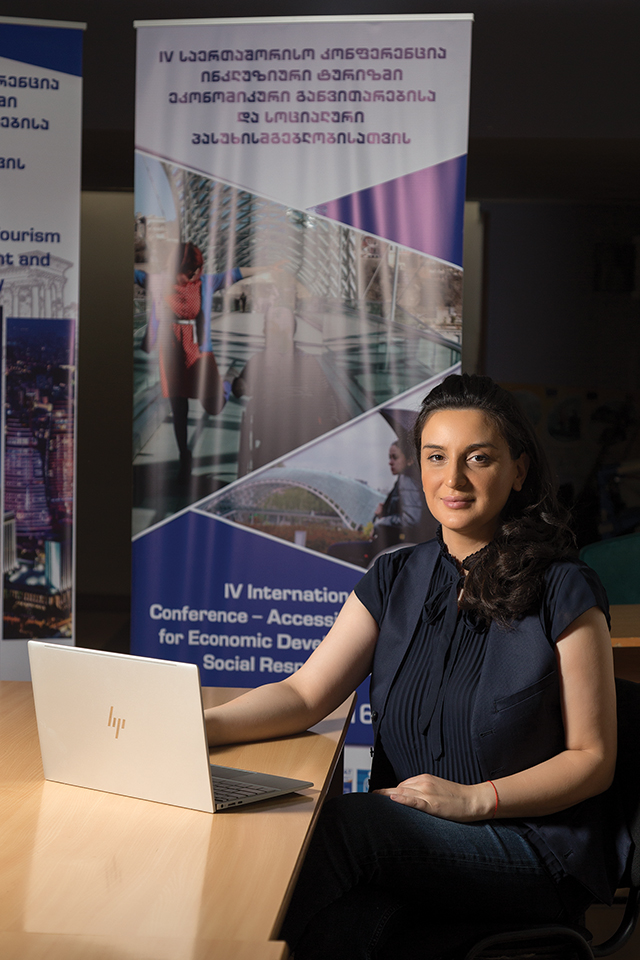 One solution to this in the UK is the Hidden Disabilities Sunflower which was designed and launched when London Gatwick Airport asked "How can we identify that one of our passengers may have a non-obvious disability?". A simple sunflower design on a green background for a lanyard was created – a subtle but visible sign to enable airport staff to identify that the wearer (or someone with them) may require some extra help, time, or assistance when moving through the airport.
"We also need to acknowledge that many people with access requirements may travel independently, many will travel in groups, with family and friends, for leisure or as part of their business, attending meetings and conferences," Chris Veitch says. "Understanding and responding to their access requirements, which can range from hearing, visual or cognitive, to dietary, means business can be won, while ignoring them means business can be lost to the competition."
The COVID-19 pandemic has had a massive impact on the tourism sector globally. In June this year, the UK's Department for Digital Culture Media and Sport published 'The Tourism Recovery Plan'. This sets out the role that the UK government will play in assisting and accelerating the tourism sector's recovery from COVID-19. It also sets out a framework for how the government will work with the sector to build back better. It recognizes that tourism has a significant role to play in delivering the government's economic growth agenda and other goals. It acknowledges the help that is needed to support the sector to recover swiftly from COVID-19, and to build back better from the pandemic with a greener, more accessible, more resilient, more productive and more innovative tourism industry.
"Prior to the pandemic, the Tourism Sector Deal, agreed by the UK Government, set out an ambition for the UK to become the most accessible tourism destination in Europe by 2025. They remain committed to this target, recognizing that an inclusive and accessible tourism offer that meets customer needs is good for both businesses and consumers," Chris Veitch notes.
"We should not lose sight of another important aspect of inclusive tourism: how it can contribute to the sustainable growth of the sector by benefitting local communities. The more inclusive we make the value chain of transport, attractions, cafes, bars, restaurants, the more local people with access requirements can enjoy them as well.
"As age brings with it limitations, this agenda is beginning to become even more personal, and I am starting to rely on tourism being more inclusive (the reality is that I always have relied on this), so that I can continue to travel," Chris Veitch tells us. "I have been extremely fortunate to be able to visit Georgia. I have been struck by the warmth of the welcome I have always received, the richness of the culture, the buzz of the cities and the beauty of the natural assets. With inclusive tourism development, I can be assured of enjoying more visits in the future, to once again meet with good friends and enjoy Georgian hospitality at its best."
By Ana Dumbadze