We met Thea Adikashvili and Darejan Tsiramua in Natakhtari, 28 km from Tbilisi, where they work at the 'Food Alliance' enterprise. Thea is an original resident of Khurvaleti, while Darejan is an IDP – an Internally Displaced Person – who moved to the village to escape the war. On 6 August 2008, she left the village of Ksuisi in the Little Liakhvi Gorge, together with her one-month-old baby, and since then she has been living in the Khurvaleti IDP Settlement with her family.
Thea and Darejan have to travel a long distance to go to work because there are no jobs in the village. They spend 45 minutes travelling, a journey that costs them not only time but considerable expense. But in a village where work is hard to find, these women are so grateful for their jobs that they are ready to overcome the difficulties.
The two women face everyday life with almost no access to basic services. "We don't even have a pharmacy," says Darejan. She adds that they need to go to Gori for the most elementary things, and during our conversation, you can sense a certain regret that she settled in this place with so few opportunities for development.
"Girls say that here, in Tserovani, they have everything they want. There is no need to go to Tbilisi, everything is here. In Khurvaleti, we are neither here, nor there, nor anywhere at all."
She believes that unemployment is the main problem and says that despite people's desire to find work, this is often impossible.
"It's a life without any prospects, hopeless, and it's a terrible thing when there is not enough money to meet even the most basic expenses. More than half the people in the village are unemployed."
The informational meeting through which Thea and Darejan found their jobs was implemented under the project LEARN4Employment program funded by the EU
Darejan says she was very young when she fled her home and doesn't remember much.
"I was scared and had mixed feelings… I had spent a year in Little Liakhvi Gorge, I was newly married and just had my elder daughter, she was born on July 8, I escaped with my little baby on August 6… During the whole pregnancy there was shooting all the time and I spent almost 9 months like this."
Starting a new life was also very hard. She felt she was in information vacuum, the people in the village are under stress and they are distrustful of everything.
"I don't like at all that the school is 100 metres from the border. Imagine, the border is 100 metres away and children have to go there. They were going to close that school, but it survived because the IDPs settled there."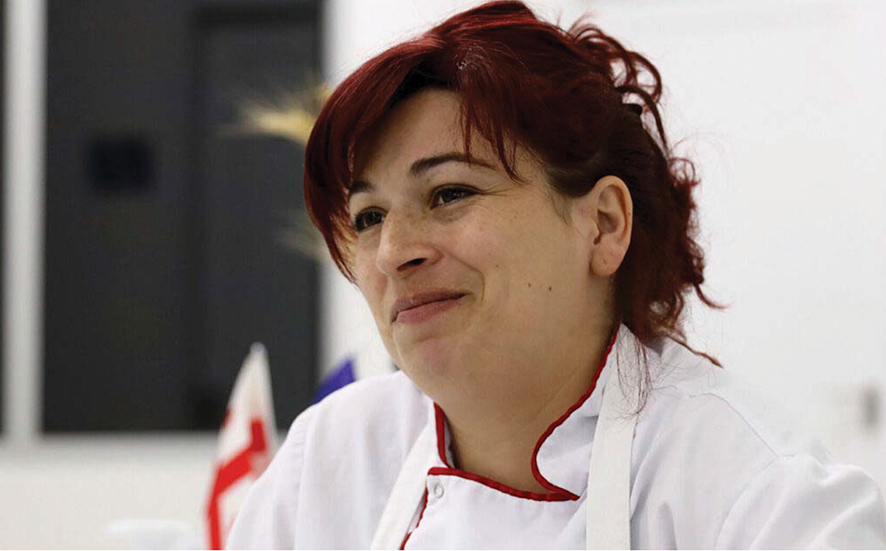 Thea Adikashvili, who lives in the village of Khurvaleti, is all too familiar with these problems. She is especially worried by the transport issues as she travels to work from Khurvaleti to Natakhtari every day.
"It is difficult, but we got used to it… It is difficult as the Russians are around, they look down on us," says Thea.
She says that she is used to everything and now the happiness of having the job outweighs these obstacles.
"I am so delighted to come to work, I have a special feeling, you know? I am happy to come to work."
Until 2021, Darejan and Thea were unemployed and had no hope to find a job. But then they went to an informational meeting organized by the Education, Development and Employment Center where they talked about their interests and problems.
"We were told about the Food Alliance enterprise. We were interested, two of us, and the next day we went to Gori, completed the applications, and were referred to the Food Alliance. We came here and were put on the waiting list for three months," Darejan says.
Initially, they were a bit scared of the changes but soon adjusted to everything. After starting the job, they were offered training, which they completed successfully and earned good points. Darejan says the training was particularly beneficial for the improvement of their qualifications and very useful for the job.
Food Alliance is a Georgian-French enterprise that uses deep-freezing methods to produce bakery goods. Thea and Darejan are line operators, and their job involves baking, cutting the bakery dough, weighing it, and overseeing the process in general.
At first, they went to work together, travelling with a co-worker from Gori, but since Thea was transferred to the bread line, her shift starts at 6am.
"I have to leave home early, to get up two hours earlier. I get up at 4am to get there. There's no transport, so I have to take a taxi."
Thea says her transport expenses are very high, yet she never considers leaving her job – primarily because she likes it so much. She is also concerned that she won't be able find another job.
Darejan says the schedule is acceptable for her as she can return home at a convenient time and spend more time with her three children. She also likes that she communicates with people every day and that she has co-workers.
"This is a huge benefit and mental relaxation because you know that you are not at home all the time and do not consider yourself worthless. We don't sit in the office to do paperwork, but we are engaged in self-realization."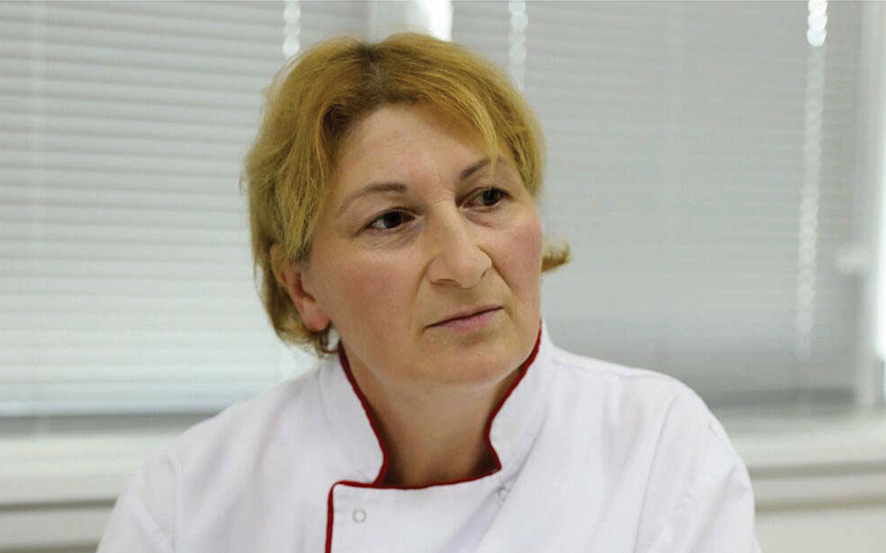 She says informational meetings like this are really important for villagers who are deprived of information – they learn about new developments and opportunities. But she thinks it would be better to have job openings also in the village to give local people more employment opportunities.
"They open everything in Tserovani. Yes, our settlement is small, consisting of just 149 families, but there is one village, Nadarbazevi, another, Khurvaleti, and neither of them have any source of subsistence. Is it not possible to do something there too? A car wash and a petrol station are now being built. I am very glad that such things happen here, but we definitely need more."
The informational meeting through which Thea and Darejan found their jobs was implemented under the project Learn, Exercise, Achieve, Receive, Network for Employment (LEARN for Employment!).
This project, funded by the European Union, aims to promote the transition from education to the job market, supporting increased employment, social integration and reducing poverty and vulnerability levels.
The project helps vulnerable youth, IDPs, people with no work experience and training to increase leaning opportunities; it also helps with career orientation and improves access to better-quality employment services.
The project covers six regions of Georgia – Imereti, Guria, Racha-Lechkhumi, Adjara, Shida Kartli, and Kakheti.
Article published in Georgian by On.ge
By Ana Mskhaladze for on.ge / EU Neighbors East*