Preserving centuries-old, unique winemaking traditions is of vital importance for Georgia, equally for its national pride, its culture and the local economy.
This is the field the country has always been proud of, and it is to be welcome that nowadays there are distinguished winemaking companies operating on the Georgian market that continue the valuable work of the country's ancestors, producing excellent quality wine, contributing to the economy and gaining a reputation to Georgia internationally.
GEORGIA TODAY spoke to the founder of one such company, the Georgian Wine House, Zaza Kikabidze, who elaborated on its activities and achievements over the years, its successfully implemented projects, distinguished wines produced, and future plans.
Notably, Zaza personally participates in winemaking in accordance with the ancient family winemaking traditions passed to him by his father.
Tell us about the activities of Georgian Wine House.
Georgian Wine House was founded in 1996 in the city of Gori, a city that is the center of the logistics infrastructure of Georgia.
We equipped the enterprise with up-to-date equipment that preserves all the traditions of Georgian winemaking for the production of quality wines and cognacs.
Among the 100 brands that we own, I'd like to highlight our premium series: the Alexandrov Wine Collection, Gourmet and Tbilisoba. Each of these brands represent a blend of our best wines, each glass of which carry its own history.
Our products annually receive the highest ratings and awards both at world and local tastings and competitions.
The main advantage of Georgian Wine House is its own full production cycle, which includes all stages of winemaking, from growing and harvesting grapes to the production and bottling of finished wine. Each stage of the production process is strictly controlled by both the company's specialists and independent experts.
There are many wine enterprises operating in the market. What makes Georgian Wine House stand out?
Today, Georgian Wine House is one of the market leaders. Our mission is to improve the quality of life of people through affordable Georgian wine, created in compliance with centuries-old traditions, for wine lovers around the world.
We have 150 hectares of our own vineyards in micro zones, including vineyards in the micro zones of Kindzmarauli, Mukuzani and Goruli Mtsvane.
Georgian Wine House, bottling more than 6 million bottles per year, boasts a wide variety of 25 types of products and more than 100 brands, and has more than 50 distributors worldwide. All this was achieved through dedicated work and years of experience. Of course, this success is mainly conditioned by the high professionalism of our team, which consists of both foreign and local specialists.
You mentioned Georgian Wine House's premium series. Tell us more.
As I said, our premium series are the Alexandrov Wine Collection, Gourmet and Tbilisoba.
A whole line of premium quality products has been made under the brand name "Alexsandrov Wine Collection." The use of selected wine materials is the key to the fact that the product is of such high quality, completely natural, and therefore surprisingly tasty. This premium collection incudes the following wine varieties: Saperavi, Kindzmarauli, Goruli Mtsvane, Khvanchkara, Tsinandali, Mukuzani, and Nestoreuli.
The Gurmani (Gourmet) Wine collection is made through the still wine production method, from selected grape varieties in stainless steel cisterns. It includes Goruli Mtsvane, Tavkveri, Mukuzani, Kindzmarauli, and Saperavi.
Our company is well-known for producing diverse products and not only wine. Apart from wine, it boasts a premium quality brandy collection, among which I'd highlight Brandy Tbilisoba. Tasting this brandy, especially the one with 10-year aging, is an amazing pleasure for lovers of this beverage.
We also produce other brandy varieties, such as Gremiseuli, Azriani, Old Georgia, Gremi, and Tbili. All of them are highly recommended for the lovers of real, authentic taste.
The lovers of Chacha can also find products suitable to their taste with us.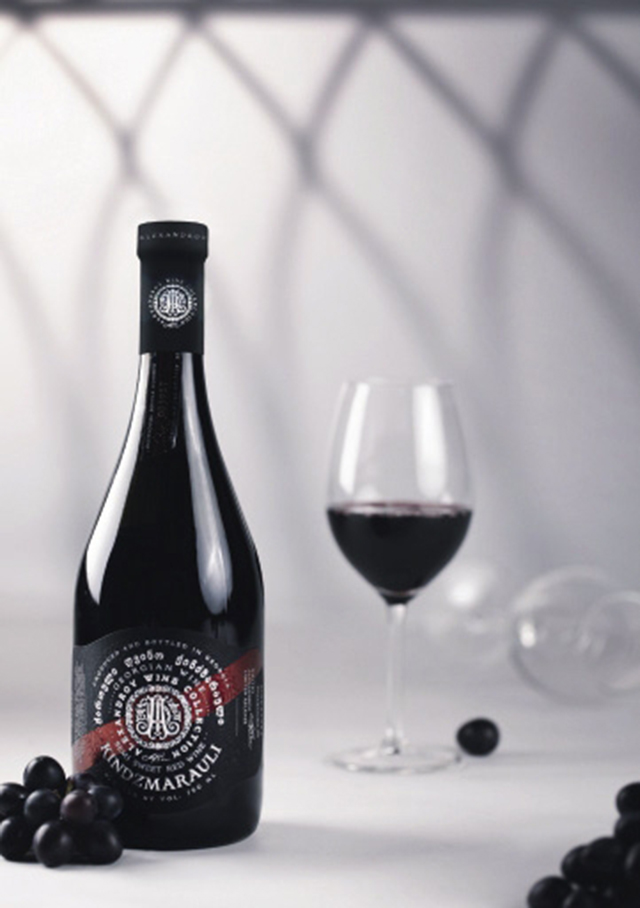 What about the future plans of the company?
Focusing on continuous growth, we will go on to further expand our brand portfolio. Georgian Wine House will continue to serve customers with love and dignity, while the key priority will always remain offering the highest quality products at maximally affordable prices, as we're grateful to our customers for their trust and loyalty, and seek to offer them the best conditions.
Today, a good quality wine at an affordable price is not a luxury, because of the experience our winemakers gathered throughout years. We're trying to make bottled wines more and more popular by giving you the best of our product!
Interview by Ana Dumbadze