How often have you walked by buildings in the Sololaki, Mtatsminda, or Chugureti neighborhoods and not paid attention to the decaying facades? I bet a lot.
These buildings have their own stories, and hide some of the most iconic architectural gems, gems which few people pay attention to- in many cases, not even the locals know much about them.
It all started when Georgia became part of the Russian Empire in the late 18th century. The new era brought many cultural advancements to the capital, and Tbilisi slowly began to expand outside its city walls which encompassed the area surrounding today's Freedom Square.
Where typical Georgian houses incorporated intricate wood-carved balconies and exterior staircases, the new architectural approach brought these staircases inside the building. Citizens started to aspire to European living standards and fashion, similar to what they saw in Emepal, capital St. Petersburg, and elsewhere in Europe.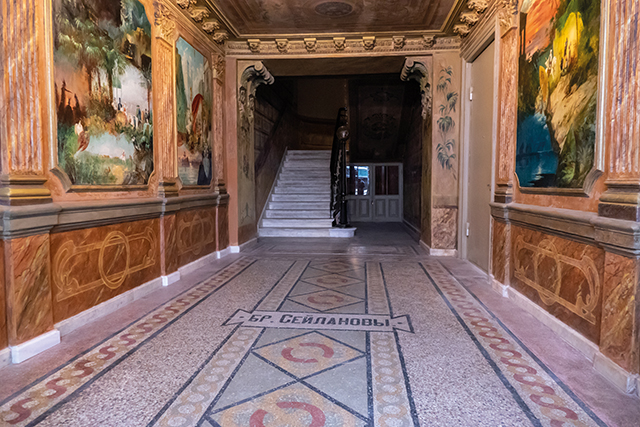 Embodied decorative elements such as statues and reliefs on the building facades, hand-painted hallways, and a general inclination toward luxury became an integral part of the bourgeoisie citizens of the time.
In most cases, merchants and wealthy civilians owned grandeur buildings. Some even rented out the ground floor while living on the upper floors. Typical apartments consisted of six or seven main rooms, and kitchen and bathroom spaces. Like entrance hallways, owners decorated various walls and ceilings of apartment rooms with either wallpaper or decorative motifs.
My passion and admiration for those architectural gems started in 2014, when my brother called one day asking to take me to an apartment building on 18 G. Tabidze street to "show me something." Once we parked, he walked me to a three-story building that seemed quite ordinary. Then he pointed to "1911г" incorporated into the design of the marble floor at the entrance, signifying the date of the construction (the "г" is an abbreviation for the word "year" in Russian). A carpet-like colorful mosaic floor greeted me as I stepped inside the dimly lit entrance hall, with most of the light coming from the open door. "Seilanov Brothers" was inscribed in the middle of the floor in the Russian language, suggesting they were the original owners of the house.
I slowly turned around to take in the entrance hall. Then I saw them: oil paintings under a dense layer of dirt on both side walls. There were six frames, of which five displayed allegorical images of different continents and countries. The Seilanov Brothers were tobacco merchants at the beginning of the 20th century, and this house was their mansion.
These lavishly decorated hallways showed guests how wealthy and well established the hosts' families were in society
That was not all – decorative paintings followed the staircase up, with some parts painted over with beige and others faded to be barely noticeable. The semi-circular staircase took us up to the third floor, where light flowed in from a glass ceiling.
Such stained or plain glass ceilings were typical in old houses like this. They provided direct sunlight during the day and lit the entire staircase and hallway. The walls of the third floor boast a family emblem, with the first letters of the brother's names and surname intertwined inside.
That was the moment I got hooked and set myself a mission to learn more and find other such iconic historical and architectural buildings I knew must be scattered throughout Tbilisi. Later, I started my passion project of showing off these architectural gems in an English-language guided tour (www.redfedoradiary.com/tours) and sharing the urban legends that you won't find in any guidebook.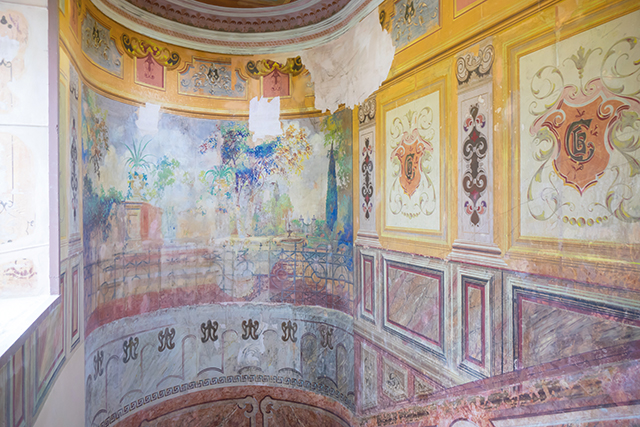 The style of those vestibules found in the Sololaki, Chugureti, and Vere neighborhoods combined Pseudo Baroque and Classicism with traces of Art Nouveau. In most cases, the artists worked directly on the plaster wall using oil or tempera, choosing images that showcased a variety of landscapes.
Having these lavishly decorated hallways and entrance doors was part of the lifestyle of the 20th century bourgeoisie. It served as their "business card" and showed guests how wealthy and well established their families were in society.
Ornate carpet-like mosaic floors incorporated the word "Salve," Latin for "Welcome." There are only two houses where this customary greeting is spelled out in Armenian and Georgian.
Another excellent example of such a house is on 17 I. Machabeli Street, a building once owned by Michael Kalantarov, another tobacco and oil businessman of the 20th century.
Kalantarov's home is very different from the others. Tourquise and orange walls with lancet arches are distinctive of the Moorish Oriental style. It has a stucco-stalactite ceiling. The marble staircase leads to a wooden door, separating this entrance from another marble staircase heading to the second floor. That second staircase has similar decorations, lancet arches, stucco stalactites, and a carpet-like ceiling with a circle of stained glass in the center to bring the natural light inside.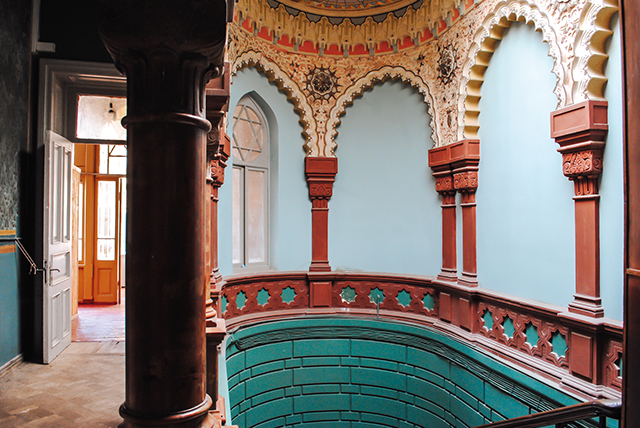 Sadly, everything changed when the Soviets came into power. The owners of these houses were forced to move out and give up their luxurious houses to several families at once. Some were lucky if they were allowed to live in one of the rooms of their own homes. Many of these hallway walls were whitewashed, and many beautiful ornaments and elegant heating stoves were taken.
Even today, a century later, several families live in those houses once owned by a single family. New inhabitants had to adapt to their "new apartments," adding more space for a kitchen, bathroom and living room, dividing bigger rooms into two smaller ones.
Over the past six-seven years, City Hall has managed to renovate only a handful of these cultural heritage houses, including the Kalantarovs', Seilanov Brothers' and a few more on Atoneli street and Aghmashenebeli Ave.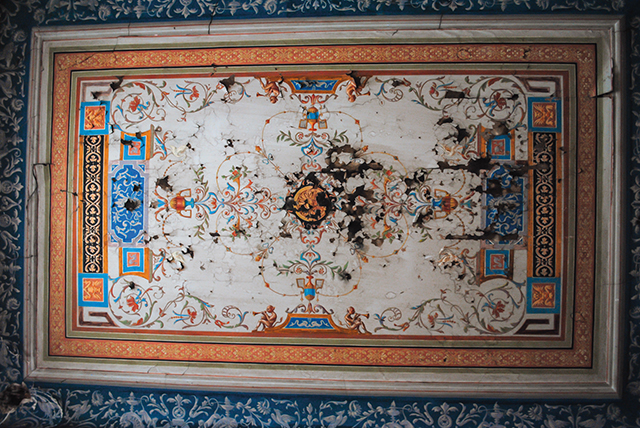 Sadly, Tbilisi has dozens of such buildings requiring immediate attention: cracked walls, considerably damaged furnishings, missing sculptures and plaques, broken cornices and capitals, partially or fully painted-over wall decorations, and broken stained glass ceilings remain untouched, decaying over time, making living there unsafe for the residents.
However, I am still hopeful, even if the government is very slow in renovating and reconstructing these cultural and historic parts of the city, that Tbilisi's former glory will be restored one day soon.
BLOG BY BAIA DZAGNIDZE OF RED FEDORA DIARY