Making property decisions is an important stage in each person's life, affecting our families' quality of life now and in the future, as "home" is a place which significantly determines our daily mood and success. To help you make the right property decision, a premium property partner is sure to come in handy!
Such a partner operating on the Georgian market is the team of OTI Real Estate, who are much more than real estate agents. The team of dedicated professionals, with years of combined experience in the field, perfectly understands what it takes to meet their clients' needs and requirements.
For over 15 years worldwide and six years in Georgia, OTI Real Estate has been gaining and deepening its experience and knowledge in the high-value, luxury property market. OTI Real Estate specializes in the finest coastal, lifestyle, luxury and executive real estate in Georgia, and is considered one of the most trustworthy and highly qualified partners for those seeking professional service in this direction.
Mr. Hani Hebashi, President of Georgian-Egyptian Chamber of Commerce and Co-Founder and Chief Executive Officer of OTI Estate, tells us that despite the fact that 2021 was full of challenges for almost all businesses worldwide due to the pandemic, as a result of the coordinated work of OTI's team of professionals and the company's relevant crisis management strategy, it has been possible to overcome the difficulties.
"When we came to Georgia six years ago, we started to work in investment, consultation and real estate. We saw Georgia as a ready destination to start investing in, because it's very easy to start a business here- Georgia ranks 6th in the world in terms of ease of doing business. We worked normally until 2020, before the coronavirus pandemic kicked off. For sure, the pandemic strongly affected all businesses worldwide, including ours, however, we're lucky to have the kind of experienced and qualified team who can think outside the box and overcome challenges.
"Our team came up with a new idea to avoid the effects of the pandemic and introduced new technologies and new ways to connect with our customers, who are mostly based outside Georgia. We used certain platforms for that and new technologies to make them feel like they were actually in Georgia. As a result of such dedicated work, today we're much less affected by the coronavirus comparing to other businesses operating in the same or other fields," Hebashi claims.
When summarizing the year, he says he thinks it was "an amazing and successful year, just like the previous one." As nowadays only strong companies remain on the market, OTI Real Estate can be boldly considered one of them.
However, the co-founder notes that the pandemic obviously changed a lot of things in business and there arose the need to introduce new, updated strategies and action plans.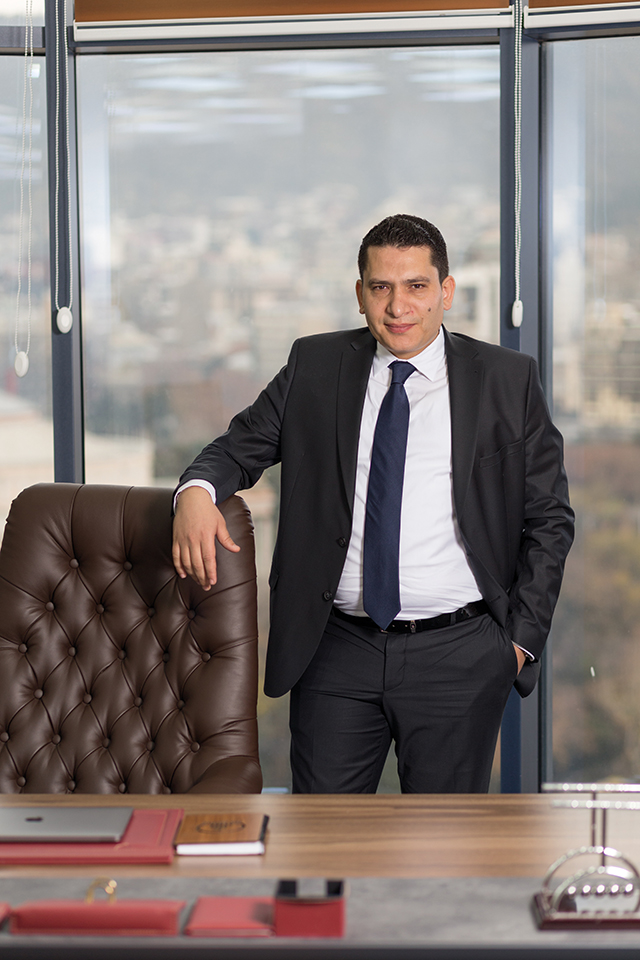 "I have a strong team, and they can overcome the difficulties related to the pandemic thanks to their professionalism," he proudly adds.
As he is originally from Egypt, we were curious as to what made him choose Georgia for his business and investment activities. He told us he started out in Saudi Arabia, and after Qatar, and he discovered Georgia in 2017, when he organized a large-scale business conference, with participation of various countries, including Georgia, which was a great success. Currently, he's trying to organize a similar business forum here in Georgia, too.
"The reason I chose Georgia, first of all, was its strategic location," he explains. "It's between countries you can make business in. Moreover, the country is ranked 6th worldwide according to all the banks in terms of ease of doing business, and there's almost a zero corruption here."
When asked if he had ever come across corruption in his years of running a business here, Hebashi emphasizes: "Never." Such a free and comfortable environment was the main reason he started and still successfully continues his activities in the country.
Prior to coming to Georgia, Hebashi looked into some 13 countries worldwide, and "Georgia was number one," because the cost of living is very low, it's easy to start a business, and the country "provides a lot of opportunities and a stable government and economy to start a creative business."
The company OTI Real Estate has been actively engaged in attracting investments since its very first day on the local market. As Forbes said two years ago, it had to attract 5 hundred million dollars to Georgia during three years.
"When I was here in 2017, I saw statistics that all real estate investment in Georgia was $350 million," Hebashi notes, "and till 2019, we attracted investors to come here and the total investment we brought to Georgia was $500 million!
"In 2020, we had creative ideas on how to connect with customers through platforms and new technologies, and we also attracted investors and partners in this way. In 2021, we stated to check what we had achieved through our conferences and Zoom. Now, we are getting huge investors, mainly from Dubai, Afro America, Canada, etc., as we work worldwide and not only in one certain area," he explains.
Such an interest from foreign investors is a contribution of both Mr. Hebashi personally, alongside his contacts in the global business world, as well as being contributed to by the entire company and their dedicated work.
The exemplary relation with customers is also noteworthy. Until now, during its six years on the local market, the company hasn't had even a single case of disagreement with or note of dissatisfaction from a customer.
The latest and biggest project the company has implemented is OTI Tower 31, which is still ongoing: A unique and innovative project in Georgia boasting an investment of $160 million.
For the future, the team has very interesting and unique ideas, among them establishing the biggest and most comfortable wellness resort in Europe in Borjomi, which is expected to attract even more investments and contribute to the local tourism and economy.
Regarding the recent political and economical instabilities developed in the country, the co-founder of OTI Real Estate notes that such events haven't affected their company or business, as Georgia, in comparison to many other countries, still maintains its stability.
Notably, Mr. Hebashi recently met with the President of Georgia Salome Zurabishvili to discuss the next level of investments to be attracted in the country as a result of the work of he and his colleagues and partners.
"The ideas we have now will change the business and economic situation in Georgia. We have big, innovative and very beneficial ideas for this country," he concluded.
Regarding his view and expectations about the future in 2022, Mr. Hebashi says that focusing on new technologies will be an important factor for the success of all businesses worldwide, including OTI Real Estate, and he and his team are actively working on introducing innovative technologies to bring even more benefits to society and the economy as a whole.
Apart from the real estate business, Mr. Hebashi is the Board President of the Egyptian Chamber of Commerce in Georgia, Founder and CEO of Tiflis Arabic Media TV The Georgian-Arabic-African Business Union (GAABU) is one of the recent initiatives to promote Georgia and increase its FDI.
An investment network platform is being set up to increase foreign direct investment in Georgia.
According to its organizers, the platform will help establish valuable contacts between investment seekers and investors, which will give the country an additional opportunity to attract institutional and private investment. According to the parties, several investors are already interested in the Georgian business environment and their cooperation will make a significant contribution to the economic development of our country. The investment networking platform forum launched September 24, 2021 highlighted the importance of a mutual cooperation of the Georgian companies to increase the country's FDI. The goal of the GAABU is to create the most comfortable business climate for foreign investors in the country, so that more investors are interested in Georgia and many new jobs will be created in the country, which will guarantee growing economic indicators.
GAABU successfully operates with its members and partners to promote business development and investment in Georgia, in addition to trade and industry, the union's member organizations, companies and individuals have access to the services and benefits offered by GAABU. Services offered by GAABU include: investment, business and financial consulting, legal and immigration support, immigration and brokerage consulting, as well as marketing, promotional and PR services. The Union creates a favorable and secure environment for investors in Georgia in order to set up a new business or diversify it.
OTI Group as well as GAABU has a network of branches in the Middle East, through which it actively works with foreign partners and seeks new ways and prospects for cooperation.
Mr. Hebashi honors his GAABU investors and welcomes all investors who want to enter Georgia and diversify their business.
Interview by Ana Dumbadze