Gulf Georgia is one of the leading oil companies on the Georgian market, its success driven by high quality fuel and exceptional customer service. This international brand has been represented officially in Georgia by "Sun Petroleum Georgia" LLC since March 2010.
Established in the US in 1901, Gulf Oil International today distributes high quality oil products to more than 100 countries globally, and is one of the major players in the world market.
Gulf Georgia currently successfully operates more than 140 refueling stations nationwide, 43 of which are located in Tbilisi. The company imports fuel from the best oil refineries in Europe, whose quality controls comply with world class standards.
Gulf refueling stations are distinguished with modern equipment and western state of the art innovative technologies.
The company is oriented on and always tries to capture opportunities for growth and development. It constantly focuses on the marketplace and its consumers, this being properly reflected in its success on the Georgian market and in the international arena.
To find out more about the company's current operational activities, promotions and future plans, GEORGIA TODAY spoke to members of the Gulf Georgia team: Sopho Katamidze, Head of the Sales Department, and Khatia Chagelishvili, Head of Operations.
"The global Gulf brand has been in Georgia for 12 years, and we have gained the status of a local market leader in oil, with the best quality fuel, by introducing Western, modern ideas and an innovative vision," Katamidze tells us.
"Many changes have taken place over the years, the company has grown significantly and has become one of the largest private employers in Georgia. Gulf currently has the widest network of 141 service stations. Flagship stores are being opened, and currently 72 Gulf Stores serve customers," she says. "There are 14 service centers for business representatives where they will be able to receive corporate services instantly. We offer individuals and companies a wide selection of high quality Belgian oils as well as five locations for oil replacement services throughout Georgia. The company owns four oil depots in Georgia, which ensures timely and safe delivery of fuel anywhere. The technological and infrastructural development in our network is constant, and we already offer our customers a fully automated, unique experience at our Gulf 6 Self Service.
"The high quality standard of Gulf has remained among our constant and strategically important priorities for years. Consistently delivering the best, Euro-5 standard fuel, to end users, receiving exceptionally high quality service at the station – these are the two promises that our brand unconditionally makes.
"I feel honored to be a member of a company that is actively involved in charitable activities, is the initiator of many important projects, cares for the environment, and takes care of homeless animals," Katamidze notes, speaking of the company's CSR direction.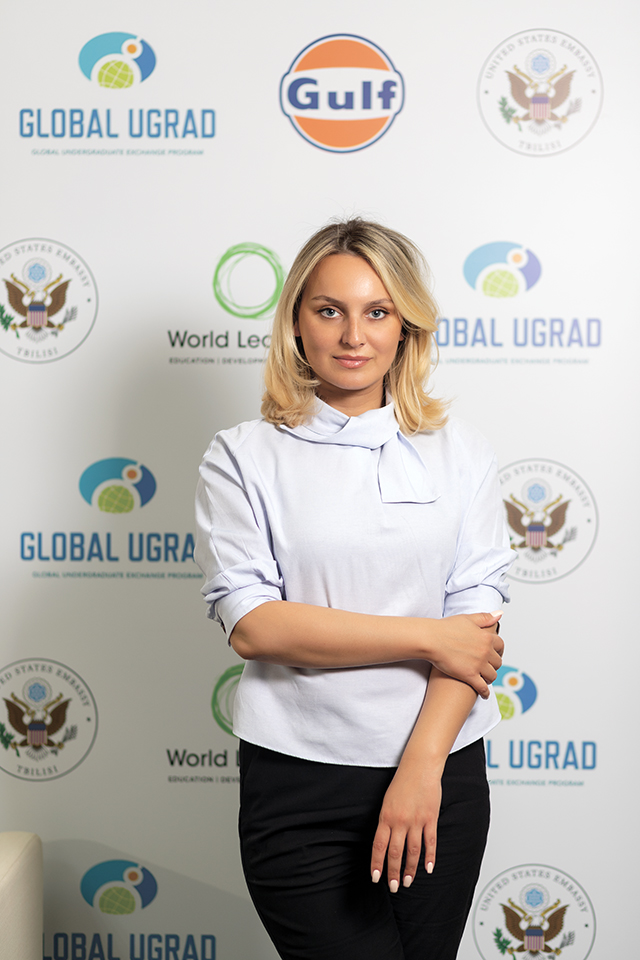 Gulf is one of the largest employers in Georgia. How many people are currently employed here?
I represent Gulf Business. There are 30 people employed in this field in Gulf Georgia, and the company has a total of 1300 employees. Gulf is one of the largest employers in Georgia and the company continues to grow and develop. In general, Gulf has always played an active role in the development and strengthening of human capital. Employees in the company have equal opportunities for knowledge and career advancement. Clearly, raising the qualification of employees is important, and in this direction the employees are trained every year. We have many success stories within the company, which further strengthens our team and makes it attractive to work in Gulf. Gulf, with its steadily growing business, is making a significant contribution to Georgia's economic development.
Tell us about the company's priorities in customer relations.
Gulf, as a brand and business, is driven by one goal: to create the best experience for our customers. To meet the diverse needs of our customers, we are constantly evolving and developing products and services, and introducing digital technologies. Our cooperation is based on two-way development which is based on reliability, accuracy and efficiency. Currently, the Gulf Business Portfolio includes more than 4,000 large, medium and small organizations from all fields.
A unique offer which arose from the growing interest of consumers and was introduced in Gulf, gives customers a gas station in their area equipped with modern monitoring and accounting systems, for which Gulf itself provides fuel with its own fuel carriers. This is one of our successful projects that has been developed as a result of careful study of the needs of partner organizations.
It is the responsibility of our team to create more comfort for the customer than they normally get, by which I mean outsourcing the full cycle of fuel procurement to help companies optimize costs and free up resources.
I think any success is largely due to the team. I was very lucky, because I have a special team with which we have achieved with diligence, attitude and a lot of hard work, that today, the direction of Gulf Business is so successful.
What do you offer Gulf business customers?
"Gulf Business offers Coupon and Business Card services to Gulf Business customers," Chagelishvili tells us. "Customers can purchase coupons in our service centers, a service which is still in demand in small companies. Business Card is the most important product of our company, offering customers the most flexible, comfortable, and fast service tailored to their needs. When using a Business Card, the customer purchases fuel for the card system quickly, and is 100% protected from unintentional fuel consumption, having maximum control through software and also having the opportunity to communicate with our team, and participate in program refinement and perfection. Business cards can be used at almost all Gulf gas stations throughout Georgia. Given the size of the network, this is another added convenience for users," she says.
The company often makes customers happy with exciting news. What offers do you currently have?
Gulf Oil Company is constantly focused on introducing innovations and offering even more comfort and superior quality service to its customers. In summer 2021, we offered Gulf Business customers the chance to accumulate points when purchasing fuel with a Gulf Card. Accumulated points can be transferred to the Gulf Club card, which they can use in our Gulf Stores to buy any product. This project is unique and has no analogue in the Georgian market.
From 2022, we are offering Gulf Business customers a GPS service that is integrated with our card system and enables them to enjoy exclusive tailored terms with our partner organization.
And we have another important news: along with coupons and business cards, we are offering our customers chips (vehicle identification system). This project was also implemented in 2022 in our organization, which means even more comfort at the gas station and, of course, more control.
Tell us about the company's future plans.
We strive to constantly evolve and refine our service and offer more flexiblity to Gulf customers. Our team is always focused on communication with customers, which helps us to make our products quality and more customizable. I will not talk about specific future plans at the moment, but I can boldly say that our priority is constant progress, technological development and innovation, and this is the goal we strive to achieve from year to year, and each member of our team puts a lot of effort and energy into it.