When it comes to your dream home, it's easy to imagine bright, sunny rooms, breathtaking balcony views, and a space that meets all your needs. Nowadays, living in a city center and at the same time in a green and cozy environment has become quite a rare opportunity. It's particularly noticeable when we talk about Georgia's capital Tbilisi. However, luckily, there are development companies that care for the ecology, health, and well-being of their customers, and simultaneously manage to offer to them maximum comfort and quality. Development company GreenHill Residence is one of them.
GreenHill Residence is a multifunctional complex in an ecologically clean and cozy environment in Tbilisi, distinguished from all existing projects by its specificity, planning, comfort, and greenery. The company is building residential, commercial, sports-recreational, recreational, and children's zones in accordance with modern requirements, on a 33,500 sq.m. piece of land. During the construction process, the principles of urban development are being taken into account, and ecological safety and nature are protected.
GreenHill's residential complex has many advantages, which will have a significant positive impact on the daily lives of residents. The complex, located in central Saburtalo at University Street 24, combines a convenient location, a view over Vere Valley, a protected yard, ecologically clean environment, sports and wellness complex, spa, natural lighting in the rooms, and optimal planning for a harmonious life.
The construction of the project is divided into several stages. The first stage consists of four blocks that have already been completed. The construction of the second phase of GreenHill Residence is underway, with the most reliable, energy efficient and high quality building materials.
The site for the second stage is eighty meters away from the already finished buildings, so the ongoing construction will not disturb the comfort of the residents within the first-stage blocks. Construction of the second stage began in 2019 and will be completed by the end of 2021. Roofing and framework are finished, and internal partitions are now being arranged.
75% of the apartments of the second phase in GreenHill Residence have already been sold.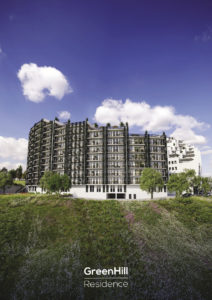 Notably, GreenHill Residence offers convenient and flexible payment options to customers, in particular: fi rst installment payment from 10%, internal interest-free installment until the completion of construction, December 2021, or mortgage loans from any partner bank, such as TBC, Bank of Georgia, VTB, and ProCredit Bank. The company constantly offers customers special promotions and maximum benefits. Presently, TBC Concept, Solo and VTB Bank users can benefit from special conditions, being able to take advantage of up to 12% discount on or parking as a gift, with a 12% down payment. The promotion is valid until May 15, 2021.
Prices for apartments start from $1115, with prices varying according to the views.
GreenHill Residence creates a healthy environment for the perfect relaxation of its residents through various means, including a gym, spa center, yoga, pools for children and adults, sauna, etc. so, it can be a perfect place for enthusiasts of a healthy, active and sporty lifestyle.
The company also plans to implement other exciting and important projects in the future. It is planned to build one 8-storey and two 16-storey buildings in the same area, as well as a kindergarten.
GreenHill Residence has a large land plot of 33,500 m2 for development. The highest quality energy-efficient building materials are used during construction. 30 cm energy efficient blocks, energy efficient double glazed, aluminum stained glass windows, and Kinetics brand freight and passenger elevators, facade covered with Alucobond facade panels. Doka formwork systems, Ukraine-made fittings and Heidelberg concrete guarantee the quality of this residential complex.
Greenhill Residence is distinguished by the best, convenient location:
Metro "University" – 3 minutes.
Hypermarket – 1 min.
Shopping center – 3 minutes
Medical clinic – 3 minutes
The construction is steady and solid. GreenHill Residence was constructively designed by a team of professionals. Mixed materials were used in the foundation, while 75% of the building stands on solid rock, which guarantees that there will be no deformation. The foundation uses high quality B25 W8 grade Heidelberg concrete, while the rest of the construction uses B25. The seismic strength of the building is calculated at 9 magnitude, which is 100% in line with all the norms in Georgia.
For more information, those interested can visit the website www.greenhill.ge.