One of the most successful startups currently in the Georgian market, Glovo, is celebrating 4 years of operation locally. Over these years, the startup has become much more than a usual food delivery service, gained a high reputation and level of trust among customers and occupying a steady position in both their hearts and smartphones.
However, Glovo won't stop there, and still has a lot of exciting plans ahead related to growth and development, aiming as it does to "become the number one choice for every side, which collaborate with Glovo platform."
Notably, along with proudly celebrating the important 4-year anniversary, Glovo Georgia has a new General Manager – Ukrainian Artem Kolosiuk, who, unfortunately, due to the current situation and Russian invasion in his country, is not able to join the team physically. However, he is fulfilling his duties remotely and is hoped to be present on the local market soon.
We spoke to Mr. Kolosiuk, Glovo Georgia GM, to find out more about the Glovo Georgia anniversary, related campaigns, already achieved successes, and expansion plans.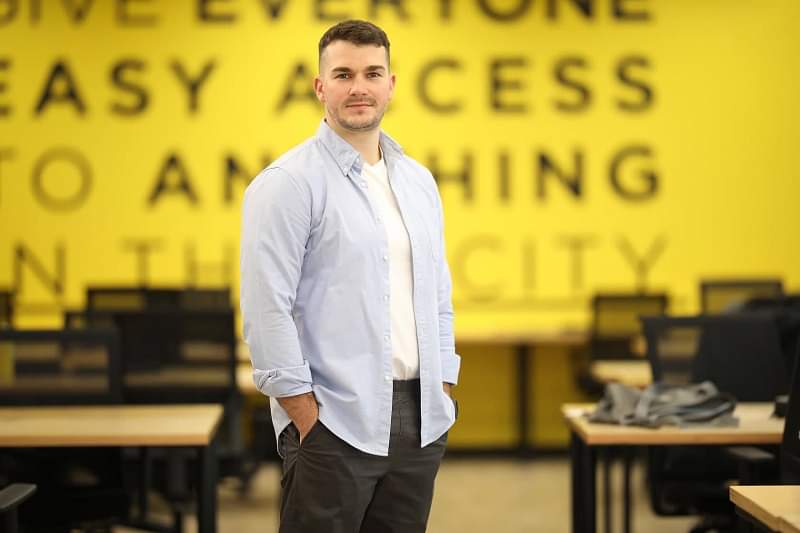 "We're coming up to the 4th anniversary date, and we're looking retrospectively on that," he tells us. "From that point, I'm really amazed what the local team has achieved so far. Starting with a couple of people sitting in one room, celebrating first 100 orders delivered and now we're facing a complex business which operates in many verticals, delivering hundreds of thousands of orders, helping more businesses to grow through online and more couriers joining our platform for a flexible and decent job.
"However, looking forward, I realize how tiny we are and how many things still remain that we could do for the Georgian market in the years to come. I'd say that we're going through a great trajectory, we've achieved a lot of successes so far, but, we still have many ideas and plans to be implemented. We're still small, and we can make bigger impact!" he notes.
On Glovo's birthday, what news or changes does the company have for us?
Honestly, that's a difficult one, because every week, we have a lot of news and changes being implemented! That's what makes our working environment beneficial for professional development – every day, new things are happening.
Speaking about that particular day, as a gift for our Georgian employees, we're moving to a new office, which we want to have, as a creative space for every single employee of Glovo Georgia, where bold and creative ideas can come to our heads and being tested and implemented.
The second thing related to the celebration is that we're getting bigger and more complex, thinking about how to bring more value to the Georgian market: recently, we announced a deal with TBC Bank, a massive player in Georgia, through which we're planning to bring more benefits to the local users of both Glovo and TBC.
You've held the position of general manager in Georgia for several months. Tell us about yourself, how did you end up in this position?
I'm still collaborating with a great Georgian team remotely, because I'm Ukrainian and due to the current situation in Ukraine, I'm not yet able to join them physically. When it was clear I'm not able to go on the market the internal dialog with myself pops-up – How effective it would be being a General Manager and out of the Country. Team helps here big time to have that remote mode efficient. Already could admit, Georgia is blessed with smart and ambitious people.
Regarding my professional experience, I'm around approximately for 1.5 years. Previously, I was working with Ukrainian operations and was responsible for the project of regional structure development and expansion. We were placing the bet on a hyper local marketplace approach with a hypothesis: different geographies are having different challenges and opportunities within one big country. The ambition was to create decentralized management system with setting localized teams which are having in focus dedicated areas within Country. To be closer to partners, users and couriers in assigned cities. Which is helpful to accelerate dominance on the market. Regarding the second part of the project, I was involved in was geographical expansion, as we decided to bring Glovo service to bigger number of cities. Within 6 months we've launched 10 new cities in Ukraine on top of 30 we had operations already.
I used to work in corporate business, mainly in FMCG for companies like Procter and Gamble, Mondelez International, Jacobs Douwe Egberts, and Monster Energy, mainly in commercial roles and as a Country Manager.
That was my corporate world path. Then, I decided to switch to being an entrepreneur and I was in the start-up field, where I was trying to make projects within the ed-tech and travel-tech spaces. That was the second part of my career.
After that, I moved to the venture capital space, I'd say from mirroring part of the start-up world, and was responsible for incubation and acceleration pipelines. Ultimately, I picked up the best talents and projects to be invested in.
After that, my Glovo journey began, because it was another challenge I wanted to face. As it's still a start-up, but at the same time already with a scale, a proven business model, where everyone can actually apply their previous experience with new challenges and ideas, make bold, creative decisions, and grow fast. I created a kind of a "symbiosis" from myself, corporate, entrepreneurship and VC. 3 in 1 as shampoo 
Georgia is one of the first countries where the Couriers Pledge initiative was launched. Tell us what this initiative entails, how do you evaluate it as the GM of Glovo and as an ordinary citizen? What value does it carry for the society?
Couriers are a very important pillar of our operations and business as a whole. As such, we want to make that mind shift change on the market that a courier's job is a decent job, where a guy working in this field can rely on the platform and build up a reliable relationship, can have fair earnings and extra benefits, which employees have. Ultimately, couriers are our partners, not employees, and we offer them all these benefits, such as insurance, safety trainings, etc. That's actually the leverage we're trying to deliver to the market, impacting society and making that mind change that a courier's job is a decent choice if you're up for flexible working conditions and fair payment.
Saying that, we also want to send a message to Glovo couriers that we're taking care of them. That pledge is not a "museum" which is just launched and that's it: We regularly analyse what's the best fit for the couriers, what's required at the moment, and offer it to our fleet to make them feel comfortable while collaborating with us.
That's the main idea and ambition of the Couriers Pledge initiative, which has already affected around 2000 Glovo couriers in Georgia with different benefits.
What is the Georgian labor market like today? What standards are relevant in the industry?
As I've already mentioned, my personal opinion is that Georgia is blessed with smart and good people, and that definitely supports the business to source really good talents for the team.
The delivery industry is a relatively new one and there are not many professionals exists with industry experience. Of course, skill set is important for us, but no less important is cultural fit. If there's a cultural match, along with such basic requirements as learning capabilities and agility, ability to work in high paced environment and challenge yourself to improve constantly that's already an 80% perfect match for us! At the moment, we have team members from different industries, we're functioning as one organism, and we're taking benefits from every single side. I believe it's of utmost important to have a constant flow of fresh ideas from people of different experiences and mindsets. Cultural fit combined with that leads to perfect results, that's our approach to standards in the industry.
Do you think Glovo is a company that creates new weather in the Georgian market?
I do hope so, because that's one of our priorities! Egoistically, I'm very interested to be in the best environment I could have. Me and the entire team are investing the most valuable resource – our time in this job, and of course, we are eager to be able to do our job in the way we want to. We're continuing to work to be the company in Georgia where it's really beneficial to be. But still, a lot to do more.
What are your plans for the modification of the Georgian market, as well as for expansion and growth?
We're looking forward to have an even stronger position on the market, to be the number one choice for every side of Glovo marketplace for Couriers, Users, Partners and Brands.
We are working on diversification of propositions for our users, in order to cover more needs and consumption occasions in food and out the food category. Saying that, we are bringing to more businesses opportunity to scale and grow with Glovo.
The next important part is our couriers. Georgia is at the phase of disbalance between supply and demand. Users generating more orders demand vs available couriers to deliver, especially in peak hours. That's the question mark not only for Glovo and food delivery industry, but for the entire market which demands staff. The question is open. We set as a midterm priority to work towards it.
Finishing the thought, we're already bigger than just food delivery, and now we're striving to become number one e-commerce in the Georgian market. That's sounds sexy for our team.
Tell us about the partnership between Glovo and TBC. What does this collaboration mean for both the industry and consumers? What is planned within this great and important partnership?
The ultimate beneficiary of that deal is our customers. They'll definitely get more benefits from that collaboration, because both Glovo and TBC will run and sponsor initiatives to make our services more accessible for users and deliver more value.
We believe building such bridges and synergies across industries will help to develop Georgian tech market and push higher level of services & products providing to Georgian clients from quality and quantity perspectives. I'm very happy that we're building our collaboration on trust, openness, where both sides are open to experiments and ready to bring new solutions, that's what really excites me.