It's been a year since hotel 'Gistola' in Mestia, Georgia's mountainous Svaneti region, first opened to take care of the comfortable rest of new guests.
The memorable name of the hotel originates from the Caucasus Mountains peak Gistola in Svaneti, one of the most beautiful peaks in the region with a height of 4860 meters.
The hotel itself is as special and beautiful as the peak Gistola, offering guests an unforgettable stay and amazing views of high snowy mountains and the harsh beauty of Svaneti.
Irakli Gurchiani, the founder of Gistola hotel, notes that the primary reason for building a hotel in Mestia cae from the desire to create a premium class hotel on the spot, thus contributing to tourism development there.
"There were number of hotels and guests houses in Mestia, however, the motivation behind my decision to establish 'Gistola' was to build a higher-class hotel for guests of different taste and needs, and it seems that my goal was achieved," he says.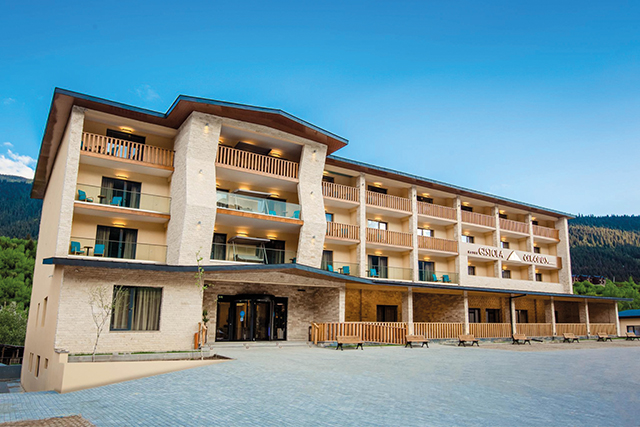 "With this move, I also wanted to express my love and care of the region, as I'm originally from Svaneti and I believe that this region has great tourism potential with relevant support from the state.
"As such, it is important to start implementation of an existing project – a tunnel to be dug from Kutaisi to Svaneti, through which guests will be able to reach Svaneti in just three hours. The mentioned road will be of great importance for the economic development of Svaneti. With this, Mestia will become an easily accessible winter resort, just like Gudauri and Bakuriani.

"Currently, it's difficult for guests to reach the region in winter due to climatic conditions and long travel time. So, we very much need this tunnel, which will itself contribute to tourism development and economic growth," Irakli adds.
The hotel boasts a convenient location close to the municipal center of Mestia and the nearby ski tracks. For those guests looking to ski, in winter, the hotel offers a transportation service to the pistes and back to the hotel for free.
Inside the hotel, holidaymakers can enjoy a sophisticated minimalistic design, with pictures depicting the authentic history and beauty of the great Svaneti region.
For their maximum comfort and pleasure, there's a restaurant operating in the hotel, where guests can enjoy both Georgian and European dishes prepared with the high professionalism of experienced chefs.
All the products used for the preparation of dishes are local, healthy and natural. The hotel uses its own spring water, which is tested and totally ecologically clean, and is indeed beneficial for health.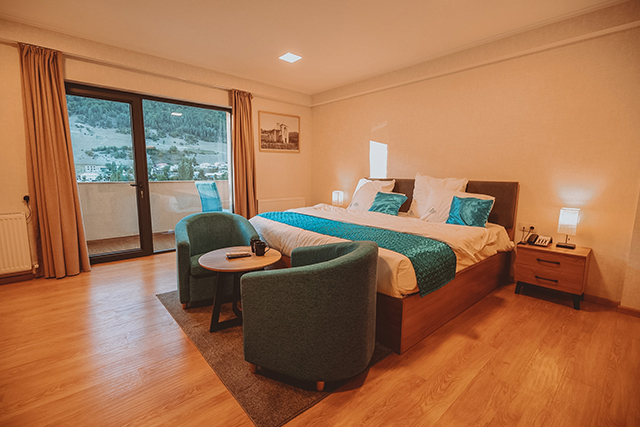 The hotel is suitable for the lovers of both active and relatively calm vacations, with a quad bike and electric scooter rental service, space for music events in the evening, a night club, Finnish sauna, etc.. In future, the arrangement of a swimming pool is also planned for maximum guest comfort.
The hotel is the perfect spot for family vacation, as it provides rooms specially arranged for families, and a children's entertainment space.
Various corporate events and celebrations can be arranged there, while the highly qualified staff of the hotel will make the day full of unforgettable memories for all guests.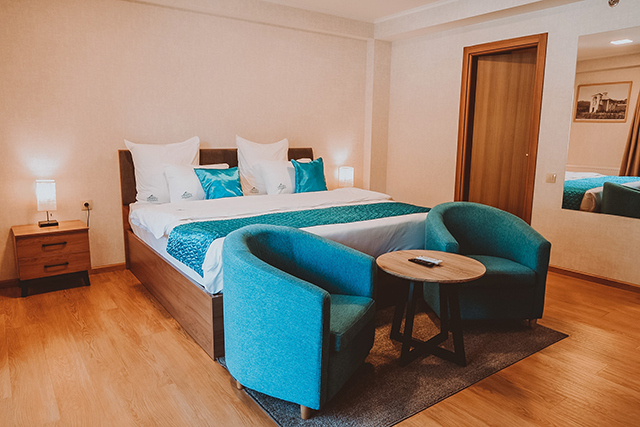 'Gistola' also cares about business travellers, and provides a conference hall equipped with all the necessary electronics, making it not only a perfect place for family or romantic vacations, but also for fruitful business meetings and gatherings.
The best time to visit Gistola is between May-October, when it's warm, sunny, and beautiful spring/autumn colors abound. However, it's also extremely beautiful in winter, and the fresh air of Svaneti is irreplaceable for health. And while it's a bit long way up in winter – up to 7 hours from the capital Tbilisi, this situation is expected to be improved after the implementation of the planned project – a tunnel coming from Kutaisi to Svaneti, which can significantly reduce the travel hours and make the amazingly beautiful Svaneti region more easily accessible for vacationers.
By Ana Dumbadze