Imagine a place where thrilling water slides, relaxing pools, and rejuvenating spa facilities come together to create the ultimate holiday experience. Gino Paradise, located in Tbilisi, Georgia, is that very place, offering visitors an unparalleled escape from the daily grind. In an exclusive interview with Kate Machavariani, we uncovered the secrets behind what sets Gino Paradise apart from other water parks and why it is a must-visit destination for tourists and families alike.
Gino Paradise prides itself on providing a wide array of activities and attractions, ensuring there's something for everyone. With up to 10 different types of pools and slides catering to various age groups, from daredevils to the more leisurely inclined, guests are promised an unforgettable adventure.
"Unforgettable adventures always await the guests of Gino Paradise. Here you will find up to 10 different types of pools, the largest toboggan in Eastern Europe, slides for different ages and an entertainment program. Every day spent at Gino's is special and memorable." – Kete Machavariani said.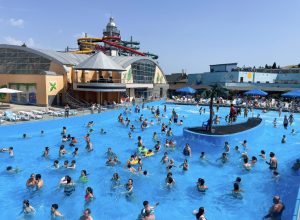 What truly sets Gino Paradise apart from other water parks in the region is the seamless integration of diverse offerings. While it boasts exhilarating water-based fun, the park also offers a wellness and spa space, where visitors can indulge in relaxation rituals and rejuvenating treatments. Additionally, with up to 12 food outlets, guests can satisfy their culinary desires with a variety of options.
"We can truly say that not only in Tbilisi and Georgia, but also in the entire Caucasus region, Gino has no competitor. In addition to the aquapark, we offer our customers a wellness and spa space, up to 12 food outlets. In addition, our 5-star hotel is already operating 200 meters from the aqua park. It really is the recipe for a perfect vacation."
But Gino Paradise doesn't stop there. Ensuring that every moment is special and memorable, the park organizes themed evenings, raffles, master classes, and competitions. With animated characters frequently making appearances and live musical performances, the entertainment program caters to both young and old, adding an extra layer of enjoyment to the overall experience.
One of the unique aspects of Gino Paradise is its focus on safety and security. Trained and professional staff ensure that guests are in safe hands throughout their visit. Water laboratories and nutritional monitoring further contribute to the park's top priority: providing a secure and enjoyable vacation for everyone.
Looking towards the future, Gino Paradise has exciting plans in store. The park aims to enhance its offerings by adding sports fields, catering to sports enthusiasts seeking an active element to their aquatic adventures. Modernizing several pools will also enable the park to welcome more visitors during the winter months, making Gino Paradise a year-round destination.
"Sports fields will be added to the park very soon. In addition, several pools are planned to be modernized so that more pools can be served to customers during the winter." – says Kate Machavariani.
By engaging with their customers and seeking feedback, Gino Paradise continuously strives to improve its services. A "book of impressions" allows visitors to leave their comments, and a thorough evaluation system helps the park understand and address the needs of its guests. Dedicated managers are always available to ensure that the Gino Paradise experience exceeds expectations.
So, what makes Gino Paradise a must-visit destination? The answer is simple: it caters to everyone. With an abundance of recreational activities, wellness facilities, delicious dining options, and a focus on safety and comfort, Gino Paradise offers an unforgettable holiday experience without leaving the city.
Whether you're seeking an adrenaline-pumping adventure or a peaceful oasis, Gino Paradise has it all. It's not just a water park; it's an all-encompassing escape from reality. So, the next time you find yourself in Tbilisi or the Caucasus region, make sure to head to Gino Paradise for a magical and perfect vacation that you'll cherish for years to come.
By Mariam Gorkhelashvili