On July 11, the German Government funded project "Good Financial Governance in Georgia" implemented by the Deutsche Gesellschaft für Internationale Zusammenarbeit (GIZ) GmbH, held its official launch meeting at Rooms Hotel Tbilisi. In a strategic partnership with the Ministry of Finance of Georgia (MoF) and eight Georgian municipalities (Akhaltsikhe, Dusheti, Telavi, Ozurgeti, Rustavi, Keda, Khashuri, Kharagauli) the goal of the project is to support the public finance management system in Georgia, especially at the local level, while including local and national framework conditions. Representatives of central and local governments, as well as various international donor organizations attended the meeting.
"For many years, the German Government has ensured strategic support to Georgia in public finance management reform processes. Within the German-Georgian Development Cooperation through the Georgian Ministry of Finance, a number of important reforms have been implemented, including the introduction of a financial motivation system for municipalities and a VAT tax sharing formula between central and local budgets, that aims at handing over more financial resources to municipalities. In the framework of the Good Financial Governance project it is planned to support the ongoing reforms, as well as to implement new initiatives. In the end this will contribute to more results-oriented, accountable and participatory spending of local finances in the country," Giorgi Kakauridze, Deputy Minister of Finance of Georgia stated during the launch event.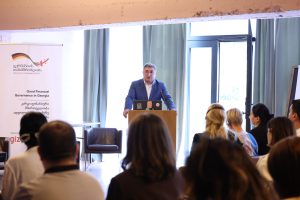 "
Georgia has made significant progress in the field of public finance management. Especially noteworthy is the country's achievement in the Open Budget Survey, where Georgia was ranked 1st among 120 countries in terms of budget transparency and oversight," said

Lidjia Christmann,

Head of Development Cooperation at the German Embassy to Georgia. "However, we all recognize that there remain challenges to be addressed
,
especially at the local level. I am strongly convinced that GIZ's Good Financial Governance Project financed by the German Government will – in close cooperation with Georgia's Ministry of Finance, Georgia's Ministry of Regional Development and Infrastructure, municipalities and other development partners – significantly contribute to the reforming process towards a more results-oriented, gender-sensitive and participatory public financial management system in Georgia."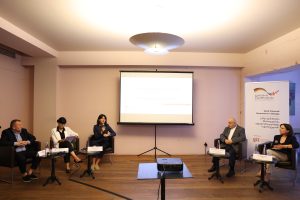 Since 1992, commissioned and funded by the German Federal Ministry for Economic Cooperation and Development (BMZ), GIZ has been actively supporting Georgia in the areas of good governance and democracy, sustainable economic development as well as environment and climate change, among others. In line with this, GIZ started the above-mentioned new bilateral technical assistance project "Good Financial Governance in Georgia" on April 1, 2023.
In cooperation with the Ministry of Finance of Georgia and the already named eight Georgian municipalities GIZ this way continues its assistance to foster results-oriented, gender-sensitive and participatory budgetary processes at the local level.
For more information on the German Georgian development cooperation, please follow these links:
BMZ: https://www.bmz.de/en/countries_regions/Central-Eastern-and-South-Eastern-Europe/georgien/index.html
GIZ: https://www.giz.de/en/worldwide/359.html