The main fear with the war is that it will degenerate into a third world war. But I think WW3 has already begun – it's a war between countries who have democratic values and democratic political systems on one side, and those who don't have democracy on the other, – Gerard Biard, Charlie Hebdo Editor-in-Chief, tells Radio Free Europe's Georgian Service. "It's not only about Russia – there is China, Iran and others even in Europe, such as Turkey; countries who don't have a culture of democracy. The main problem with Russia, and you could say the same about China, is that there is no culture of democracy, no foundation for it. And war is easy for dictators. Democracies work differently – why did Trump fail with his "coup"? He tried his best, but failed. Because in the United States, you do have this political culture of democracy, you have institutions, you have something to defend. And there are no such things in Russia. It never was a democracy. How do you sell democracy in a country where they don't buy it?"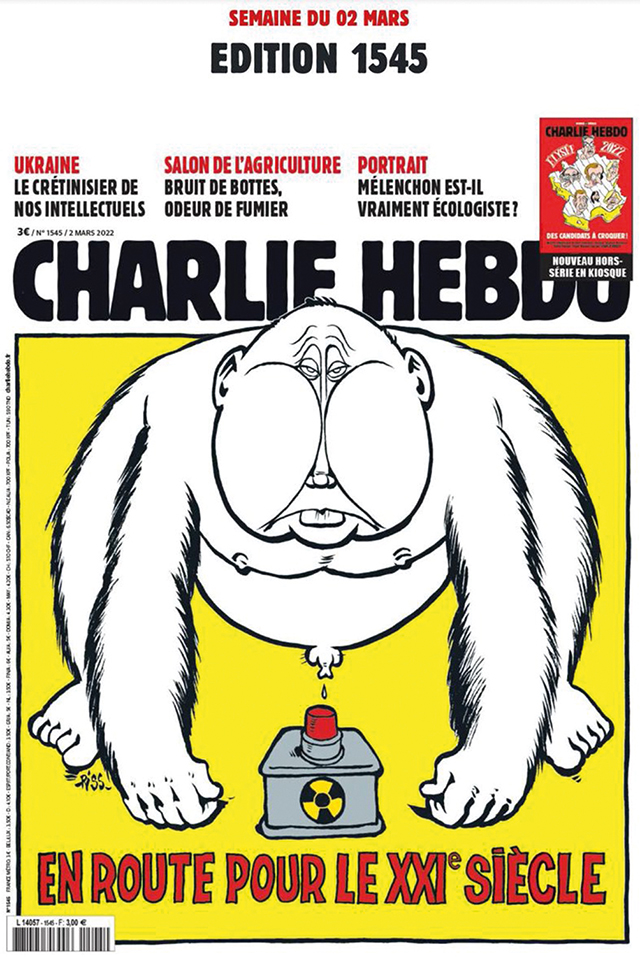 What is it like to look at this war through the prism of political satire?
The problem when you talk about a war through satire is that you have to deal with civilian deaths, and that's one of the major taboos. You have to be very precise, very accurate in what your message is, as satire is usually open to many interpretations. You have to tread very carefully. Looking at the frontpage cartoons we've published, most of the time we use the war in Ukraine to deal with French political realities. For example, I'm right now looking at this cartoon we made a while ago, during the French elections: On it, Putin is toying with a drone, but this is not just a regular drone – we've made it into Madame Le Pen, and the text says: Putin's drone – can it win? And then we have various cartoons dealing with the character of Putin himself. He is so easy to work on – he really is a classic cartoon character. He is a dictator, and dictators are easiest to draw for a caricaturist, although by far not the safest. But we're used to being threatened, not only by dictators, but by almost anyone who is on social media nowadays. And not just cartoonists – anyone can be threatened by anyone these days. That's the new reality, brought about by social media.
Of the many cartoons CH has done on Putin, which is your favorite and why?
There is one where he was made into an ape, a gorilla-man, naked, with a teeny tiny sex, hunched over the red nuclear button. You don't even need to explain this cartoon, its immediately obvious who he is and why he is portrayed that way. You look at this cartoon and you go – yes, that's Putin alright.
On to Macron. Eyebrows are raised at his persistence in phoning Putin, despite the fact Putin is not showing any signs of cooperating, and at his remarks on how we shouldn't humiliate Russia and Putin. What's your take on Macron's position?
Macron wants to be seen as a leader, his main objective is to lead. He tried, but he failed, because it's not so simple. He tried to lead the "European action" regarding the war in Ukraine. He tried to remain the main interlocutor for Putin in Europe, but he didn't understand that Putin doesn't want one. He's not the only one who tried to do that. Sarkozy, in 2008, when Putin attacked Georgia, went to Moscow, to the Kremlin. We didn't know what he said to Putin, but when he came back, looking at his face, we could see what Putin replied with. It was a "fuck off"! That's the only response Putin knows. Maybe he said the same to Macron, too.
How telling is it that there are no notable satirical outlets in Russia? Even in Soviet times, there was one which was immensely popular and quite often poked fun at the system too.
Putin is a real autocrat. The Soviet Union was a system; with Putin, you have one person who wants to control everything. He doesn't tolerate objections, criticism, nothing. He managed to cancel satire in Russia. You can still do it, but you'll go to jail, or even worse, you'll die. And you won't die in a pleasant way.
A Kremlin Spokesperson blasted you and your outlet for a 2015 cover of the Russian plane crash in Egypt. He used the words "sacrilege" and "blasphemous". Ironic, considering what was to come in 2022?
Putin doesn't care about the dead in Ukraine or Russia, civilian or otherwise. Unlike us, he doesn't have taboos. He doesn't see dead bodies, he sees numbers. Numbers that are the result of his "special operation."
Interview by Vazha Tavberidze