The Art Palace of Georgia – Museum of Cultural History, located in Tbilisi, capital city of Georgia, represents Georgian cultural inheritance and priceless treasures. The museum's history begins with the building in which it is housed- a magnificent palace once owned by German Prince Oldenburg, in which is kept a depositary of Georgian cultural assets. The Art Palace is located at 6 Kargareteli Street and its exhibition halls are open daily from 10:30-18:00.
Until its April 2020 renaming, it was called the Georgian State Museum of Theater, Music, Cinema and Choreography.
GEORGIA TODAY went to speak to its director, Giorgi Kalandia, on its transformation from palace to ruins, to the riches that it boasts today.
Giorgi Kalandia graduated from Tbilisi State University, Faculty of History, in 1996. From 1997, he worked as a journalist and news producer at a variety of radio and TV shows, and created the program 'Chveneburebi' for Imedi TV in 2005. In 2006-2008, he took on the role of Deputy Director of the National Center for Manuscripts. Prior to becoming Director of the Art Palace in 2009, Kalandia worked on numerous books and documentaries supporting the popularization and documentation of Georgian art and culture.
"Along with the General Director status, I am a Doctor of Historical Sciences," Kalandia tells us. "Becoming Director of the Art Palace was a huge challenge for me and our team, because the state of the museum at that time was absolutely terrible. Being an active journalist before, and being very involved in cultural themes, working on documentaries about Georgian cultural heritage and so on, helped me to understand the essence and importance of the Palace itself, so, even though the infrastructural issues were an obstacle for us, we were determined to overcome them."
What condition was the Art Palace in when you took over in 2009, and what were your first steps in restoring it?
The Art Palace was in a terrible state in 2009. The exhibition halls had been all but torn down, the depository spaces were damp and overflowing with disorganized artifacts and paperwork. In short, the whole building needed renovation as soon as possible. Restoration of the palace with its unique architecture and history, with the support of the Ministry of Culture and Tbilisi City Hall, began in 2009, and thanks to that, the museum survived complete destruction.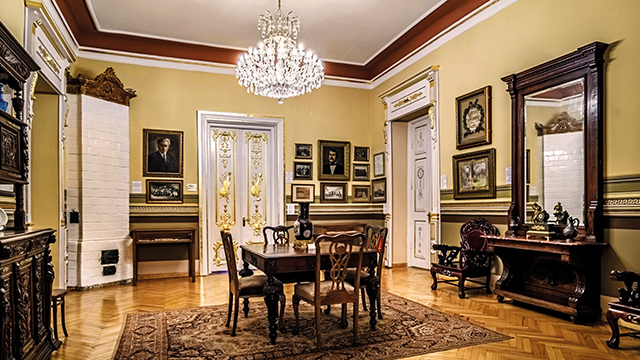 Is the Art Palace self-sustaining, or does it need funding to run (if so, from whom)?
Art Palace is a governmental organization, supported by the Ministry of Culture, but, considering the fact that the museum has many visitors not only from Georgia but from all around the world, we have managed to establish a sustainable income. In safer times (pandemic willing), we also run short courses and guided tours for school groups- this involves a talk by one of our team-members on anything from the history of animation to the tradition of sending postcards and greetings cards, a short related craft activity, then a walk around the museum to share with the children some of its best loved treasures.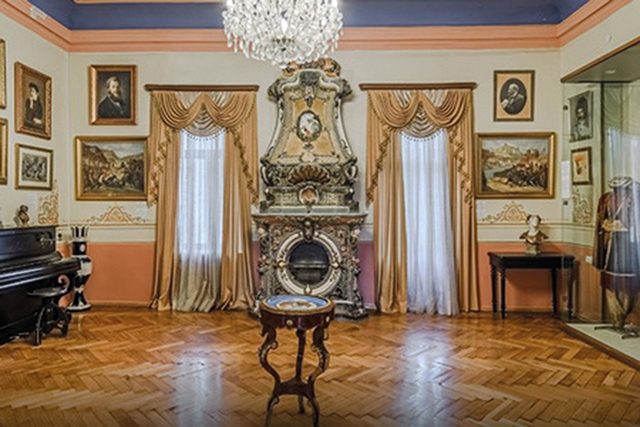 What have you done to make the Art Palace a success? What are the key achievements? What makes the museum so special?
The museum is located in a building in Tbilisi that is especially noteworthy due to its architecture and styling- a perfect example of Gothic and Islamic architecture. The palace was German Prince Oldenburg's present to Georgian noblewoman Agraphina Japaridze, his new wife. Agraphina left her husband and the western Georgian city of Kutaisi to move to Tbilisi in the 1880s. The palace was designed by renowned architect Paul Stern, author of other recognized buildings of the 19th century.
The Art Palace was announced as a winner of the International Travel Awards in the "Best Museum in Georgia 2021" category
The Art Palace of Georgia is a "palace type" museum and houses more than 3000 exhibits and unique collections concerning Georgian, European and even Asian culture. Popularization of our museum through different international platforms is really important for us. We were the first Georgian museum to be included on the Google Arts & Culture website with 13 online exhibitions. In 2018, we won a Europa Nostra award for the project "Textile from Georgia," which helped us become known by an even greater audience. Last year, Art Palace joined the likes of the Musee du Louvre in Paris and State Hermitage Museum, on the Network of European Royal Residences.
How did Covid-19 affect the Art Palace, and what did you do to keep it going?
Covid-19 hit cultural institutions very hard, but we never stopped interacting with our community through our social platforms. We were actively engaging with our audience through interactive and informative posts, videos, online tours of the Palace and also actively developing exhibitions on the Google Art & Culture website.

Tell us about the books the Art Palace team has produced and why you made them.
We currently offer 26 books made by Art Palace specialists on our official website (you can see full pdf versions here: https://artpalace.ge/en/art_palace/3). Some physical copies of our books are also available in our museum store. It is important to raise awareness and interest the public in different cultural topics through various methods, and one of them is by creating informative and visually rich catalogs and books that help younger generations and scientific circles understand such subjects better.
What are your future plans for the Art Palace?
The Art Palace of Georgia – Museum of Cultural History was announced as a winner of the International Travel Awards in the "Best Museum in Georgia 2021" category. We hope to grow even further and take part in even bigger scale projects. I once said that Art Palace is like the Louvre Museum for Georgia, and even though this statement sounds very ambitious, we do have the right to aim for such a title, because, with hard work, we managed to get this far, and I hope our museum will become even more popular in future.
***
The museum is housed in a building in Tbilisi designed by well-known architect Paul Stern, and is an example of gothic and Islamic architecture.
In 1882, German Prince Constantine Oldenburg (1850-1906) met Agraphina Japaridze in Kutaisi. At the time she was married to a Georgian nobleman from the House of Dadiani. Prince Oldenburg confessed his love for her. They left Kutaisi together and settled in Tbilisi. Prince Oldenburg commissioned the building of the palace for his beloved as a token of his great affection for her. In 1927, the Museum of Theater, founded by David Arsenishvili (1905-1963), a famous Georgian public figure (later appointed as the First Director of the Andrei Rublev Museum in Moscow), was moved to the building.
The museum today has more than 300,000 objects that provide information on the development of Georgian theater, cinema, circus, folklore, opera, and ballet, as well as providing insight into the lives of figures in respective fields. Some museum exhibits date back to the classical era. Of particular note is an antique mask which was excavated by archeologists in the town of Vani.
The Depository of Manuscripts and Archive Documents contains manuscripts of Ilia Chavchavadze, Akaki Tsereteli, Alexander Kazbegi, Aleksandre Akhmeteli, Kote Marjanishvili, Pyotr Tchaikokovsky, Feodor Chaliapin, and Nikolai Rimsky-Korsakov.
Archives of the Georgian composers Dimitri Arakishvili, Zakaria Paliashvili, Vano Sarajishvili, playwright and founder of modern Georgian theater Giorgi Eristavi, and film director and screenwriter Mikheil Chiaureli, as well as plays and translations of William Shakespeare translated into Georgian by Ivane Machabeli, are kept at the museum.
The Depository of Books contains rare editions from the 17th to 19th centuries. Gramophone records, posters, and theatre and film costumes are also preserved.
The Depository of Photos and Negatives includes materials of such films as Jim Shvante, Mamluk, and Giorgi Saakadze.
The Depository of Fine Arts has a collection of 16th- and 17th-century Persian miniatures, 18th-century French engravings, and examples of an old style of Tbilisi painting. The museum boasts the paintings of Léon Bakst, Alexander Benua, Fernand Liege, David Kakabadze, Lado Gudiashvili, Elene Akhvlediani, Peter Otskheli, and Irakli Parjiani.
Also within the Art Palace fund is the Collection of Persian Fine Arts, Collection of Western European Fine Arts, Collection of Russian Fine Arts, Depository of Posters, Depository of Gramophone Records, Depository of Library and Rare Editions, Depository of Memorial Objects and Works of Art, and Depository of Sculptures.
For more details on the museum fund, click here.
Giorgi Kalandia's works include:
Books: The Shrines of the Virgin Mary and Georgia (1999), Zugdidi Dadiani Palace (2001), Zugdidi Historical Museum (2002), The Treasure of the Dadiani Palaces (2003), The Bishops of Odisha (2004), Stolen Treasures (2006), Colorful Past (2007), and Historical-Architectural Museum of Dadiani Palaces (Guide).
Documentaries: "I am the soul of Georgia", "Colorful Dreams", "Cry of Stones", "Children of One Chorokhi", "Gelino", "Missed Lazeti", "Georgian Light", "Hereti", "Misreti Horsemen", "Lazeti Nightingale", "The Plague of Your Heart", "Heroes of the Balkans", "Eastern Sun" and "Ahmed Melashvili".
Exclusive Interview by Katie Ruth Davies