BY KETI KVICHIDZE, FOUNDER OF CULINARY AND WINE EXPEDITIONS
The global pandemic led to a complete collapse of tourism. The Georgian restaurant business is very young and is still developing, so managing such a crisis in the hospitality sector was a new challenge for all involved, especially those restaurants that were targeting international visitors, while fine-dining restaurants, where birthdays, weddings and christenings were celebrated, were forced to close or temporarily suspend their business. Many gave up and shut down, unable to adapt and fight.
A NEW REALITY
Numerous food outlets moved to online sales, in line with the new eat-in restrictions. The crisis, though negative for many, created new markets and new demands, and new players also appeared on the market who, despite the pandemic, took on the new challenges, these being mainly fast food and Asian restaurants. Some restaurants chose to adjust their menus to meet the new market demands.
Lots of people involved in the restaurant business were made redundant. Once the most in-demand professions, "chef" and "restaurateur" are jobs in limbo today, stuck in an unstable environment.
And many distribution companies, meat producers, alcohol distribution companies, Georgian small wineries and others were tied to the restaurants, and also found themselves in dire straits by chain reaction. In 2021, they will doubtless face bigger challenges, and we must be ready for that.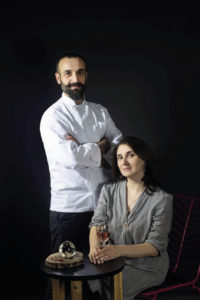 HOPE FOR THE FUTURE
The development of tourism was important for our country. Domestic tourism during the lockdowns has had a small but vital impact on the regions, but the resumption of international visits will again bring stability. Representing the field of hospitality to the international arena through festivals, exhibitions, the involvement of international bloggers and specialists, and the right PR through the joint work of the state and private sector, is critical.
SUPPORT
It will be important for the state to support the banks in terms of cheap loans, and to increase the tax exemption period, as well as the VAT factor when buying a restaurant or agricultural object. Reducing or eliminating that tax will help increase the demand for local agricultural products in the restaurant business, a factor working well in many European countries today.
FIVE COMPONENTS FOR SURVIVAL
I know restaurants abroad that have opened fruit and vegetable shops, or even changed their profile entirely because they could not adapt. Not only in this area, but in all areas, it is a mistake to stop and wait for others to help you. In my opinion, action is needed now, especially in the online space, when there is a lot of information available, and online sales are slowly emerging and succeeding.
At this point, the key is to save your business and keep your employees. Introduce online shopping to your strategy; online marketing; create combined menus, cheap and easy menus, and customized delivery menus. These are the five components that have worked for others during the pandemic.
THE MAIN CHALLENGES IN 2021
2021 will be more difficult due to the regulations. But I hope that by the end of May, the situation will have stabilized. We all hope for worldwide vaccination, and our task for this year should be to prepare the sector. Great importance will be given to hygiene norms, the quality of products, and quality of service, so I think in 2021 we will face bigger challenges and we must be ready for that.
HOW SHOULD MARKET PLAYERS BEHAVE IN 2021?
I imagine cafes and restaurants becoming more focused on benefits, with smaller but frequently updated menus, and hygiene norms highly adhered to. Perception of the feeling of safety, and comfort, will become much more important for guests. A minimalist interior design will become more popular, as it gives a greater sense of sterility. It will be important to use modern technologies, and to consume local farm products, and the agriculture sector needs to be ready for this.
I look forward to a lot of new and youth-created concepts, several of which opened in 2020, and I hope they will offer some interesting concepts in future. I think the era of 500-person weddings and parties will be a thing of the past. Georgian gastronomic, rural and wine tourism is the future of our country, and if we catch this niche, and if there is the right branding and effective marketing, the future is ours.