Giant ferns whipped the car as we bumped through the undergrowth in Guria. Like many overgrown fields in Western Georgia, thousands of tea bushes lay beneath the jungle, strangled by weeds; remnants of an industry that has mostly been forgotten since the collapse of the Soviet Union.
At its height, Georgia was the world's fourth largest producer of tea, and thousands of hectares of plantations still cover the subtropical western hills. Georgian tea was renowned throughout the USSR. But when the Iron Curtain fell, it dragged the tea industry with it.
Georgians are proud of their wine, but their tea industry has been slower to recover, and few see any value in tea. When the government hosts international trade shows, Georgian tea is missed off the invite list. Hectares of tea bushes have already been destroyed to make way for hazelnuts, a crop that is much easier to sell at a high price to international markets. The remaining tea fields are used to graze cattle.
During Soviet times, the focus was on quantity rather than quality and tea was machine cut. However, some tea makers in Western Georgia are now producing high quality tea with the hope of competing in the international market once more. Their tea bushes have grown organically by default for many years – they are remarkably strong, withstanding the winter frosts that help to kill off pests without the use of chemicals.
I was travelling through Georgia's tea regions with my business partners to meet some of these tea makers and source teas to sell in the UK. Our trip took us to the forested slopes and minarets of Upper Adjara, across the Gurian hills backdropped by snowy mountains, and to the mining town of Chiatura. Georgia's tea is as diverse as its landscapes.
Back on the dirt track in Guria, we arrived in a fertile, green valley with tall trees and patchwork farmland reminiscent of Tuscany. In the centre of the village, an abandoned theater and rusting memorial statue, common sights in this region; relics of more affluent times gone by.
Here, we met two sisters, Inga and Lana, who have revived their father's tea plantations that lay unused for two decades when their family moved to France.
"It's hard work," Inga tells me. "But we think that tea has a good future."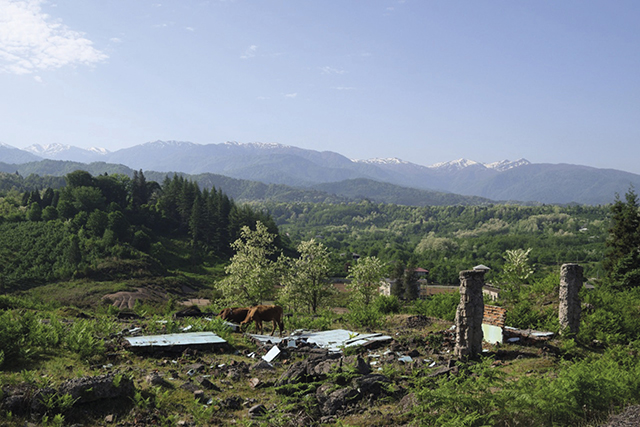 In Guria, this hard work is shared. The tea makers are close friends, echoing Georgia's strong sense of community in its rural regions. With the sisters, we visited Nika's tea plantations that sprawl over a hillside framed by the jagged teeth of the Caucasus mountains. Nika and his friend Baaka have been restoring their tea fields for the past four years, battling against ferns without resorting to chemical herbicides.
Shaded from the hot mid-afternoon sun, a group of tea pickers having a siesta ushered us over, offering their homemade cognac made from rose. Before long, the group, spurred on by Lana, who loves to sing, became a choir as they fumbled through the words of tea songs once known by heart during the height of the tea industry.
Tea was first brought to Georgia in 1799 by the Prince of Guria. But it wasn't until 1892 that a Russian tea merchant, Konstantin Popov, set up the first large tea plantation close to Chakvi, a village on the Black Sea coast. He enlisted the help of a Chinese tea specialist, Lau Dzhen Dzhau, and built a house for him overlooking the sea. In 1899, their tea won a gold medal at the Paris World Expo in 1899. We visited Lau's house that now lies abandoned, a few metres from the beach. A tea leaf is still visible, scuffed and dirty, on the broken tiled floor – a symbol of the fate of the industry.
Even before the arrival of the tea plant in Georgia, the country had a tradition of making tea from the plants that were available to them at the time. Fruit plants and trees grow abundantly all over Georgia. They would gather the leaves from wild blueberry, mulberry and blackberry bushes, among others. After drying and rolling the leaves, they become similar to a black tea with a distinct flavour profile. Locals drank them for their health benefits, as they still do today.
Wild blueberry plants cover large areas of the high Alpine zones in Western and Central Georgia. Around 160 kilometers east of Guria, Chiatura is another region where the plants and tea thrive. But despite the beautiful nature surrounding the town, Chiatura's environment is suffering.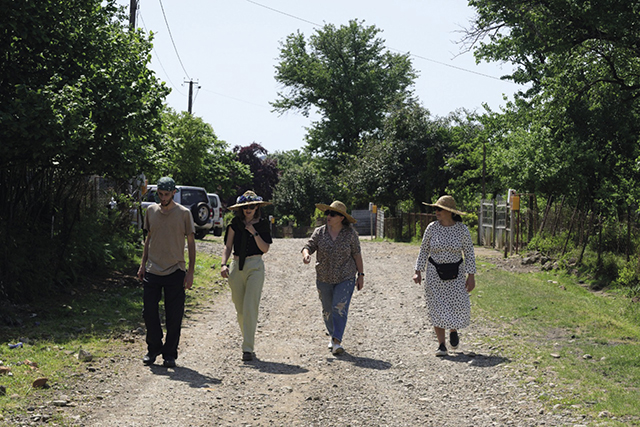 Through the town center, the river runs like mud, polluted by the manganese mine which is a main employer in the area. Residents of Shukruti, a village close to Chiatura, accuse the mine of tunneling beneath burying the village, causing their homes to collapse. At the end of May, several locals sewed their mouths shut in protest. They say they receive no compensation for the damage and the mining company does not listen.
In Chiatura, we met Nika, a young Georgian tea maker who also teaches rock climbing to children in the town. Nika hopes that tea could offer locals an alternative employment that is fair and doesn't harm the environment. His tea plantations are some of the highest in Europe, but he doesn't know how to market his product abroad, a common theme among the tea makers we met during our trip.
The revival of the tea industry could help vital economic development in Georgia's rural regions where employment is scarce. To avoid working in the mines or other hard employment such as illegal logging, many young people move to cities in search of work. It's hard to see a future for the regions without better jobs that don't harm people and their environment.
Our tea trip didn't only introduce us to wonderful teas and their makers. It showed us the potential of the industry to positively impact life in the rural regions of Georgia. Many tea makers don't know how to sell their teas abroad. We hope that our company, Nela-Nela, can be a link to sell Georgian teas to foreign markets, starting with the UK.
For many decades, Georgia's tea legacy was all but forgotten. By drawing on traditions and innovation, the tea industry has a chance to create a sustainable industry that could fill tea cups around the world and benefit Georgia as a whole. A wind of change is blowing slowly through the plantations that will hopefully be a force for good.
BY Amy Jones
Amy Jones cycled from England to Georgia in 2018 and made Tbilisi her home. She recently co-founded Nela-Nela, selling Georgian fruit leaf teas to foreign markets. You can follow the company's journey on instagram (nelanela.tea) or visit their website (nela-nela.com).