By 1955, several hundred Georgians lived in the USA. They made a lasting impact on America's military and civilian life by creating 5 different industries there
The area of activity of Georgian entrepreneurs at the turn of the 19th-20th centuries included not only the territory of Georgia and neighboring countries, but also saw many Georgian entrepreneurs also settling in North America. By 1955, several hundred Georgians lived in the United States. Despite this small number, this Georgian diaspora made a lasting impact on America's military and civilian life. For instance, by creating five different industries in America: Grigol Kobakhidze (George Kobi) created the medical glass industry and Christmas tree glass ornaments and lights; Alexander Kartvelishvili was one of the founders of military aviation; Giorgi Balanchivadze (George Balanchine) worked in the field of ballet; while Giorgi Matchabelli (Prince Matchabelli) worked in the perfume industry.
George Matchabelli was the son of Vasily, the elder brother of Ivan Matchabelli who translated Shakespeare into Georgian. George was born in 1885 and, after graduating from the Tbilisi Gymnasium, left for Europe to further his studies. Later, he set out on a journey around the world. During his stay in Sweden, he met an Italian actress, the beautiful and talented Norina Gilli (Maria Karmi), who had great success in her role as Madonna in Max Reynolds' religious play 'Miracle.'
During his life in Europe, Giorgi Matchabelli dreamed of Georgia's independence and was a strong supporter of the restoration of the monarchy. For this purpose, Matchabelli sought to find a match for the youngest son of the German prince, Kaiser Wilhelm II, in a Georgian princess. In his opinion, the best candidate for this case was Marina, the daughter of Mikheil Matchabelli, a member of the Constituent Assembly of Georgia. This plan reflects the close relationship between the Georgian aristocracy and Germany and the expectation that Germany would win World War I. Matchabelli's plan did not go unnoticed, and after the collapse of the Russian Empire in late 1917, Giorgi Matchabelli became the First Secretary of the Georgian Embassy in Italy.
His political career, however, proved to be short-lived. After the establishment of Soviet power in Georgia in 1921, Matchabelli ended his political career and, along with his wife, moved to the United States. The future perfume-extraordinaire businessman engaged first in the antiques trade, and in 1924 he and his wife opened a small antiques shop, Le Rouge et le Noir, at 545 Madison Avenue in New York City.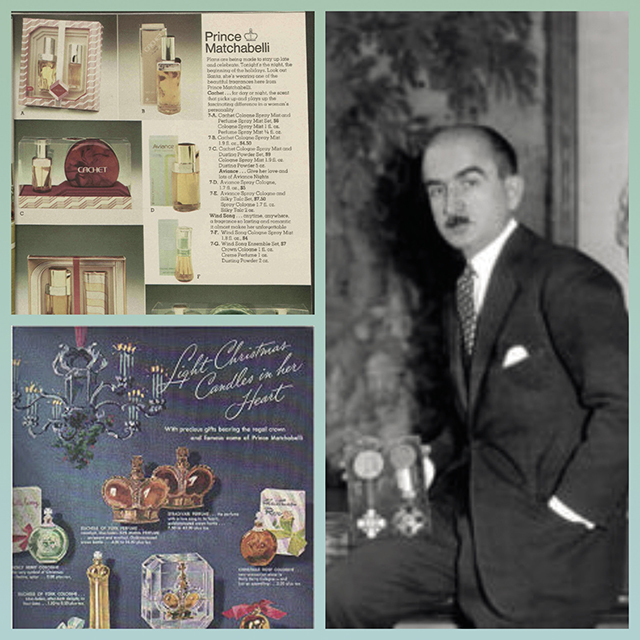 Alongside running the family antiques business, Matchabelli experimented with perfumes, which ultimately proved to be more promising as a business venture. In 1926, on the 10th anniversary of their marriage, the couple formed their own Prince Matchabelli Perfume Company.
Matchabelli himself created, designed and advertised his perfumes. The logo of Matchabelli's firm depicted his family coat of arms and the royal crown, while the first workers of the firm were friends of Matchabelli, refugee aristocrats like him, with their wives and daughters.
The most popular among the perfumes was the perfume 'Queen of Georgia,' dedicated to his above-mentioned failed project, Marina Matchabelli. The perfume, in a bottle shaped like a golden crown, was followed by a perfume dedicated to his wife, named 'Princess Norina,' a perfume named after the English beauty 'Duchess of York,' the perfume 'Golden Autumn,' bath oil 'Bath,' cologne 'Wind Song,' and a selection of powder and lipstick.
The perfume bottles were originally made of German porcelain, before a transparent glass vial was made in the glass company of George Kobi (Grigol Kobakhidze), on which various details could be added by hand. Soon, George Matchabelli's crown bottles were for sale all over America.
Beyond his business activities, Matchabelli was also engaged in diaspora affairs. He was one of the initiators of the establishment of the Georgian community in the United States in 1931, its Chairman in 1933-1934, and its Treasurer from 1934.
In 1933, George and Norina divorced. In June 1935, Giorgi Matchabelli had planned to open an exhibition hall on 5th Avenue. In March that year he traveled to Shanghai and California to open new branches, but caught a cold on the way and died, aged 50, of pneumonia.
A year later, his ex-wife Norina Gilli sold the company to Saul Ganz for $250,000.
In 1941, the Prince Matchabelli brand was sold to Vicks Chemical Company; in 1958 to Chesebrough-Pond's, then to Unilever in 1987. In 1986, the division had annual domestic sales of about $140 million, according to company officials.
In 1993, the Prince Matchabelli brand was sold to Parfums de Coeur.
By Emil Avdaliani