A panel discussion 'Pandemic Opportunity or Challenge for the Agricultural Sector,' was held on April 12 in the village of Udabno, near Sagarejo, organized by the Georgian Farmers' Association.
A presentation of the agro-tourism online platform agrogate.world was held at the event. Attending were US Ambassador to Georgia Kelly Degnan, Israeli Ambassador to Georgia Ran Gidor, Dutch Ambassador to Georgia Maaike Van Koldam, Minister of Economy and Sustainable Development Natia Turnava, Minister of Environment and Agriculture Levan Davitashvili, and various representatives of the diplomatic corps.
The online platform agrogate.world was created by the Georgian Farmers' Association, through which it united the agro-tourism facilities of Georgia, Armenia and Azerbaijan in one space. The platform creates a map of agrotourism locations throughout the South Caucasus, which will allow tourists to book both accommodation and masterclasses at a particular agrotourism facility. Videos created in two languages will be posted on the website, along with photos, which will make it easier for customers to find information.
"Many areas have been affected, both in Georgia and around the world," says Nino Zambakhidze, President of the Farmers' Association. "We've created a digital platform that will meet the challenge of
farmers and help them to sell their products online. We tried to make Georgia and agrotourism facilities more attractive for more tourists in the space of a single platform."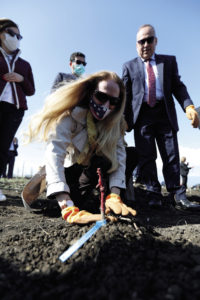 US Ambassador Degnan noted that the US Government "sees the potential of agrotourism to attract international tourists to Georgia, so we are helping farmers, small business owners and rural communities to benefi t from the tourism sector."
"The new website maps agrotourism sites across the South Caucasus, allowing tourists to fi nd the most unique experiences in local agriculture and book directly with local tourism operators. This is just one part of USAID Georgia's work with the Georgian Farmers 'Association.
Mastercard, a major US company, has also joined the effort to help Georgian farmers and tourism operators work together," reports the US Embassy.
Main photo: In the center, from left to right: President of Farmers' Association Nino Zambakhidze, US Ambassador Kelly Degnan, Ambassador of Israel to Georgia Ran Gidor, Dutch Ambassador Maaike Van Koldam.