On March 17, the Biltmore Hotel in Tbilisi hosted the UAE-Georgian Business Forum, organized by the Georgian Chamber of Commerce and Industry. The forum was attended by more than 250 business representatives from both countries, including leading companies from various sectors such as large retail chains, agriculture, hospitality, food products, transport, real estate, and information technology.
The forum was held within the framework of the visit of the UAE Minister of State for Foreign Trade and the delegation organized and hosted by the embassy of the UAE in Georgia.
The event was opened by the Vice Prime Minister, Minister of Economy and Sustainable Development of Georgia, Levan Davitashvili. Welcome and opening remarks were also delivered by HE Dr. Thani bin Ahmed Al Zeyoudi, UAE Minister of State for Foreign Trade, HE Giorgi Pertaia, President of Georgian Chamber of Commerce and Industry, HE Abdalla Sultan Al Owais, Chairman of Sharjah Chamber of Commerce and Industry, and HE Rashed Abdul Karim Al Balooshi, Undersecretary of Department of Economic Development – Abu Dhabi. Deputy Director of Enterprise Georgia – Tornike Zirakishvili delivered the presentation about the investment environment, opportunities, and the country's outlook.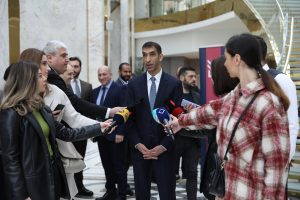 One of the main highlights of the forum was the increase in export and import between Georgia and the UAE. Last year, the trade turnover reached 460 million Dollars, with export increasing by 51% and imports by 98%. This increase in economic relations between the two countries has led to discussions about the possibility of establishing a free trade agreement. According to Levan Davitashvili, three rounds of negotiations have been held since September last year, and the process has been successfully completed today. The agreement will not just be a free trade agreement but a comprehensive document that will regulate issues of the origin of goods and free trade in services to encourage economic relations between the two countries.
The UAE delegation expressed their interest in investing in various sectors of Georgia's economy, including hospitality, infrastructure, food security, and production, as well as port infrastructure and banking systems. To further promote investment and business ties, participants had the opportunity to participate in bilateral business meetings, discuss investment opportunities and potential partnerships.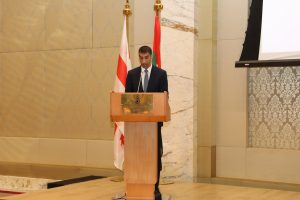 Overall, the UAE-Georgian Business Forum proved to be a fruitful event, strengthening economic ties between the two countries and laying the groundwork for future cooperation and investment opportunities.