The European Union (EU) and the World Bank concluded that the Georgia Financial Inclusion and Accountability (FIA) Project has helped Georgia to advance ambitious second-generation reforms aimed at boosting private sector development and enhancing financial inclusion. The €4 million project supported an enabling framework for capital and insurance market development, improved financial infrastructure and responsible financial inclusion, and promoted better corporate and State-Owned Enterprise (SOE) governance and reporting.
These reforms are expected to benefit both individuals and companies through increased access to financial products such as credit and digital payments, as well as improved consumer protection supervision. The improved policy environment and infrastructure for digital financial services will help to ensure that financial innovations in the market can be more safely delivered for broader consumer use.
The FIA project, which officially closed today, was implemented between 2019 and 2023 as part of the World Bank's support to Georgia under the Country Partnership Framework for 2019-2022 and the EU's Single Support Framework 2017-2020 for Georgia.
"The project played an important role in improving financial inclusion for all and enhancing financial transparency of companies," said Miguel Sanchez, World Bank South Caucasus Program Leader for Equitable Growth, Finance, and Institutions. "It has also helped to build foundations for more competitive, transparent, and well-governed institutions and markets in Georgia. These are important elements for Georgia's continued sustainable growth and jobs creation, and will benefit people and businesses across the country."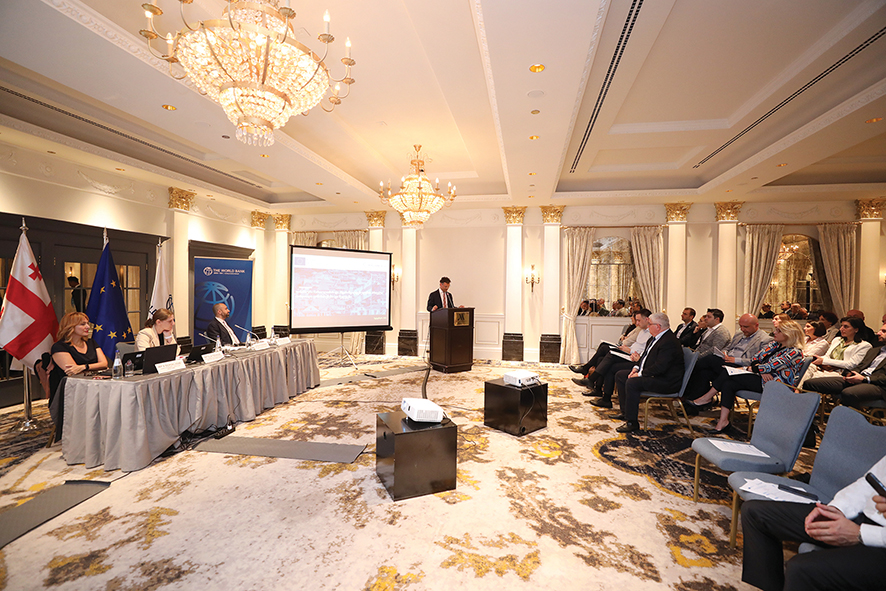 "The EU has long supported Georgia's reform agenda, including its commitment to economic reforms, transparency, and sustainable economic growth. The launch of this project was an important step to boost private sector development in Georgia," said Catalin Gherman, Deputy Head of Cooperation of the EU Delegation to Georgia. "4 years on, we see visible improvements in Georgia's financial structures, business services and investment climate. This EU assistance has boosted private sector development and delivered productivity, transparency and financial inclusion gains for Georgian businesses."
The project supported the alignment of the regulations with the European Union standards in areas such as investment funds and payment services. It also helped launch fintech and financial consumer protection reforms, strengthen a partial credit guarantee program, initiate financial infrastructure upgrades to promote digital payments and movable assets based lending, and advance insurance market development.
A multi-faceted program of strengthening financial reporting of enterprises helped reinforce financial transparency for better access to financial services. Due to the project, significant improvements were made in the quality of financial reporting though rollout of International Financial Reporting Standards (IFRS) for Small and Medium Enterprises (SMEs) training courses, resulting in 85 percent for medium enterprises and 91 percent for small enterprises reports submitted correctly.
Georgia's progress in the financial reporting reforms was acknowledged in the 2022 Report on the Observance of Standards and Codes in Accounting and Auditing (ROSC A&A), which was also presented today. The ROSC report also provides new recommendations on further enhancement of the institutional framework for corporate and SOE financial reporting in Georgia.
The project was implemented in close cooperation with the National Bank of Georgia, Ministry of Finance, Ministry of Economy and Sustainable Development, Insurance State Supervision Service of Georgia, State Service for Accounting, Reporting and Auditing Supervision and other private and public stakeholders.