The global prices of both oil and gold have experienced significant increases recently, attributed to the attack carried out by "Hamas" on Israel. Since the commencement of hostilities, oil prices have surged by 5%, while tensions in the market continue to mount. Gold prices also saw a notable increase of 1.2% within a single trading day.
The surge in gold prices can be attributed to heightened demand, a common occurrence among investors during periods of market volatility. Gold is often considered a safe-haven asset in times of uncertainty, and it promptly rose in value by 0.9-1.2%.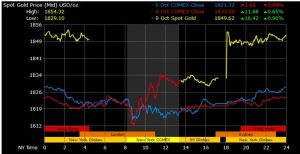 Analysts are predicting that if the escalation of the situation persists, gold prices may continue to climb. Both gold and oil were trading at their lowest levels since spring in the week leading up to these events. However, the emergence of geopolitical uncertainty has reversed this trend. Monitoring the situation closely is advisable, as further developments could have additional impacts on these commodity prices.
By Mariam Gorkhelashvili