SilkWay Group is a leading tourism agency in Georgia for people living in the Gulf countries, because it offers services that are authentic to Arab identity. The company won an award in the category a Successful New Brand at the Georgian Brand Day 2022 award ceremony. We got an opportunity to have a discussion with the General Director Amar Faqer and the CEO Mustafa Tarakhan.
They shared their feelings on winning the award. Amar said: "Having won a prize in recognition of our success in such a short time is extremely important for us because it means we have auspiciously passed the first stage of our journey. Considering that the company was founded just about a year and a half ago, this is proof that we are moving in the right direction."
Mustafa also shared his feelings. "It's extremely pleasing to see our success, after all the hard work we did every day in the past year, when we built this company up in Georgia from a startup to a flourishing, established business. I'm incredibly grateful for our team that made it possible for us to achieve this success in such a short time. I truly believe good teamwork is a fundamental part of what we have right now."
The company prides itself on providing comfortable and authentic Arabic culture services in Georgia, so travelers from Gulf countries will not only be impressed by the services but will also feel at ease in Georgia.

"SilkWay Group " works in two directions, one is eco-tourism and the other one is medical tourism. Amar Faqer explained this direction: "We have been working in the Jordanian market for a long time and the Jordanian market is famous for medical tourism. We also worked on the Turkish market in this direction, so we gained a lot of experience. After discovering that Georgia has not only great medical services but also nature that helps develop eco-tourism, we knew this was the right direction for us. We know for a fact that medical tourism can and will be very important in the economic development of the country."
Mustafa added that, "Medical tourism is something special for us, because we are the first company initiating this in the Arabic market. A lot of people still don't know anything about Georgia as a medical tourism destination. That's why we are actively participating in international tourism events, because we see huge opportunities here. This is why we keep spreading information about Georgia at every opportunity we get. Eco-tourism is also extremely important, it creates an environment that draws people for not only clinical treatment but overall health improvement activities."
While discussing the company's goals both of them outlined their two main directions, which are providing opportunities for the younger generation of Georgia, and implementing technological progress to their business practice.
"We have two main goals, which we always follow in this order," Amar said. "First is working with youth and providing them with job opportunities and the second is something we are already actively working on by having an agreement with a big IT company on the creation of an app that will provide the Arabic community with a full tourist experience in Georgia as well as all the information they need in terms of medical and eco-tourism."
Mustafa talked about working with youth in more detail. "We are very focused on working with youth because in Georgia, people in general are active, smart and looking for the opportunities to succeed, so we create an environment that gives them chance to flourish in this field and achieve a lot. Helping Georgian youth in this development, to gain more knowledge and experience in the long run, will help us as well. Youth is constantly generating new ideas. To lead the market, the new generation's involvement is a must, especially when we focus on technological innovations so much."
In regards to what attracted them to Georgia, they shared their opinions, experiences. Amar explained: "Georgia's interesting diversity in climate and nature, as well as opportunities for eco and medical tourism, drew us in immediately. Plus, it's only a 4 hour flight from Arab countries and they get an opportunity to enjoy different seasonal activities in one country."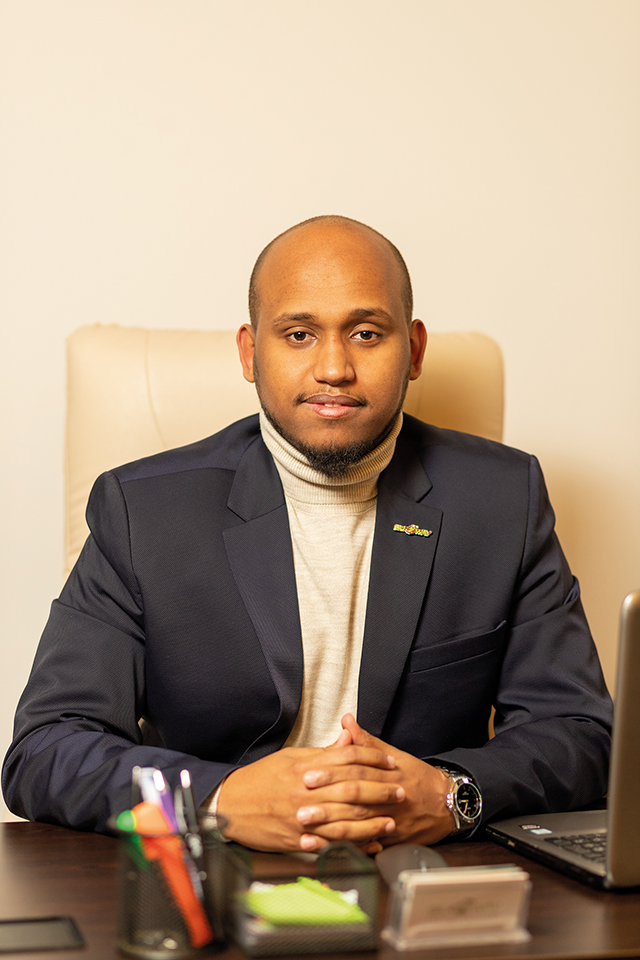 Mustafa also shared his experience. "First of all, the location of Georgia is incredible, it's near Arab, GULF countries but it's also part of Europe. Second of all, Georgia has truly magnificent nature. Whoever comes, always enjoys their stay. We've had cases of people visiting Georgia 2-3 times a year. Georgia itself works on indirect marketing, people that go back can't stop praising their stay here, and word of mouth keeps growing."
They summed up their existing success. Amar said: "We are one of the companies that brought the most tourists from the Middle East, and we are truly proud of it. Our teamwork, existing experience as well as all the cooperation we have in Georgia, helped us immensely. We are grateful for local hospitality, that's why we want to do more for the country. We plan to make Georgia a center for business tourism and an accessible hub for conferences, forums, etc. We are also constantly thinking about ways to make the people of the Middle East countries more interested in Georgia in order to contribute to the development of the country.
Mustafa also shared his opinion: "Cooperation truly helped us out a lot, they created more opportunities, which is very important. We are always working on extending our network, and currently, we are working with the Georgian Tourism Association, business associations, medical associations as well as hotels and resorts. Our main market from which we bring tourists is Saudi Arabia, where we are working with very large tourism companies. We already have significant success and that's why we believe it will keep growing."