Freeze Tea is based in Kharagauli, and since 2012, its team has been collecting, processing, and exporting medicinal and culinary plants, wild berries, and fruits from different regions of Georgia. The innovative and competition-winning company has been making a whole new kind of tea – fresh-frozen whole leaf tea – for the past two years. To learn more about it, GEORGIA TODAY interviewed Irakli Dolidze, Co-founder of LLC Freeze Tea.
"For over eight years, our team has been supplying the herbal tea industry with raw materials, such as medicinal plants and wild berries, and the trends we have noticed in the premium segment of the tea market are that customers are looking for high-quality teas which are at the same time healthy and special, special in taste and in the experience they give the customer," Irakli tells us. "So, along with the raw material production, we began thinking about using our products to create a new high-quality branded tea with more nutritional value.
"Two years ago, we met famous Georgian tea technologist Nodar Mzhavia, who had been working on fresh-frozen tea for several years. He called it "Antioxidant Tea" at the time, due to its exceptionally healthy nutritional consistency. Fresh-frozen tea was a completely new concept for the tea industry, as for centuries since the Europeans discovered and started exporting tea, it was mostly consumed in dried form."
Irakli notes that despite the current tea industry being very diverse, traditional dried tea technology faces some challenges and limitations. More precisely, the tea is never fresh, and during drying and thermal processing, there is a high loss of healthy nutrients.
Freeze Tea's method, however, involves flash-freezing freshly harvested tea leaves at specific temperatures, so that the cells of the leaves become fragile and break down, and once placed into water, the extractability is higher and the tea achieves a unique aroma and taste. In addition, the tea has a higher nutritional value compared to traditional teas, where the antioxidants lost during the drying process are retained in the frozen tea at much higher levels.
"Along with our excitement about the new product, we presented Freeze Tea to two international tea experts in 2019, which confirmed that if marketed well, the fresh-frozen whole leaf tea concept had a unique selling point and could be a new word in the tea industry," Irakli says.
"After that, together with Nodar, we decided to start working on the production of the new type of tea. In the two years since, we've won two start-up competitions and raised funds to create Freeze Tea. We've had financial and technical support from organizations like the Caucasus Environmental NGO Network (CENN), the Georgian Innovation & Technology Agency (GITA), the International Trade Center (ITC), USAID, and the Austrian Development Agency, which helped us a lot to bring Freeze Tea to the market.
GEORGIA TODAY was curious- since Freeze Tea is a Georgian tea, what makes it distinguishable and stand out? Irakli explained that Freeze Tea marries abundantly flavorful and freshly harvested tea leaves, herbs, and wild forest fruits from Georgia to state-of-the-art shock freezing technologies in a manner that revolutionizes the tea industry.
"Simply stated, this process delivers a better tasting, antioxidant-rich alternative to traditionally dried and nutritionally compromised teas," he says.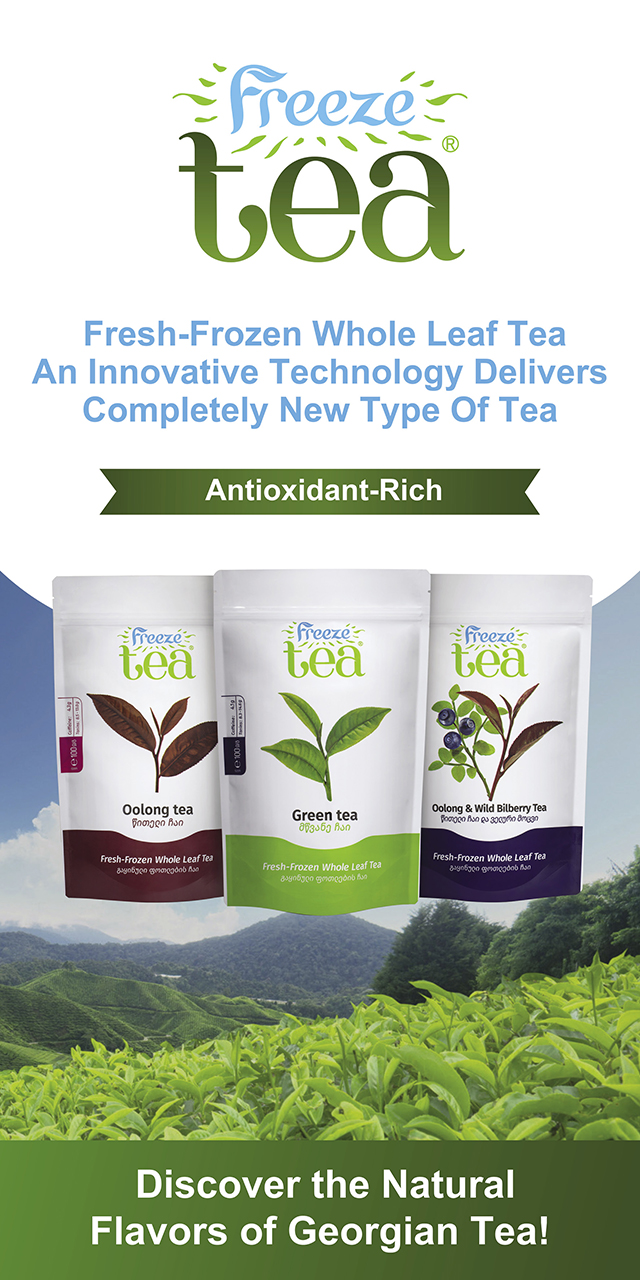 What are the distinguishable qualities of Freeze Tea?
Along with the rich nutritional value and unique flavor qualities, Freeze Tea brings a new experience to the customer. As one tea expert noted: "This aroma will be completely new to many customers in consuming countries, and could be a special way to 'transport' the customer to the tea fields through their senses."
Tell us about the origins of Freeze Tea.
"We believe in the principles of sustainability, so the raw materials for Freeze Tea are sourced from local producers and collectors in environmentally friendly and pollution-free zones of Georgia. We cooperate with tea producers operating sustainably in Imereti and Guria for the highest quality flowers. The wild bilberries are collected in the ecologically clean forests of Mountainous Imereti and Adjara. Then we process the raw materials and produce Freeze Tea in our factory located in Kharagauli, Imereti."
It is expected that the entire supply chain will be Certified Organic by 2023.
One of the important qualities of Freeze Tea is how healthy the product is. Irakli spoke to us about the process in details and noted that the freshly picked tea leaves, fruits, and herbs begin losing their flavor and nutritional integrity within hours. Most notably, the healthy qualities derived from tea's powerful mix of antioxidants (catechins) begin to diminish as soon as the leaves are picked. Further degradation occurs from the heat associated with drying, intensively decreasing the value of traditionally processed tea.
"To preserve these essential qualities, Freeze Tea uses state-of-the-art shock-freezing methodologies shortly after harvest to capture and preserve every possible trace of flavor and nutrition in the tea leaves, fruits, and herbs it collects," Irakli says.
Laboratory analysis shows that, on average, Green Freeze Tea retains x2.1 more antioxidants than the green tea prepared from tea plantations prepared in the traditional way.
"The initial line of fresh-frozen Freeze Tea features Green, Oolong, and Oolong & Wild Bilberry teas. Antioxidant-rich tea offers new tastes to the customer, while Green Freeze Tea brings aroma and flavor that is slightly floral with a touch of perfume accompanied by green herbaceous notes. The partially oxidized Oolong Tea is deep red in color and delivers distinctive fruity flavors. The Oolong & Wild Bilberry Freeze Tea is super fruity with obvious notes of berries and delivers distinctive earthly flavors," he notes.
"They come in 100g packs, which are enough to prepare around 15-20 portions of tea. The preparation is very simple, very similar to loose leaf tea brewing. The fresh-frozen whole leaf tea should always be kept in the freezer.
"Those who want to taste Freeze Tea can go to Goodwill's (City Mall and Dighomi) hypermarkets in Tbilisi. However, fresh-frozen whole leaf tea will soon be available in other markets. In addition, we are adding home delivery in Tbilisi by the end of 2021 through our webpage – www.freezetea.ge," he says.
What are your future plans?
We have just entered the Georgian market, we will see how the customer reacts to the new type of tea, and so far there is lots of excitement. Currently, we are working to make Freeze Tea available in different stores in Georgia, and we are adding an online delivery service. Next year, we will be actively working on product development, adding new varieties using wild herbs and berries. Our team has vast experience in international trade and export, as we are already exporting our raw material products to eleven different countries. We will use this knowledge and experience to get Freeze Tea to the EU market by 2022. We have just received our HACCP quality certification for 2021 production, next year we are planning to get ISO22000, which is very important to export in the European market.
Interview by Ketevan Skhirtladze