The Georgian government is keen to direct investment to those sectors where reforms are the most dynamic
As we set out for the summer of 2021, we are looking at the challenge of rebuilding our countries, our societies, our economies.
Before Covid-19, Georgia was finding its way to a European path of development, with strong institutions, investment in skills, and searching for opportunities in fast developing sectors. France and the EU were developing new instruments, which we reserve for our very closest partners: visa-free travel, a comprehensive association agreement, and financial and technical support at the highest possible level. An office of the Agence Française de Développement opened in 2016 in Tbilisi.
With Covid-19, not only did this effort slow down, but Georgia also had to face many successive waves of crises: health, economics, politics, security. France and Europe mobilized extra resources to support our Georgian partners as they meet these many challenges.
A better outlook now becomes a genuine possibility. With vaccination, the health situation could improve, underpinning the possibility of a strong economic recovery. Political choices were made with a view to solving difficult issues, and with this renewed commitment to reform, Georgia finds itself closer to its Western and European partners. There are many chances to seize.
This is why the EU is working to develop its association agenda, and why France signed a memorandum of actions for the next three years with a total support of 483 mln Euros of loans and grants for dynamic, inclusive, sustainable growth.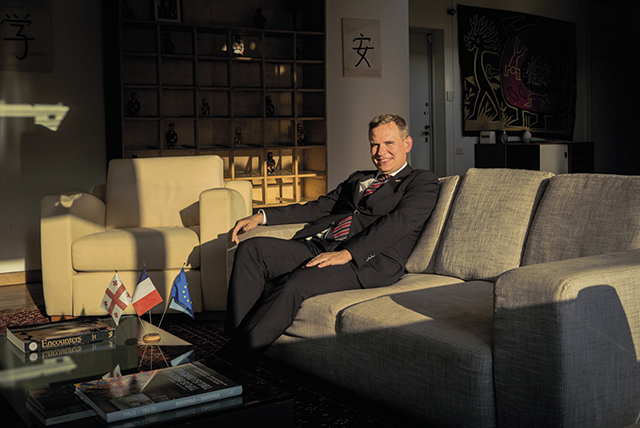 We will be working on many exciting projects. We will promote greener energy and an electricity market ripe for investment. We will be working on water resources management to deliver modern infrastructure and democratic institutions to manage this key resource. We are working on green transportation both within cities and to connect the South Caucasus. And we will help develop a social code, with a specific focus on gender equality, to put in place effective, inclusive, social support.
France and Europe mobilized resources to support our Georgian partners as they meet the many challenges resulting from Covid-19
The Georgian government is keen to direct investment to those sectors where reforms are the most dynamic. This is the right approach in my view, and a good way to define a strategy for development. Whether we are talking about water management in Khashuri, a cable car towards Tbilisi Sea, irrigation in the Zemo Samgori region or deinstitutionalization to better deal with mental health issues, it is all about creating local democracy, rule of law, modern infrastructure, and openness to European approaches. This is about new opportunities for Georgia to benefit from its unique location between Asia and Europe and at the crossroads of the many great civilizations.
During the Covid-19 crisis, we established a framework called "Team Europe". It is a way for EU Institutions, Member States, and international financial institutions to work better together on joint projects and shared values.
The memorandum of actions of the French government is closely coordinated with the European Union. Since its arrival in Georgia in 2016, the Agence française de développement has been working closely with its German strategic partner KfW. We have also developed a global alliance with the Czech Development Agency. Indeed, our goal is that Georgia becomes another East European success story, and so it makes sense to work at it with an already successful close East European partner.
We have the goal in sight. We have the blueprint and the map to get there. We have the determination to turn the page of last winter. And so there can only be great hope for the months to come.
By Diego Colas, Ambassador of France to Georgia