Michael McFaul is an American academic and diplomat who served as the United States Ambassador to Russia from 2012 to 2014. Prior to his nomination to the ambassadorial position, McFaul worked for the US National Security Council as Special Assistant to the President and senior director of Russian and Eurasian affairs. Radio Free Europe's Georgian Service discussed with him the Prigozhin rebellion and Putin, the upcoming Vilnius Summit, and Ukraine and Georgia's chances for EU and NATO accession.
What have we learned about Putin and Russia in the wake of Prigozhin's short-lived rebellion?
We still don't know the full consequences. There are a lot of mysterious things that I would like to have answers to. But if you think about Putin's strength within his country, and with his military and his commanders a week ago versus now, he's emerged from this crisis in a much weaker position. Anytime there's a mutiny against you, or anytime there's the specter of civil war, that was his phrase, not mine, it suggests you're not fully in control of what's happening inside your country.
When the mutiny was underway, moving very easily to Rostov and toward Moscow, Putin made a very dramatic speech, calling them traitors, and saying he would use all means necessary to squash their rebellion. And yet, when push came to shove, he didn't do that. He didn't escalate. He didn't double down. He didn't use massive military force: He negotiated with them. The assumption about the war in Ukraine is always that Putin is a tough guy, that he will escalate if you do too much. If we send them tanks, he's going to escalate; if we send them Patriots, he's going to escalate; if we send them fighter jets, he's going to escalate. And now you hear that we don't want to send certain long range missiles, ATACMS, because Putin will escalate. I don't know what he'll do in Ukraine and I don't pretend to know, but this case study of escalation, he had the opportunity to escalate, he had the military means to do so, but he didn't. And that is a very important lesson for those countries supporting Ukraine: instead of assuming escalation, maybe assume he'll capitulate? Maybe he'll negotiate when faced with the chance of losing the war in Ukraine.
The other lesson is he hasn't yet figured out is how to deal with Wagner. I was very struck that we were told by Mr. Peskov, his press spokesperson, that this was going to be a major speech. And what was it? A speech delivered to the Wagner mercenaries? So strange, if you think about it – a national address, and the only audience that he's talking to are these hired guns? And his main message was: "Your leaders betrayed you. They deceived you. Split with them and come to me." And that suggests they haven't done that yet. And from what we hear, there weren't many Wagner fighters that took the offer to join the Russian conventional forces. So that means he still hasn't fully resolved how he deals with these fighters.
"So long as Putin rules Russia, strategic partnership is impossible" – you write in your memoirs, 'From Cold War to Hot Peace.' What kind of relationship will be possible with Putin's eventual successor?
It's a very complex question and a very legitimate debate in academia. Are there these structural forces that cause countries to behave in a certain way, or do individuals matter? I think that individuals matter and regime type matters. I think autocracies behave in the world in one way, and democracies behave in the world in a different way.
I've changed my views since writing that book. I do not see continuity in the way that Russia has behaved to the outside world. There was no continuity between Brezhnev and Gorbachev: Brezhnev dealt with the uprisings in Eastern Europe by invading in 1968, but when Gorbachev was faced with similar choices in 1989, he said "go your own way." If Russia as a country and Russians behave the same way all the time, Gorbachev would have invaded Germany when there were uprisings. He didn't. Similarly, Yeltsin didn't behave the same way that Putin is behaving today. Yeltsin declared independence from the Soviet Union and worked to bring about the dissolution of the Union, as did leaders in Georgia, Ukraine and the Baltic states.
Remember, Putin was a completely accidental leader of Russia. There was no groundswell of support; there was no Putin movement in 1999 and 2000. He was a creature of the existing regime. He wasn't an opposition leader. He wasn't with the communists or with Zhirinovsky. Yeltsin appointed him Prime Minister. And then Yeltsin appointed him Acting President, and the people of Russia ratified that choice afterwards. Putin wants you to believe otherwise, right? He wanted to create this myth that there was the chaos of the 90s, and he came in as the hero – that's complete and utter nonsense. That's not the history the way it was in real time. Yeltsin originally wanted to choose somebody else: Boris Nemtsov, the heir apparent, and then something interrupted that plan- it was the 9th of August 1998, the financial crash, when the government which Nemtsov was in had to be thrown out because Russia was then a quasi-democracy. Imagine Yeltsin appointed Boris Nemtsov as his heir apparent, the Russian people would have ratified that just like they ratified Putin, because they controlled that election rather comprehensively.
There's no doubt in my mind that the history of Russia's relations with Georgia and Ukraine and my country would have been radically different had Boris Nemtsov been elected president at that time. So that suggests to me that there's an interplay.
We don't necessarily know if Russians support Putin. How can you know when there's no real free and fair elections, when there's no real media? But having said that, I changed my views as a result of this horrific, barbaric war in Ukraine. Because Putin made the decision to invade Ukraine. There was no vote, no referendum. We don't know what Russians actually thought about it. But once he went in, there was support as there usually is when countries go to war. And now, there are Russians raping Ukrainian women and children. There are Russians committing massive atrocities inside Ukraine. Putin can't do those things without the support of the Russians. And therefore, this excuse that Russians are not guilty and they shouldn't be sanctioned because of autocracy – I disagree with that.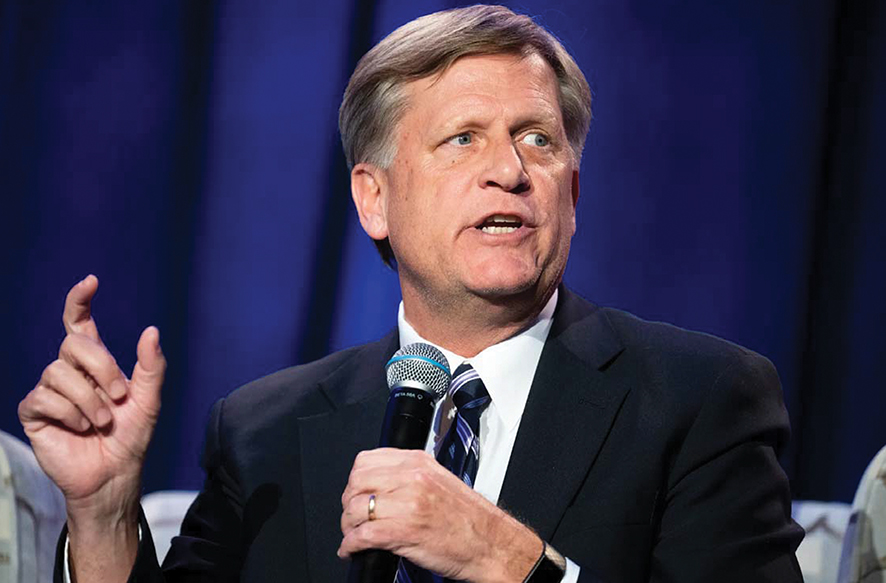 Also, for a 142-million country, there weren't even 14 million people in the streets protesting the war.
Well, initially, there were some very brave people that did protest. But repression works.
Of course, when you arrest people, when you give my friend Vladimir Kara-Murza 25 years in jail for saying something slightly critical of the war, it's very rational not to go out and protest. If I were a Russian citizen, I'm not sure I would be brave enough myself to go and protest against Putin, facing the specter of going to jail for 25 years. But that doesn't tell us what people believe. I don't think we should assume, just because we're not seeing those protests now, that there's massive support for Putin's war.
I think there are three categories in Russia: the hardcore supporters, some 25 -35%, the ones watching the Russian national television stations controlled by Putin. These tend to be older people, more rural, less educated, and less wealthy. Then there's a smaller group of Russians, 20%, who don't support this war at all, or Putin. They don't watch television- they get their news from the internet, media, Telegram, from Navalny live, from Dozhd. They're younger, urban, better educated, richer. In other words, the future of Russia. They're not with Putin's project at all. And then in the middle, there's what the Russians call the boloto – the swamp. That's where most Russians are. And they support Putin because he's Vlast – because he's the power. He's the President. They've known nobody else for a quarter of a century. But do they enthusiastically support him and the war? There's little evidence for that.
On to the Vilnius Summit. The Allies have stated they cannot invite a country to NATO that is still at war. Will NATO invite Ukraine if it loses? Or if there is a frozen conflict?
There is no enthusiasm at the Vilnius Summit to lean too forward, because Ukraine is at war. And remember, all the NATO countries are democracies, they're not dictatorships, so they have to listen to their people. And I understand the argument that I hear from officials in the Biden administration that say the American people wouldn't support bringing Ukraine in right now, while they're at war, because they think – erroneously, I think, it's more complicated than that – that it would mean we would have to go to war with Russia. There's no appetite for that among the American people.
That said, I hope that in Vilnius there will be a much stronger signal about the path for Ukrainian membership to NATO than there's been in the past. Since the Bucharest Summit and the convoluted messages for Georgia and Ukraine, since Putin invaded Georgia, the serious conversation about both Georgia and Ukraine has been frozen. And we've done nothing. And the fear was always, "oh, if we do something, Putin is going to respond, he might invade Ukraine." Well, guess what? Since Bucharest, he's invaded Ukraine twice, and Georgia once! So I think that argument has to be retired forever, that this somehow is going to be a provocation. We didn't expand NATO, and he invaded anyway.
And we've got to get ourselves around to rethinking who is providing security for whom in the Ukraine-NATO relationship. The old conventional thinking is that Ukraine needs to join NATO to enhance its security. And that will be true when that happens. Right now, Ukraine is receiving weapons from NATO and is an importer of security from NATO. But after this war is over, Ukraine will begin to build the most qualified, modernized fighting force in all of Europe. They're already on that path today. And down the road, Ukraine will be a net exporter of security to the NATO alliance, not an importer; they will be providing security, especially for small countries in the neighborhood; they'll be providing security for Estonia and Latvia and Lithuania and other countries that don't have the military capabilities that the Ukrainian Armed Forces will have, especially now that they're on the path of switching over to platforms from the West and getting rid of all that Soviet junk they've had to fight with in the past. I think that is a conceptual change that not a lot of people understand, but I think should be part of the debate in Vilnius.
Ukraine, as NATO's easternmost and most fortified bastion. Is there appetite for that in the West?
Ukraine will be a critical partner in enhancing our deterrence, visa vie Russia, for all of the NATO alliance after the war. And about frozen conflicts, I think that argument also needs to be retired. I hope this war ends with unified borders in Ukraine, the 1991 borders, but if, God forbid, it doesn't in the short run (and Zelensky himself and the people of Ukraine are the ones that need to make that decision, not me, and not President Biden sitting in Washington or anybody else), if somehow it settles into a frozen conflict, that should never again be used as an excuse to say, "they can't have NATO membership." The analogy is West Germany in 1955, when they joined the Alliance. The borders were unsettled, but we found it in our interests to stabilize the setting there and long term create the conditions for unification. If, tragically, Ukraine's future borders are not the 1991 borders, the goal for Ukraine has to become a thriving capitalist economy, a thriving democracy, and you need security for that. And one day, their success will be what compels people on either side of the border to rejoin and reunite, just like we saw in Germany in 1989. And so that needs to be the goal. And NATO membership is a part of reaching that goal.
Now onto Georgia. At the 2008 Bucharest Summit, Ukraine and Georgia were considered a tandem. Where are we today when it comes to NATO and Georgia?
I would go even further and say that in 2008, Georgia was a leader, ahead of the Ukrainians, leading both in argumentation and preparedness. Georgia's society was much more enthusiastic about joining NATO. It's tragic to see how that's changed. When the EU announced that Ukraine and Moldova would be on a path to joining the Union, and left Georgia out of it, that, to me, was a tragic signal of how Georgia has fallen behind. I think Georgia is a European country, and has shown that it can be a democratic country in a thriving market economy. In the past it did some fantastic reforms. It was a leading example to the entire post-Soviet world. I remember those days, when everybody was flying to Georgia, to learn about what it had done to achieve a post-communist democratic breakthrough. But that momentum has stalled. And I hope that that forces inside Georgia, in cooperation with institutions like the European Union, can get it back on track.
Interview by Vazha Tavberidze