The Folies Bergère dates back to 1869 when it opened as one of the first major music halls in Paris. Greater success came in the 1870s when the Folies Bergère staged vaudeville. Among other performers, the early vaudeville shows featured acrobats, a snake charmer, a boxing kangaroo, trained elephants, the world's tallest man, and a Greek prince who was covered in tattoos allegedly as punishment for trying to seduce the Shah of Persia's daughter. The public was allowed to drink and socialize in the theater's indoor garden and promenade area, and the Folies Bergère became synonymous with the carnal temptations of the French capital. Famous paintings by Édouard Manet and Henri de Toulouse-Lautrec were set in the Folies. In 1886, the Folies Bergère went under new management, which, on November 30, staged the first revue-style music hall show. The "Place aux Jeunes," featuring scantily clad chorus girls, was a tremendous success. The Folies women gradually wore less and less as the 20th century approached, and the show's costumes and sets became more and more outrageous.
Among the performers who got their start at the Folies Bergère were Yvette Guilbert, Maurice Chevalier, and Mistinguett. The African American dancer and singer Josephine Baker made her Folies debut in 1926, lowered from the ceiling in a flower-covered sphere that opened onstage to reveal her wearing a costume ornamented with bananas. – This is a look back at the legendary Theatre located in the heart of Paris. Nowadays The Folies Bergère remains a success throughout the 20th century and still can be seen in Paris today, although the theater now features many mainstream concerts and performances.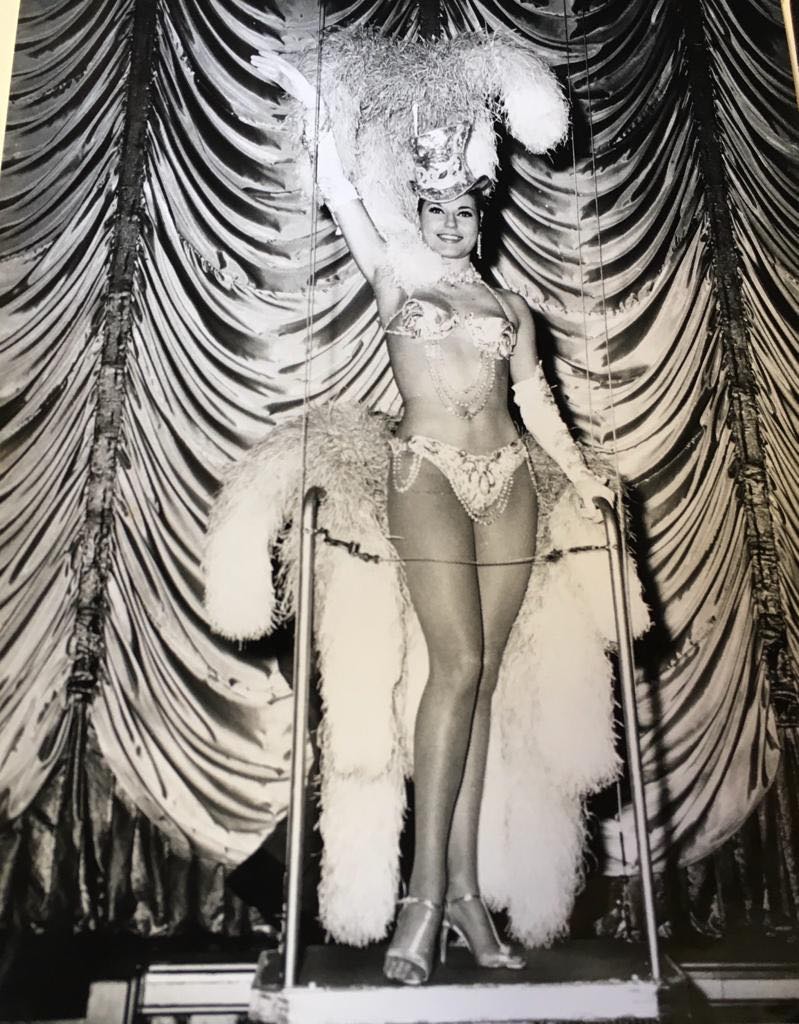 Rio Morse is one of those beautiful actresses who took part in performances through the 1960s years. Now Rio lives in Los Angeles and with great pleasure shares her amazing story from the first day in Folies Bergère till the end of her artistic career. Rio Morse, talked exclusively to Nina Tsipuria about her life adventure in Folies Bergère.
"First Day on Stage"
I was 16 years old, modeling in London, for a very good agency. One day I got a call, they were looking for models in Paris. It was 1957, 6 girls, very elegant girls went to Paris, it was Saturday when we arrived and the next day we had to go to the Folies Bergère Theatre. I said that we won't go to the Folies Bergère. We didn't realize then that we had to fit those Antique costumes of the theatre. Very beautiful costumes, but extravagant. One show ran for 3 years in those days, this was the end of the show and everyone was tired and naked, not fully naked, but almost and we were looking shocked at them. The next day we claimed that we didn't want to do nude work, we don't want these costumes and so on. So we anyway stayed in Paris and worked in this beautiful old theatre. We were on stage instead of modeling, I was innocent, a virgin, I didn't smoke, and I had never been on a date. I was 16 years old, my first time alone away from home.
My first love was Bob, the first dancer of Folies Bergère, he was 30 years old, he was smaller than me and he was gay. I was so in love that I didn't care that he was gay. After three months of working in the theatre, I went back to London and started modeling again, it was so boring after theatre life, that I started wondering about returning to Paris. After a couple of months, the theatre wrote to me, If I wish to go back to Paris." Would you be the captain of the show?"- They asked. My French was perfect at this time. The theatre needed elegant models for the show. That's how I got there. When they called me back, I was 17 years old. As I wasn't yet an adult, my mother came with me to Paris. So I returned to Paris with my mother. We went on a world tour to Germany, Austria, Denmark, and France. Really nice trip for me and for my mother as well. When the tour ended, the Director of the theatre asked me – "Why did you come to work in Paris for a show? –  I was in love with that French gay. After that day, I stayed in Paris for 10 years.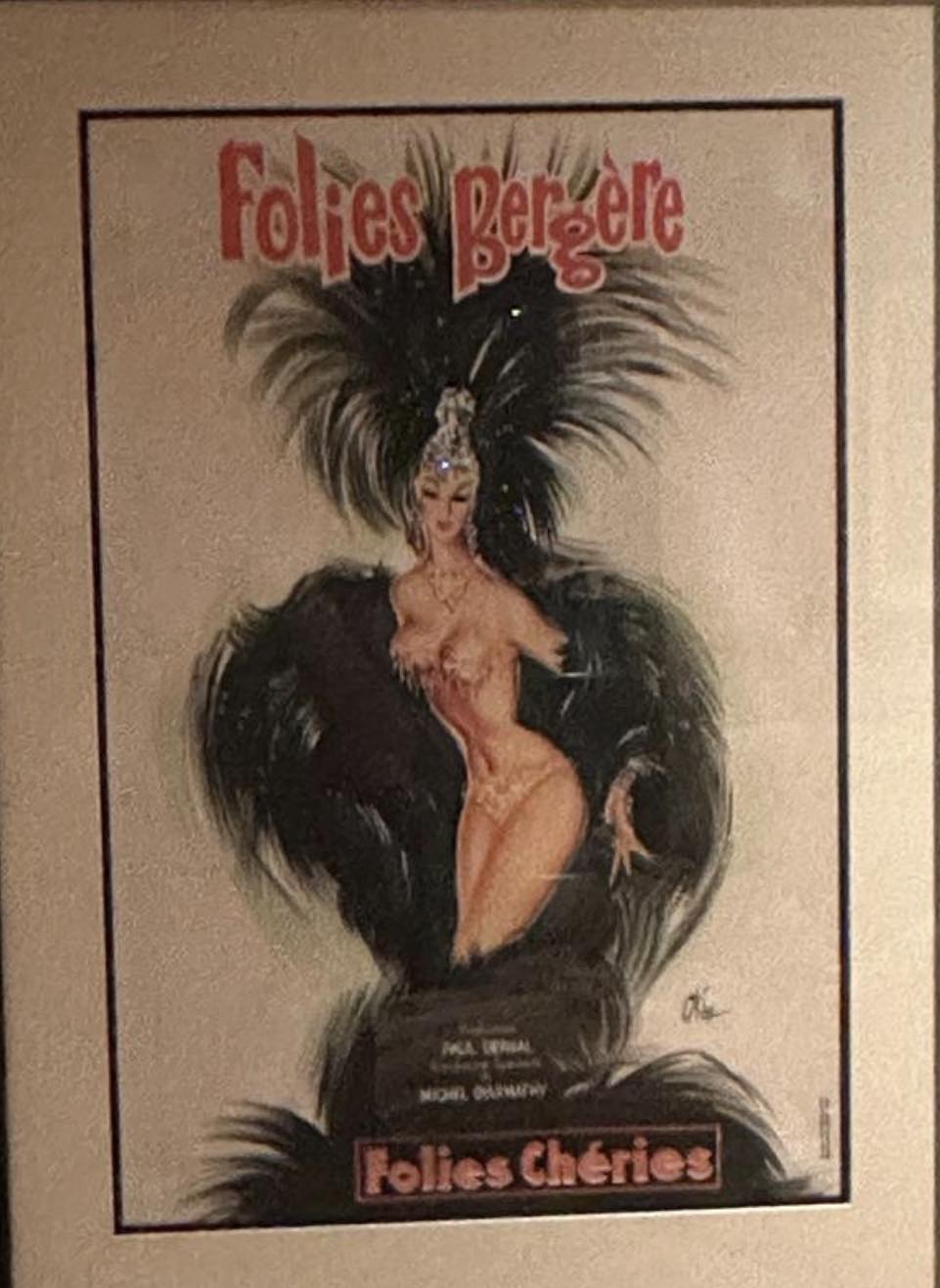 "Madly in love"
I used to get up in the morning to take dance class, ballet class, and cancan class. Every day, twice on Sundays I had a show. About first love? I ended up with that French boy, I was madly in love with him, we lived together.
Montparnasse Cabaret was the second place where I started my job in 1966. I used to finish my show in  Folies Bergère at about 11 o Clock night, then we (friends) jumped into a taxi and went to Montparnasse, the show was starting at midnight, I was singing, I was dancing. After finishing the show, we would go to dance and eat. So, I used to end the night at about 7 o'clock morning. This was happening every day and I was never tired. At 10 o'clock I was in dance class.
I met my French husband when I was on tour in Switzerland. French aristocrat, he was 24 I was 26, he came to the Cabaret, asked me to dance and 2 weeks later I was his wife. I couldn't dance anymore, because I became part of a very aristocratic family, I was living in French Chateau. I have a son from this marriage. My husband was very French, very aristocratic, and a little bit boring. One day I went on a holiday to Italy. I met a handsome Italian, fell in love with Roman and I left a French man.  I moved to Rome. I lived 7 years with my Italian husband. But at that time in Rome on July 10, 1973, 'Ndrangheta kidnappers abducted Getty's 16-year-old grandson. (Author: In Rome on July 10, 1973, 'Ndrangheta kidnappers abducted Getty's 16-year-old grandson, John Paul Getty III, and demanded a $17 million (equivalent to $104 million in 2021) payment for his safe return.) They were kidnapping children of wealthy families. It became very difficult to live there. My French ex-husband was very afraid, he was afraid for my son and he was right because it became very dangerous to live in Rome. I lived in Rome for 7 years. I didn't want to go back to Geneva or Paris. My British brother lived in America, he was a scientist and I went to America with my son.
"The same 16 years old girl"
In 1979, I moved to America and my Italian husband followed me. But he couldn't stand American life, it was hard for him to live in America and he returned to Rome. We decided to divorce. I knew French and I was a dancer, what could I do in the USA? So, I started working in a restaurant. That's where I meet my present husband. He is gorgeous, smart, wealthy, and intelligent, we have been together for 35 years.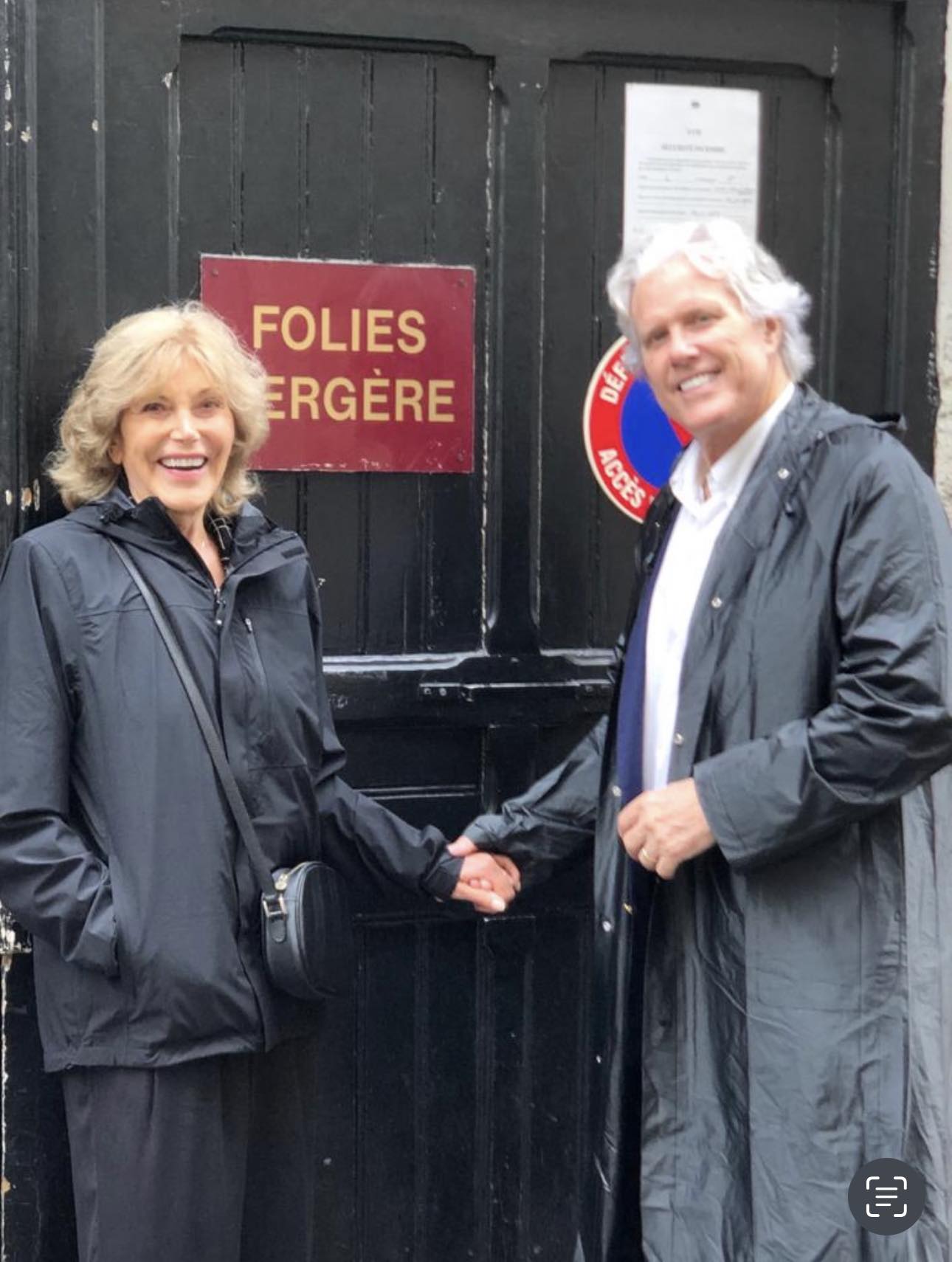 Two years ago, we went back to Paris, it was raining, I took my husband to Folies Bergère. Now it isn't Folies Bergère anymore, there is a theatre, and we attended a musical. I showed him the entrance from where artists used to enter the theatre. I asked my husband to take a photo, I was in front of that wooden door, from where I used to enter a long time ago. While he was taking a photo, 4 or 6 young people came from that door, and looked at me, maybe they thought – what is this woman doing? I looked at them and told them in French that I used to work here, back in the fifties and they said –  what? Oh my God! – they were surprised.  And they took me inside the theatre, took me back up on the stage, the same place where I used to stand when I was 16. I felt that same emotion when I was 16 years old girl.