Organizing events often requires a lot of time, energy and resources. Georgian company Eventoryx offers high standards and a customized service for each client; a company that will help you plan your event so that the result exceeds expectations. To find out more, GEORGIA TODAY spoke to Eventoryx co-founder, Ana Kalandadze.
"The idea of founding our company was born at a time when the country was frozen due to fear of the pandemic, and the restrictions were set for a gray, more "temporary" future. We created it for people who like to share holidays, surprises and happiness in general," she tells us. "Because my friends and I are no different from a society that enjoys sharing strength and having fun, and it was difficult for us to get used to the lockdown-type monotonous life, which now entails financial struggles as well, we decided to start activities to raise people's spirits.
"I called on my two childhood friends, Tamar Chiglashvili and Nino Khitarishvili, to start a business that would cheer people up and brighten the world in this tiresome monotony, and the result was this, our event-organizing company. In just two days, with the help of social media, we were in touch with parents of newborns, and couples waiting to wed but stuck at home due to the lockdown. The very first posts received quite a lot of feedback on Facebook and Instagram, which once again convinced us that life goes on and it just needs to be planned more carefully these days.
"Living a beautiful life means appreciating happy days and celebrating them accordingly. Our company was inspired not only by us, but also by the people who liked our ideas. We seek to arrange events that are unique and personal, handmade; with a lot of love and hope for a better future."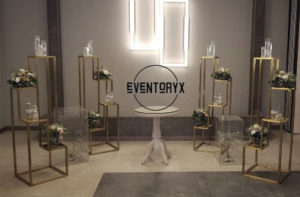 WHAT SERVICES DO YOU OFFER?
Eventoryx plans and organizes all kinds of events, from birthdays and weddings to corporate events and more. For the first step, we listen to exactly what the customer wants, and then we combine that with the works our designers come up with. We do our best to ensure that the interests of the customer are fulfilled.
WHAT IS THE MAIN NICHE THAT DIFFERENTIATES EVENTORYX FROM OTHERS?
I don't know how much this makes us different, but our niche is that we try to get the same "colors" our customers ask us for. Also, one of the most important topics is communication. I can say with confidence  that dealing with us is very comfortable.
TELL US ABOUT YOUR PROMOTIONS
Our promotions are seasonal. We already had a promotion for Christmas, and it turned out very successful. Now, with the approach of spring, we have an ongoing promotion. Also, we are partners with bakeries "ASSORTI Vere" and "ITI," and offer special discounts for our customers on their products.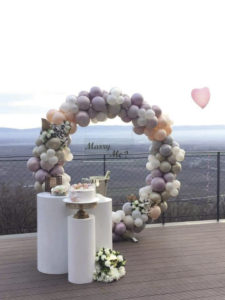 WHAT ARE YOUR FUTURE PLANS?
First of all, we plan to expand and reach a larger audience, which will mean offering our services in different regions of Georgia. We are also going to offer our clients different types of events and different surprises, which we will keep a secret for now. The main thing is that our partners are people whose happiness we have shared, and we are ready to participate in their celebrations in the future! Hopefully, many people in our country will have such days, and we will help them!
https://www.facebook.com/eventoryx
Main photo: Nina Khitarishvili, Ana Kalandaze and Tamar Chiglashvili, owners