In an effort to raise awareness about skin cancer, Brazilian dermatology clinic Horarios has devised an innovative and unconventional method. They have introduced a product called "Diagnosticookies," which not only satiates one's taste buds but also provides visual information about melanoma, allowing individuals to determine whether a spot or growth on their body is safe or potentially dangerous.
Collaborating with the marketing communications agency Wunderman Thompson, the campaign was carefully tailored to the local context, taking into account the popularity of biscuits in Brazil. By leveraging this beloved snack, the clinic aimed to create a widespread and accessible means of disseminating the message about melanoma. Through the Diagnosticookies, they offered an easy and delicious way to raise awareness about this deadly form of cancer.
The Diagnosticookies come in two variations: standard and symmetrical biscuits, as well as asymmetrical ones with pigmented lesions or distinct details that indicate a potential problem. By incorporating visual cues into the biscuits, individuals can visually compare them to the appearance of any concerning spots on their skin. This provides a simple yet effective method for people to evaluate their own skin health and potentially detect early signs of melanoma.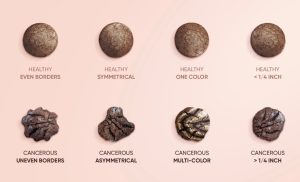 The approach taken by Horarios and Wunderman Thompson is truly remarkable, as it creatively bridges the gap between a tasty treat and a critical health issue. By leveraging a popular and relatable food item, they have succeeded in capturing the attention of a wide audience, making the campaign engaging and memorable.
Raising awareness about skin cancer is of utmost importance, considering its prevalence and potential dangers. The Diagnosticookies campaign offers a fresh perspective on how to address this issue, emphasizing the significance of early detection. By combining delicious biscuits with visual indicators, Horarios and Wunderman Thompson have undoubtedly sparked conversations and prompted individuals to pay closer attention to their skin health.
Ultimately, initiatives like the Diagnosticookies campaign not only educate people about melanoma but also empower them to take charge of their own well-being. By making the process enjoyable and accessible, Horarios and Wunderman Thompson have successfully demonstrated that even the simplest of ideas can make a significant impact in the fight against skin cancer.
By Mariam Gorkhelashvili