In the hospitality industry, directions crucial for the successful operation of any facility include a constant focus on sophisticated service/customer care and providing the highest quality food and beverages. At Hôtels & Préférence Hualing Tbilisi, these criteria are fully achieved, contributing to its leading position and high demand among customers in the Georgian market.
Hotels & Preference Hualing Tbilisi offers the fresh air of Tbilisi Sea, 246 contemporary style rooms, outstanding F&B outlets, a business category Recreation Center and one of the biggest meeting venues, promising every visitor and guest a feeling of elegance and perfection.
Along with its sophisticated service and customer-oriented approach, the hotel's F&B outlets are also popular and can be visited and enjoyed not only by the hotel guests, but also by those not staying there.
Recently, the hotel management introduced a number of exciting novelties to its customers in terms of food and beverage facilities, within its Chinese restaurant, sports bar LEGENDS, Be Chic Restaurant, in diverse new coffee break options, and more.
To find out more about those novelties and other current attractive offers and future plans, GEORGIA TODAY spoke to Ilia Borashvili, Hotels & Preference Hualing Tbilisi Food and Beverage Director.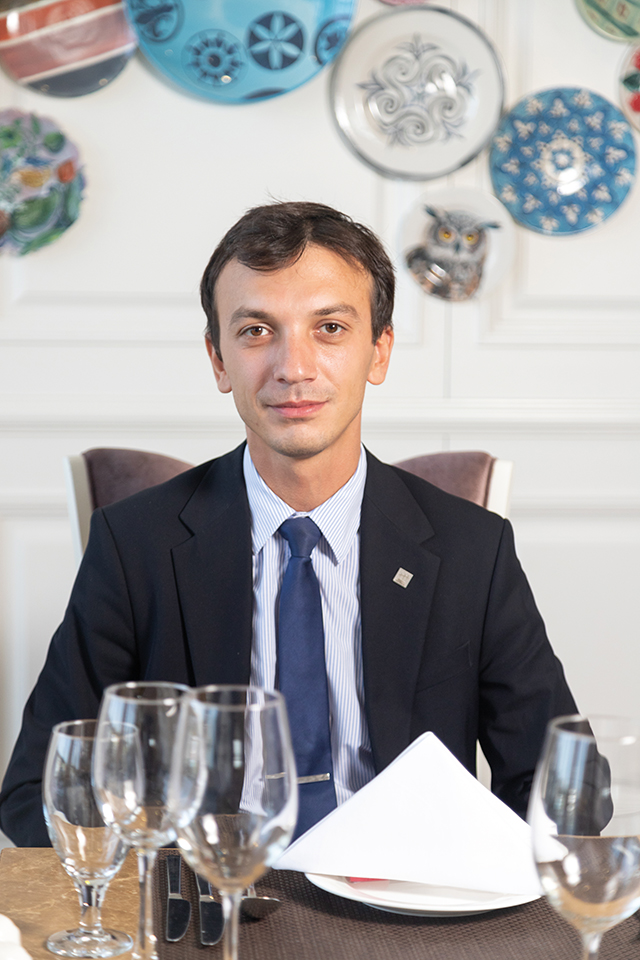 The hotel's Chinese restaurant has become famous in Tbilisi for its distinguished dishes and service. Tell us more about it.
Our Chinese restaurant was a classic Chinese restaurant with a diverse menu and authentic Chinese dishes and ingredients. However, when Covid started, like other food facilities, we had to close it temporarily, and, as the chef and his colleagues were from China, they flew back to their home country. Now, as regulations are lifted and covid situation stabilized, we decided to reopen the Chinese restaurant. First step is renovation of the restaurant.
We're currently choosing a chef, who will most likely be Chinese again, as we are going to keep authentic cousin and most of the products will also be ordered from China. Of course, we'll also employ Georgians, which will help the local market to grow and develop.
Yet another noteworthy facility that operates at Hotels & Preference is sports bar LEGENDS. What makes it stand out and what does it offer guests?
First, I'd like to highlight that this bar is not only for hotel residents, but also for guests from outside, because people are often mistaken in thinking so. On the contrary, everyone can visit and enjoy it! We deliberately didn't arrange the bar in accordance with 5-star standards, because we wanted it to be comfortable, cozy and suitable for everyone. The bar is equipped with billiard tables, foosball tables, 10 TVs and big screen, a wide choice of drinks and variety of food, and all the necessary comfort. Those who visit it once always come back. It's a perfect place for relaxation and positive emotions after a hard working day. Here, it's possible to hold many events, be it corporate party or birthday, or just having fun with friends, playing billiards, watching sports.
Regarding the menu and special offers in the bar, we have a very diverse cocktail menu, signature dishes which can't be found in other similar profile facilities, with our burgers especially popular among them, and have highly qualified bartenders, so that everything is tailored to customers' needs. One of our signature dishes is the Blue Cheeseburger, created by our chef, with an unforgettable taste. We also offer a combo menu mix, shared dishes for several persons, and many other exciting meals.
Notably, all this is available at affordable prices, a trend which we've been keeping for years already.
The bar works daily from 5:00 PM until 2:00 AM, so everyone can visit it and see it for themselves. When there are world championships on, and games are sometimes held earlier in the daytime Georgian time, we tailor to this timeline to offer our dear guests live broadcasts, with fun competitions and interactive raffles often held during the breaks, including raffling bar vouchers, hotel rooms, and other nice gifts.
The hotel restaurant also offers delicious pastries which can also be ordered and taken home. Tell us more about this direction.
In our restaurant, cakes can be ordered at an affordable price. We've chosen this direction because cakes are in demand for birthdays and other celebrations. We can freely compete with pastry shops, both in terms of price affordability and product quality. We're constantly trying to develop and create new products not available elsewhere. As a result, we have special cakes and pastry which can be tasted and enjoyed by hotel residents as well as ordered and taken by everyone. For the future, we're thinking of and working on establishing a delivery service both for our cakes and the Chinese restaurant, once it reopens.
Currently, customers can order our cakes and sweets by contacting our main restaurant Be Chic beforehand and notifying them 1-2 days in advance due to high demand, then come and take the cake home.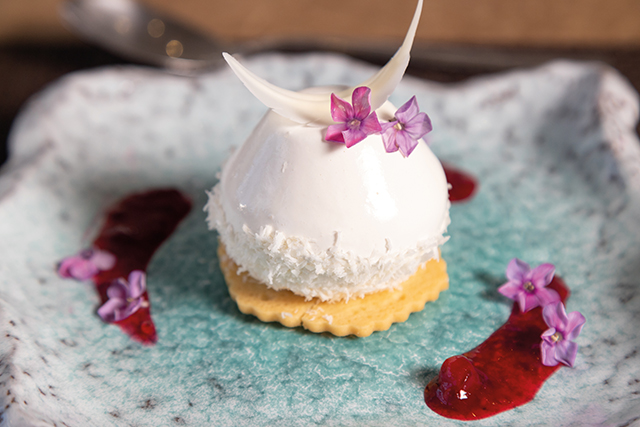 You mentioned Be Chic restaurant, which is the main restaurant of the hotel. Tell us more about its service and offers.
Be Chic restaurant, just like all the F&B outlets operating at the hotel, can be visited and used by both hotel residents and visitors from outside. Guests can come any time, either for lunch, dinner or supper, and taste signature dishes. Here, too, we always try to improve and diversify the menu. The restaurant provides a mix of Georgian and European dishes, as we have Georgian chefs and they know the local cuisine well. So, our restaurant can please customers of all tastes.
The hotel also boasts unique coffee breaks. Tell us more about this direction.
We have thematic coffee breaks, including so-called "healthy" ones, mostly with vegetables instead of sweets, and a "Georgian" coffee break with local sweets – Churchkhela, Pelamushi, Gozinaki, etc., which is truly unique and excites our foreign guests, as we also can arrange Churchkhela making master class, to entertain our guests during coffee break.
Along with above, we provide unique VIP service for small meetings at our meeting room, located at 10th floor- individually served in room coffee break.
As there are many different meeting venues in the town, our team wanted to create something that can distinguish our hotel, hence we came up with the idea, of personalized coffee break, which is a perfect fit for private business meeting.
In the hospitality industry, it's impossible to stop. The market and its demands change constantly, and we're improving and developing along with it.
Tell us about your professional experience in the hospitality sector.
I started working in this field in 2008 for short-term work, however, I got officially involved in hospitality on 1st August 2009, I remember the exact date. It was at the Radisson hotel upon its opening. I worked in various departments, as this field is very interesting to me. Since then, I've been constantly learning and developing myself. In 2015, when Hotel & Preferences opened, I applied and started my career path at Hotels & Preference Hualing Tbilisi as a bar captain and grew within department. Currently, I'm Food and Beverages Director here, managing all the F&B outlets. Actually, when I say "managing," it's just formal, as actually I'm involved in all the processes as a team member and we're one united team. After working in this field for more than 14 years, I gained a lot of experience. The relationship one has with a customer is always a priority for me, as I find it very interesting and important to discover more about their needs and wishes, in order to offer them all the necessary comfort and pleasure.
Interview by Ana Dumbadze