"The political crisis is over and the constructive political engagement needs to be sustained," European Council President Charles Michel said at a briefing held together with President of Georgia Salome Zurabishvili.
The EU continues to stand by Georgia with full support and friendship, Michel noted.
"It's pleasure for me to be in Tbilisi again. I'm particularly pleased to visit Georgia today after political leaders signed this agreement. The political crisis is over, and constant political engagement needs to be sustained. Today marks a new beginning and the start of the hard work to kick Georgia forwards along its EU-Atlantic path. And let me congratulate Georgian leaders for reaching this agreement. This achievement is yours. I know It was not easy," said the President of the European Council.
He thanked the Prime Minister and the President for their leadership and decisions, the opposition party leaders and Members of Parliament for their courage to look for compromise and expressed hope that others would also join.
Salome Zurabishvili noted that the agreement reached between the opposition and the government makes the public feel that this is a day of victory.
"The political agreement strengthened the institutions of both the Parliament and the President," she pointed out.
The President thanked the European mediator for his efforts, "which have brought the country to this day."
"This agreement, which has been signed with the help of you, your representative and the United States, means great domestic political progress. First of all, it is very important for the society, which was really tired of this polarization, controversy and endless unrest," she said.
As part of his official visit to Georgia, Michel has already met with President Salome Zurabishvili and Prime Minister Irakli Garibashvili. Today he will also meet Parliament Speaker Archil Talakvadze and representatives of political parties in Parliament.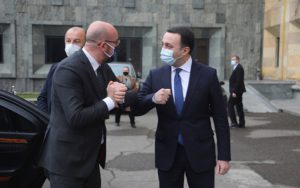 In the evening, the working visit will be concluded with a dinner on behalf of the President of Georgia in honor of the European mediator.
An agreement has been reached between the government and some of the opposition parties. The document 'A Way ahead for Georgia' brokered by Charles Michel was signed yesterday evening at the Presidential Palace in Tbilisi, while the mediator himself attended it virtually.
Presently, only 'United National Movement' and 'European Georgia' refuse to sign the updated compromise document.
By Ana Dumbadze
Related Story: Charles Michel to Meet Georgian Authorities Today