Customers can take part in two different raffles, that are created in partnership with MasterCard and Wolt for a limited time, where a total of 90,000 prizes await to be won.
Carrefour, owned and operated by Majid Al Futtaim, in Georgia, celebrates its nine-year anniversary of serving Georgian customers and communities on the 13th of September.
The first Carrefour hypermarket opened in Tbilisi Mall in 2012 and since then, the brand has provided its customers with daily unrivalled international shopping experiences, accessible prices, and the highest quality of fresh products. Carrefour provides locals with access to more than 40,000 food and non-food products, which reflects its continuous effort to provide customers with multiple options to choose from.
It has become a tradition in Georgia to celebrate Carrefour's anniversary by surprising customers with special surprises to express gratitude for their trust and loyalty. This year is no different than any other, as customers will be welcomed by every Carrefour branch across the country to celebrate between 8th September until the 5th of October.
During this period, customers will be given the opportunity to participate in two different raffles, one will be in partnership with MasterCard and the other with Wolt, where a total of 90,000 incredible prizes will be up for grabs. Customers will also get the chance to earn extra MyCLUB points, win useful gifts and take full advantage of various promotions. This is an additional extension of the brand's long-held tradition of dedicating its birthday to its customers.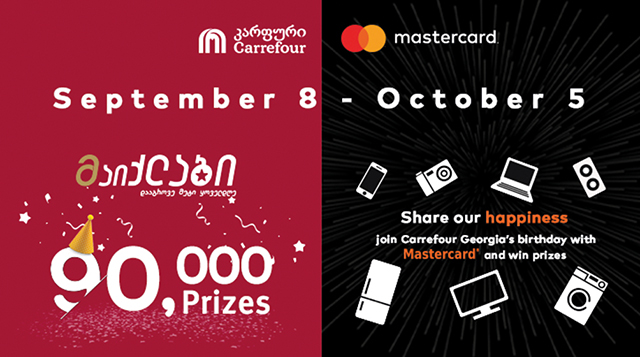 MyClub & Mastercard Raffle
The first raffle is a partnership between MyClub and Mastercard which will take place in stores between the 8th of September and 5th of October. During this time shoppers are also encouraged to use Carrefour's loyalty program, MyCLUB, by scanning the barcode at cash counters after every shopping journey. This will give customers the chance to win exclusive prizes and earn more MyCLUB points for in-store discounts.
To register and win prizes part of Carrefour's Anniversary Raffle, customers need to be a MyCLUB member and they can easily sign-up for free if they would like to. Prizes will be printed on their receipt with the inscription "Chance to Win", the customer will be asked a question and if they answer correctly, they will be given a gift.
Additionally, if a MyCLUB member pays with Mastercard, they could also win home appliances such as TVs, refrigerators, washing machines, vacuum cleaners, smartphones, notebooks, game consoles like the PlayStation, an Instax photo camera, headphones, airpods, bluetooth speakers, microwaves, coffee machines, pancake pans, toasters, an iron, or even blenders.
Carrefour & Wolt Raffle
The second partnership is between Carrefour and Wolt, a highly trusted delivery platform. For a total of two weeks, from the 8th of September till the 21st of September, every ninth customer that purchases Carrefour products via the delivery platform Wolt, will be selected for a chance to win a prize. These prizes range from notebooks, smartphones, tablets, smart watches, Airpods headphones, wireless headphones, Bluetooth headphones, game consoles like PlayStation, or even electric scooters.
The process is extremely simple, every time a customer orders a Carrefour product from Wolt, the name of the corresponding gift will be printed on the receipt, and the relevant gift will be handed over to the Wolt courier. The Wolt courier will then deliver the gift to the customer along with their initial order. To receive the gift, answer a question.
More Ways to Win Prizes!
Customers can also spin the Wheel of Fortune, which can only be found in hypermarkets or supermarkets across Georgia, to win a one-of-a-kind prize. The Wheel of Fortune will also be spun several times during the day, and the customer standing at the cash counter which corresponds with the chosen number on the wheel will be able to get their purchases for free.
In East Point, at Tbilisi Mall and Batumi Hypermarket, the cost of a customer's shopping will be fully covered with MyCLUB points by Carrefour and customers will also receive Wolt's 20 GEL voucher, which can be used when ordering Carrefour products.
In Kutaisi Hypermarket and all other supermarkets, the cost of a customer's purchased basket will be fully covered with MyCLUB points by Carrefour as well.
Get involved in Carrefour's Anniversary Raffle to celebrate nine years of loyalty and get ready for unforgettable surprises!