MasterChef, one of the most highly-rated entertainment shows in the Georgian TV space, started its latest season with great enthusiasm. In this exciting journey, its trustworthy partner and the general sponsor is once again Carrefour, a leading hypermarket and supermarket chain owned and operated by Majid Al Futtaim in Georgia.
Following the successful fifth season, the sixth season of MasterChef has launched on the Georgian Public Broadcaster (GPB), with a new episode releasing every Sunday at 10 pm.
An important focal point for MasterChef's competing contestants is undoubtedly the guarantee that every single ingredient provided to prepare their distinguished dishes is of the highest quality. This is easily achievable since all the products provided are from Carrefour, which is already the favourite brand of many local customers.

In addition to providing contestants with high-quality and freshly sourced products, Carrefour will also be assisting participants in preparing visually attractive, delicious and unique dishes in their quest to be recognized as the MasterChef champion.
Carrefour actively and continuously supports local farmers and suppliers in providing customers with fresh and healthy local products daily. As such, many of the products provided by Carrefour to the MasterChef contestants are also sourced locally and delivered straight from partner farms.
During the new season, a Carrefour stand will be placed in the MasterChef studio to showcase the brand's wide variety of high-quality products and ingredients, allowing the audience to learn more about its products, which are always available at affordable prices.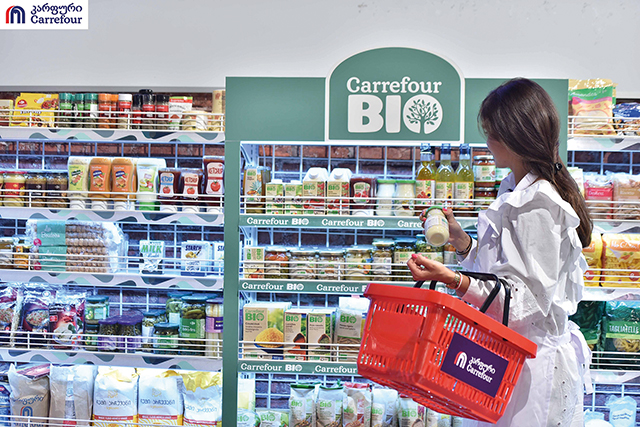 Carrefour Georgia prides itself in offering its communities a vast assortment of up to 40,000 items across its stores countrywide. While providing these fresh products at unbeatable prices, Carrefour also offers customers private label products.
The current partnership and collaboration between MasterChef and Carrefour offer loyal MasterChef fans to gain more knowledge about different types of ingredients and how they can be used to create a variety of inspirational recipes. Fans can learn how to create these dishes by watching and learning from the young and talented professional chefs.
All the above activities are brought to customers by MasterChef and Carrefour, to serve the goal of further diversifying and developing the outstanding and well-known Georgian cuisine, already a favourite amongst both locals and foreign visitors of the country.