Carrefour, owned and operated by Majid Al Futtaim in Georgia, has announced it will be the general sponsor of the upcoming fifth season of reality TV giant MasterChef — one of the most popular and top-rated entertainment shows in the Georgian TV space. The show was launched on 4 April on the Georgian Public Broadcaster (GPB), with a new episode released every Sunday at 10 PM.
A food-focused programme with such high demands and standards relies on a trustworthy and experienced supermarket partner for success — which is why Carrefour has been named the general sponsor for the local edition of the popular TV cooking competition.

In addition to supplying the competing contestants with high quality, fresh Carrefour-sourced products to prepare their special dishes for the judging panel, Carrefour will be assisting participants to prepare visually attractive, delicious and unique dishes in their quest to be recognised as the MasterChef champion.
Priding itself on quality, and committed to supporting local farmers and suppliers, many of the products provided by Carrefour to the MasterChef competitors are sourced locally and delivered straight from partner farms, daily.
The Carrefour stand, which will be placed in the 'MasterChef' studio during the new season, will showcase the brand's wide variety of distinguished products and ingredients, from fresh foods to dry goods, to audiences.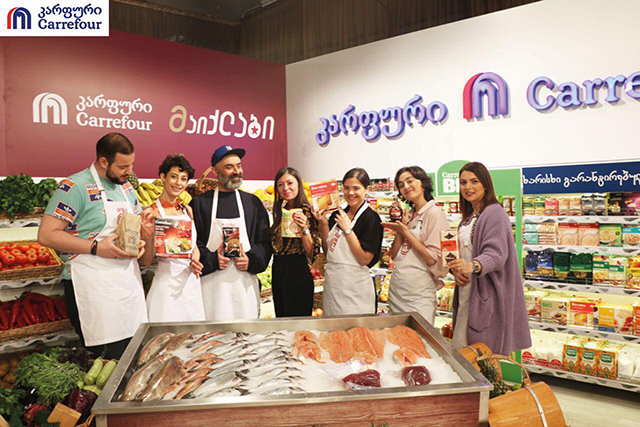 Carrefour Georgia prides itself on offering its communities a vast assortment of up to 40,000 items across its countrywide stores. Providing the highest quality products at unbeatable value, Carrefour also offers customers private label products.
Quality Assured – this is the main motto of the exclusive products of Carrefour, noteworthy due to their exclusivity and distinctive characteristics.
All the loyal fans of MasterChef are sure to enjoy the notable collaboration between MasterChef and Carrefour and can expect to improve their knowledge of ingredients, as well as take away a variety of inspirational cooking ideas from the show.