Editor-in-Chief of the new UK-based Made in Georgia magazine, Tamzin Whitewood lived and worked in Georgia for many years before returning to the UK in 2020. While at first she continued her career within healthcare after moving to Tbilisi from London, she eventually branched out into journalism and translation, becoming website editor of Georgia Today and working as a freelance translator and editor.
"It became clear to me very quickly that this was the field I wanted to pursue, incorporating my love of languages, and ensuring that the English-speaking population of Georgia and beyond were kept up to date with the goings on in the country."
TELL US HOW THE MADE IN GEORGIA MAGAZINE CAME TO BE, AND HOW YOU GOT INVOLVED.
Moving back to the UK was an incredibly difficult decision for me, and was not one I made lightly. I knew that, should I make the decision to move back to London, I couldn't let my passion for or knowledge and experience of Georgia go to waste. A mutual friend arranged a Zoom meeting between Mako Abashidze, director of the British Georgian Chamber of Commerce, and myself. We discussed potential areas of collaboration, and I eventually met with Bachi Gabunia, founder and CEO of the UK Georgian Trade Hub, who explained to me their idea of creating a magazine, the first of its kind, that would highlight the trade potential between these two great countries.
This is how the idea started and, together, we evolved the idea into what it is today: a full-length magazine that, while based around UK-Georgian trade and the potential for growth in this field, also works to promote Georgia in terms of fashion, accessories, food and wine, travel and other fields. We even have a section on Georgians that have influenced the western world.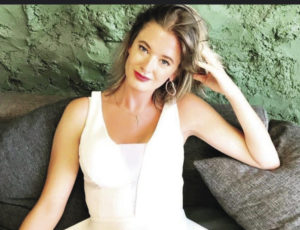 WHAT ARE THE AIMS OF AND EXPECTATIONS FOR THE MAGAZINE?
To be honest, it only ever started out as a way for us to help promote Georgia's potential to UK readers. As it has progressed, however, we've started to see it as a platform for Georgian talent, be it in terms of fashion, culinary skills, or entrepreneurship. Really, anything goes in terms of us ensuring that the many businesses, artists, designers and people who have helped Georgia's progression all have a voice. That's really what we're all about.
WHAT IS THE TARGET AUDIENCE AND HOW ARE YOU REACHING THEM?
The target audience has become so vast that I no longer feel there is one! We initially thought this would attract businesspeople and diplomats who have a vested interest in trade, but as the concept of the magazine evolved, we widened our net. Essentially, we want anybody to be able to 'pick-up' a copy of Made in Georgia magazine and fi nd something interesting and relatable. Whether that's in terms of being a small business looking to expand, having a passion for travel, or an interest in trade links: any person of any age should be able to flick through our magazine and find something that makes them want to stop and find out more. Naturally, though, there's probably more interest in our magazine, at least as a concept, from Georgians who are living here in the UK, and expats residing in Georgia.
WHAT CONTENT DID YOU CHOOSE FOR THE FIRST EDITION?
Even though I've worked in the fields of journalism and editing for years, I found myself humbled to discover some of the many Georgians who have gone on to become national heroes in terms of promoting their country and putting Georgia on the map. We did a feature piece on Salome Andronikashvili, a Georgian princess whose socialite lifestyle saw her residing in France, the US and the UK, and the many great things she achieved throughout her life.
Each issue will also have a specific Georgian region as a feature, too. When I first moved to Georgia, I lived for some time in Batumi, and ultimately, my love affair with Adjara as a whole grew and grew over time. I am absolutely obsessed with the place! It's for this reason that I decided on Adjara as our first feature region of Georgia. I really believe that creativity – in this case writing – is the best outlet for one's passion.
WHAT HAS THE FEEDBACK BEEN SO FAR?
Really great. While we are still working on promoting Made in Georgia magazine to ensure it reaches as many people who may be interested in it as possible, we're really humbled by the fantastic feedback we've received so far. This in turn gives us the incentive to further improve it and further promote it. Perhaps you're reading this and thinking you'd like to promote your company, business or talent here in the UK – we want our magazine to be proof that this is possible, and encourage you to get in touch with us to help make such dreams become a reality.
EXCLUSIVE INTERVIEW BY KATIE RUTH DAVIES